by
posted on May 30, 2018
Support NRA Shooting Illustrated
DONATE
When you think about the evolution of firearms over the last 100 years, the polymer-frame pistol and the AR-pattern rifle stand out. Beyond those, progress has been rather limited. We're still shooting 100-plus-year-old 1911-style handguns and our most prolific pistol cartridge is even older. The real innovations have happened with ammunition, and while the focus has historically been to improve accuracy and terminal performance, Federal Premium Syntech ammunition addresses other concerns—namely what the ammo you shoot does to your gun.

Worrying about the toxins and additives we put in our bodies has become the trendy thing to do. But, you don't have to be an organic-food junkie to realize and accept that consumption of unnatural substances can foul your internals. Similarly, firing round after round of barrel-fouling ammunition is not good for your handgun. It increases the need to clean, and with fouling comes an increase in operating temperature. We'd like our bodies to run clean and cool, and that's a good thing for our guns, too.

Federal approached this problem by modifying the most common ammunition fired in handguns: practice ammo. The company's goal was not to improve the consistency or accuracy of its practice ammo—Federal has long had an envied reputation for both. What it wanted to do was make practice ammo easier on your gun, more fun to shoot and safer. Syntech ammunition differs from traditional practice or full-metal-jacket ammo in three ways.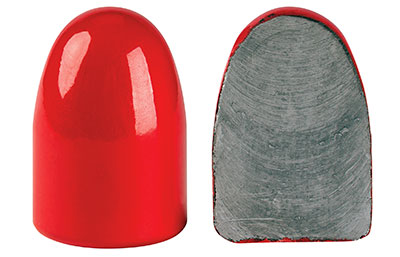 Federal started with a new bullet. Like traditional FMJ bullets, the new Syntech bullet utilizes a lead core. The difference is the Federal Premium Syntech bullet has a polymer (as opposed to a copper or other metal) jacket. Actually, its not really a jacket at all—it's a coating applied to the complete bullet. The slick, red-polymer coating eliminates metal-on-metal contact in the barrel. The result is softer, smoother shooting and less friction, heat, and barrel wear. According to Federal, Syntech's Total Synthetic Jacket (TSJ) bullets generate about 12 percent less friction and about 14 percent less heat. This means less required cleaning and more time shooting.

In addition to the total elimination of copper fouling, Federal incorporated two advancements into Syntech ammunition that deal with propulsion. All Syntech ammo is loaded with special clean-burning propellants and these powders are ignited with a new lead-free primer. This new primer utilizes what Federal calls Catalyst technology and it provides hot and extremely reliable ignition, effectively burning the propellant better. This means that in addition to the absence of copper fouling, you also have a noticeable reduction in carbon fouling.

That covers the easier-on-your-gun and more-fun aspect Federal wanted to address, but what about the claim of this particular ammunition being safer? Well, you see, when you shoot steel targets with common FMJ ammo, you must consider splashback—those bullet fragments that reverse direction on impact with steel are pieces of the jacket material. According to Federal, recoverable-fragment weights with Syntech ammo are about 51 percent less than what is common with FMJ bullets at between 5 and 15 yards from the steel. With Federal Premium Syntech, you can also expect 91 percent less weight in fragments traveling more than 15 yards from the target. If you have ever had the surprising sensation of a fragment of copper jacket embedded in your forehead, you can relate to the advantage Syntech ammo offers.

All of this sounds really cool, but you're probably thinking this stuff shoots so bad you cannot hit a warehouse wall at 25 yards. Or, you're thinking that, like everything else that's new and too cool to be true, its expensive. This 9 mm Federal Premium Syntech ammo retails for about 32 cents per round and American Eagle FMJ ammo for about 29 cents. In .40 S&W, the difference is about 5 cents per trigger pull and in .45 ACP about 6 cents. If you can clean your gun fewer times and induce less wear and tear on it, that's a small price to pay. As long as the stuff shoots well, right?

There's only one way to determine how it shoots, so I tested the 115-grain Syntech ammo for the 9 mm in three handguns: a Browning Hi Power, a Wilson Combat 1911 and a Kimber Solo. I cannot confirm the Syntech ammo shot smoother, but it provided consistent velocities, exceptional accuracy and significantly less fouling. Of the 250 rounds fired, there were no stoppages.

Is it perfect? No. Federal Premium Syntech bears a striking resemblance to dummy rounds. Someone could make that mistake. Secondly, it resembles little tubes of lipstick. I don't think anyone will make that mistake, but ammo, bullets and such are supposed to be macho—or at least have always been presented as such. Federal should change the bullets to FDE, OD green or another, less lipstick-ish color.