by
posted on January 3, 2017
Support NRA Shooting Illustrated
DONATE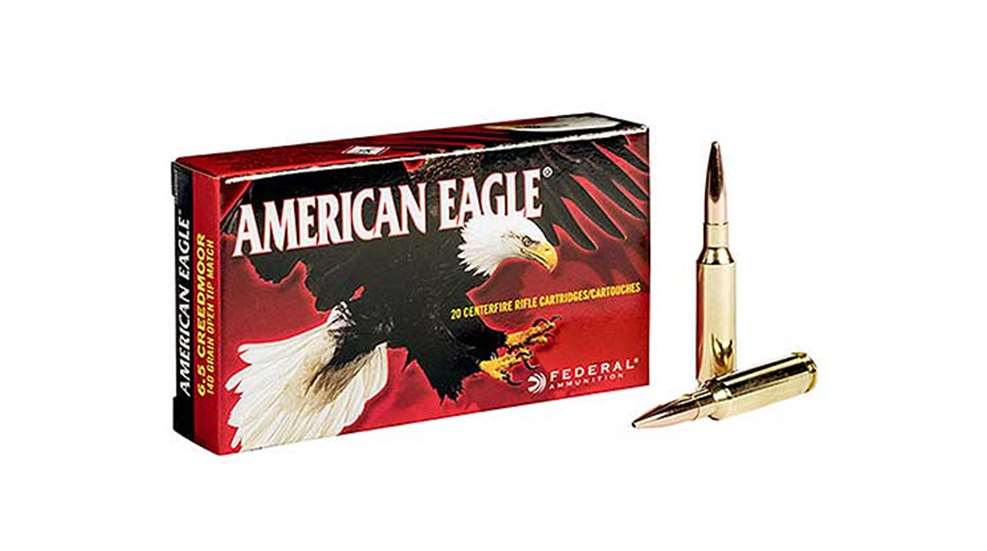 Federal Premium has finally gotten into the 6.5 Creedmoor market with this new load from American Eagle. The ammo is in reloadable, Federal-headstamped brass cases, and is loaded with a 140-grain, Open Tip Match bullet. This bullet has a ballistic coefficient of .58 and the advertised muzzle velocity is 2,700 fps, so the bullet stays supersonic for 1,350 yards.
From the Savage Model 10 BA Stealth with a 24-inch barrel this load averaged 2,652 fps with the first screen of the Oheler 35P Chronograph set 10 feet from the muzzle. With that muzzle velocity the bullet goes subsonic at 1,325 yards.
In addition to the Savage, I also shot a few groups in a full-blown, custom-built 6.5 Creedmoor rifle and the average was .6 inches. This is accurate ammunition, which is key to success in the 6.5 Creedmoor.
Perhaps the best feature of this ammo is price. While the MSRP is $33.95, I have seen it for sale on the web for as low as $22.19 per box of 20. For match-grade 6.5 Creedmoor ammo, that is a very good price.
The 6.5 Creedmoor is a shooter's cartridge. It's designed for long-range shooting and nobody likes to pull the trigger just once at the range. Some hunters brag about using the same box of ammo for a decade, but a long-range shooter brags about how much empty brass he creates. In a relatively high-volume situation like this, price is important. Then again, long-range shooters are very serious about accuracy. This new ammo can deliver top-shelf ballistics and accuracy at affordable American Eagle pricing. Where is the downside in that?