The
Springfield Armory Hellcat
is one of the hottest pistols on the market, thanks in large part to its compact frame that holds a 10-, 11- or 13-round magazine. Perfect for concealed carry purposes, I recently paired the Hellcat with a
Crucial Concealment
Covert IWB, which makes an ideal concealment holster option that's neither bulky nor overly complicated. 
In fact, the beauty of the Covert holster is that it's as sleek as the Hellcat, or any other subcompact handgun you should want at your side. The holster is made from ultra-thin Kydex and is quite versatile; it can be worn at your side or in the appendix position. It features a single, proprietary belt clip made from high-strength polymer that is designed so it doesn't catch on clothing. 
The Covert holster also features a Trigger Bump, which helps redirect the angle of the grip toward the body, an ideal solution regardless of carry position. Likewise, cant is fully adjustable, as is retention, and the holster comes pre-cut for an optic, should you prefer it.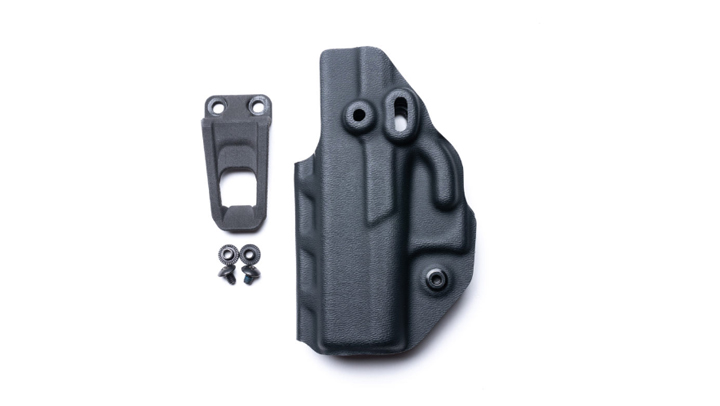 Likewise, the holster is completely ambidextrous, featuring slots cut on both sides for the clip to be attached via two rubber washers and two Philips screws. A single screw at the bottom of the holster allows you to adjust the tension for retention. My holster came set perfectly from the factory, no adjustment needed. 
The beauty of many compact handguns, in my opinion, is that you can, with little readjustment or changing of clothing, tuck a holstered rig in your waistband and hit the road. You can wear it appendix or on the hip without really altering either the holster or the type of clothing you've got on. They're usually small enough so as not to throw off your gait or require specialty belts or pants, and they're discreet enough to be hardly noticeable for all-day carry. 
That's what I love about the Covert holster, as a result. I've got plenty of rounds, a spare mag in a front pocket, and I can wear the Hellcat discreetly all day without really noticing any measure of discomfort. I can throw it appendix when I'm in the truck, or wear it at my side when I'm bending over 1,000 times when I'm working in the garage. Versatility and comfort are great ingredients to making everyday carry a reality. 
Priced at $59.99, the Covert IWB holster from Crucial Concealment is an affordable, durable option for your everyday carry gun. It's a simple, sleek design that helps keep you comfortable all day long.