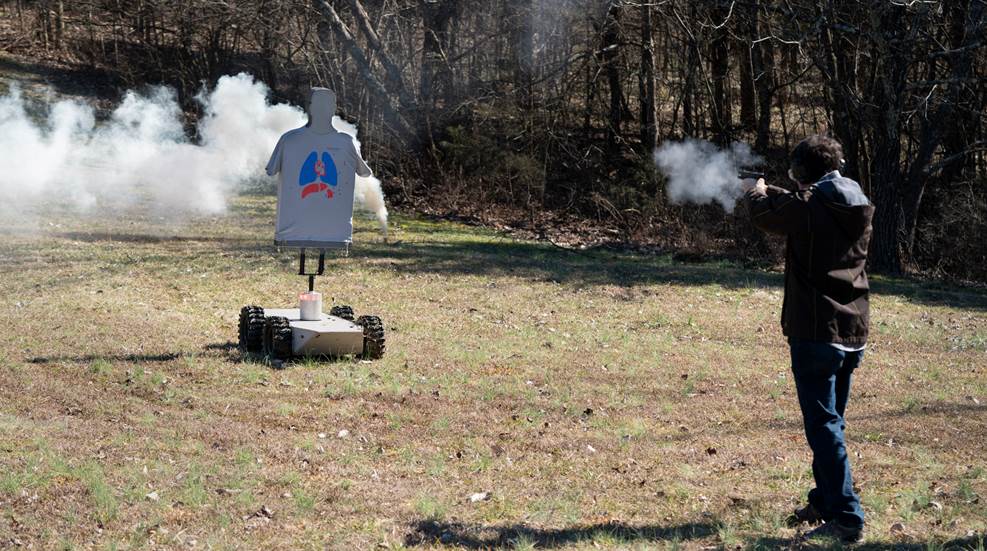 Modern guns are pretty accurate. Even slightly trained people can pick up a pistol and shoot somewhere near a bullseye on paper. However, when even well-trained shooters end up in a stressful situation (or even just varmint hunting), the hit ratio diminishes to unsatisfactory levels. The causes are multiple; one of them is that a stationary bullseye is just that—unmoving. Once target motion is introduced, many find their static marksmanship training inadequate to the task. Solution: enter moving targets.
Imagine standing comfortably at an outdoor range ona lovely spring day, when a humanoid torso on a wheeled chassis comes your way over a slight hill. What is it and why does it have a cell phone in its hand? Is that a cell phone or a gun? It's coming right for us! Blam! Blam! Repeat as needed; remembering to move to cover as you reload. See the base of the target glow red. Whew! It stopped...
Tim Cummins retired after a 30-year career in the Air Force and Air National Guard as an Emergency Management Craftsman, working in Anti-terrorism and Homeland Defense. He followed that with seventeen years in Law Enforcement. Currently a multi-threat and emergency response instructor for handling Mass Casualty Events at the Center for Domestic Preparedness in Alabama, Tim also has taught firearms use and safety for fourteen years. He founded CroMagnon Targets in 2015, after teaching self-defense for eight years. He found that shooting stationary bullseyes from a stationary position didn't translate into real-world defensive performance. It's not just that accuracy was lacking, but also reluctance to fire on a moving target despite a (simulated) dire and urgent threat from it.
Tim started with making self-sealing, highly realistic 3D targets made of self-sealing rubber. They could be dressed and outfitted with objects like prop phones or guns. More recently, he put his mind to solving the issue of realistic range training by creating a remote-controlled armored all-terrain base that would move independently, replicating the motion of an armed opponent. Four knobby tires move the 300-pound vehicle powered by four 300W high torque motors with authority. A fifth motor rotates the interchangeable target stands that can hold a flat cardboard target or a more realistic 3D rubber target.
For even greater utility, a target made of layered dense material with an embedded hit sensor flashes a red light with every hit on the vitals. 3/8-inch thick AR500 armor plates keep the vitals of the target carrier protected from accidental hits or ricochets.  Two 12V 80Ah lithium power packs keep the rig going for 6 to 8 hours before a recharge is needed. FlySky FS-16 remote control is simple in use, controls both the wheeled base and the rotating target holder direction. The engineering department at a university in Alabama helped fine-tune details like target rotation and shot recognition.
Transporting the target carrier is simple: it simply climbs a gangway into a truck bed. The weight keeps it from bouncing too much as it approaches the shooter. Evasive or chasing maneuvers are controlled by the shooting instructor or an assistant, so the target comes across as intelligent. When a shooter side-steps and the target turns to cut him off from escape, the emotional involvement in training escalates. The target motion also helps train the awareness of the safe backstop and of potential innocent bystanders in the background. Shooters report that the degree of realism and time pressure imposed on their marksmanship and firearm handling demand radically better performance from them. All want a lot more range time to sharpen their defensive skills, including familiarity with specific weapons and accuracy against moving targets.

CroMagnon targets are made to order. Lead time is 45-60 days, depending on the demand. Visit cromagnontargets.com for more information or to order the company's targets or target systems.