Support NRA Shooting Illustrated
DONATE
The "throwback" configuration of the Colt 6700 (AR-15A4) certainly stands out amongst more contemporary 5.56 NATO AR-15 pattern firearms. Current carbines with their modern adjustable stocks, sleek M-Lok handguards that envelop their shortened barrels and low-profile gas blocks are juxtaposed by the Colt 6700's full size 20-inch barrel and its iconic A2 combination front sight and gas block. A full-size A2 stock with the original A2 receiver extension buttresses the back of the receiver. Other than the fully modern Picatinny railed flat-top upper receiver (which includes M4 feed ramps for increased reliability), the Colt 6700 might give off the impression that it was to be sold as a retro rifle. In many ways it can certainly evoke feelings of nostalgia and in all honesty, this was one of the factors that led me to purchase mine. There is no point in arguing that a rifle dressed out nearly the exact same way it was nearly 30 years ago will be as handy when directly compared against a thoughtfully configured AR-15 carbine affixed with the latest furniture or features. However, the sum of the parts that make up the Colt 6700 are tried-and-true and have nearly 60 years of development and use behind them. Even with caveats about its size and portability, the Colt 6700 can serve as a perfectly practical general-purpose AR-15 rifle.
The Colt's Lock, Stock and Barrel
The 6700 is fully dressed with A2 furniture, the original stock set found on the M-16A2 rifle. The M-16A2's upper receiver, pistol grip, stock, handguards, front sight base and flash hider were all slightly tweaked from the M-16A1's original design and these parts have become the default in the AR-15 world ever since. The Colt's stock has a length of pull of 14 inches and a storage compartment meant for field-expedient cleaning kits. Most AR carbines today use rail systems as opposed to the long, tubular A2 handguards, which perhaps really tie in the 6700 as a retro-rifle with the way they draw attention. Due to the overall size and length of the A2 stock on the Colt 6700 rifle, mentioning that this stock might be cumbersome to shooters of shorter stature or those who shoot with plate carriers or any other type of load bearing equipment would be fair. Replacing the A2 stock and its receiver extension with something that telescoping carbine stock would be a useful upgrade. In fact, merely switching out the stock alone would greatly improve the 6700's handling characteristics.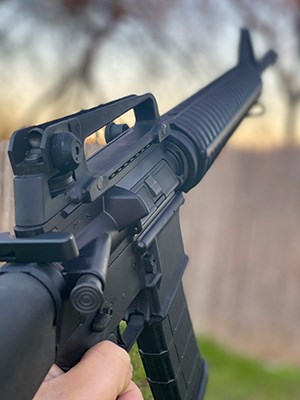 The heart of this rifle is its full size 5.56 NATO 20-inch barrel. This original barrel length is what best connects it to its original 1963 ancestor, the M-16 rifle. Unlike those early full-size barrels which had thin profiles and had slower rifling twists of either 1:12- or 1:14-inch, the Colt 6700 has a more modern government profile barrel with a faster 1:7-inch twist. Nowadays, the 1:7-inch barrel twist has become the standard for any serious 5.56 NATO AR-15 and is useful for stabilizing modern, more accurate projectiles that are typically not only longer but also heavier than traditional 55-grain standard FMJ bullets for this caliber. The Colt 6700's barrel will handle anything from that standard 55-grain ammunition to heavy-for-caliber long distance 75- and 77-grain bullets. Like its military counterparts, the 6700's barrel is made from 4510 chrome-moly vanadium steel and its bore is also chrome-lined for added corrosion protection and durability. Both .223 Remington and 5.56 NATO cartridges may be safely fired in this rifle. An A2 flash hider crowns the muzzle. Much like the A2 furniture set, this flash hider has also become the standard for most AR-15s. Though the A2 front sight and gas block are considered outdated or retro, this design remains one of the most reliable and robust options for any AR-15. The front sight itself is adjustable for elevation and shooters can move it by either using a special tool or simply the tip of a 5.56 NATO cartridge. In spite of its strengths, the A2 front sight base's drawback is the fact that it limits modern rail or fore-end options. For example, when shooting LPVOs on the lowest magnification settings, the sight appears as a "phantom" image. It does not impede any actual shooting, however.
Check Your Head(space)
The two most valuable benefits of shooting an AR-15 rifle with a longer barrel is that a bullet has space to develop more velocity (further aiding in effective range at extended distances) and the fact that AR-15 rifle-length gas system is smoother and wears the action less than mid- or carbine-length gas systems. The recoil impulse is also different, and there is no doubt that a larger rifle will absorb felt recoil better than a lighter carbine. The Colt 6700 has a full-auto style bolt carrier with a gas key that is properly fastened and staked. This is crucial for reliability and is oftentimes a detail that some gunmakers overlook.
The upper and lower receivers are made from industry-standard 7075-T6 aircraft grade aluminum. The standard lower receiver is outfitted with an ambidextrous safety selector and a military style single stage trigger. The upper receiver is built with M4 feed ramps, has a traditional forward assist and it includes a detachable combination carry handle/rear sight unit that sits a flat top Picatinny rail section–with index marks.
The Colt 6700 At The Range 
I shot a total of 105 rounds through the rifle during its live-fire evaluation for this review. I primarily used Hornady's Black line of rifle ammunition, in my specific case the company's 62-grain .223 Remington offering along with the highly regarded defensive/duty use Speer Gold Dot 55-grain bonded, jacketed soft point. Ammunition was fired for both groups and accuracy and to get an to zero the LPVO on its upper receiver. All shooting was done at distances of 25 to 100 yards with the aid of a Steiner M8Xi 1-8x24 dual plane low power variable optic with a Plumb Precision reticle. This scope was mounted on a Geissele 34mm Super Precision mount. With the diminutive center reticle found on this specific LPVO fully zoomed into 8x magnification, shooting for groups at 100 yards was not challenging. The rifle was supported using a front and rear bag, and even though its "standard trigger" is far from ideal for shooting close groups, it was not a hindrance either. The rifle length gas system enhances the shooting experience by having the action cycle smoothly and not be a distraction.
Closing Thoughts
While a rifle like the full-size Colt 6700 may not be the first thing an elite counter-terror tactical unit would reach for nowadays, it is still a useful and practical rifle at its core. And it has the added benefit of launching projectiles at faster velocities with its longer barrel. Depending on one's desired outcome, upgrading the furniture on this rifle to make it handier would not be too hard. The Colt 6700's standard configuration with A2 furniture can certainly bring a nostalgic smile to many firearms enthusiasts. It would also be a good starting point for shooters interested in fielding a facsimile to the American M16-A4, a rifle that saw extensive use during the past two decades in U.S. military service.
Colt 6700 Specifications:
Make: Colt Defense, colt.com
Model: 6700/AR-15A4
Caliber: 5.56 NATO
Action: Direct gas impingement
Barrel Length: 20-inches
Barrel Twist: 1:7-inch RH twist
Muzzle Device: A2 flash hider
Length: 39.5-inches
Weight: 7.75 pounds unloaded
Finish: Manganese phosphate (steel parts) and type III hardcoat anodizing (aluminum)
Magazine: Ships with 1 30-round Magpul MOE magazine
100 Yard Accuracy Test
Load
Smallest Group
Largest Group
Average Group
Speer Gold Dot
55-grain JSP
1.25 inches
2.50 inches
1.84 inches
Hornady Black
62-grain FMJ
1.13 inches
1.75 inches
1.18 inches