Support NRA Shooting Illustrated
DONATE
While I'm a huge fan of AR-15 platform rifles, I've always felt the weak link here was the bolt charging handle. It's not only possible to bend that handle when charging the rifle, the whole pull back approach to charging can be very awkward.
The problem is a lack of leverage. Especially with a tight recoil spring behind the bolt carrier group, charging can require a very robust backwards pull (if not a jerk) to ready  an AR-15, with the shooter holding the rifle at arm's length with one hand while hauling back on the bolt charging handle with the other.
I don't find that a very safe situation, not with the end of the barrel bouncing around.
The whole operation gets even more difficult if the rifle has a scope mounted on it and the rear of the optic hangs over the charging handle. Yes, a handle extension can be a real help (with or without a scope), but the whole operation is still, in this shooter's opinion, less than optimal.
But leverage was not a problem with the Mike-15 223 Rifle Gen. II, from Foxtrot Mike, and available exclusively from Brownells, Inc., that I recently ran. Credit the forward placed, non-reciprocating charging handle located along the left side of the rifle's barrel, which let me put the full leverage of my left arm into working the charging handle.
AR-style rifles built with side charging handles are not new: Think FN SCAR, and well before the SCAR appeared the short-stroke, piston-operated AR-180. But side chargers have never been anywhere near as popular as their standard AR counterparts.
That's too bad, especially as the Mike-15 was not only easy to load and unload but it was also very accurate in the 200-plus rounds I recently ran through the unit. My Mike-15 also had zero problems stripping rounds from the magazine and ejecting spent brass. In addition to this, the Mike-15 featured a Magpul Zhukov folding stock for easier transport and gave the rifle a nice home defense capability as well.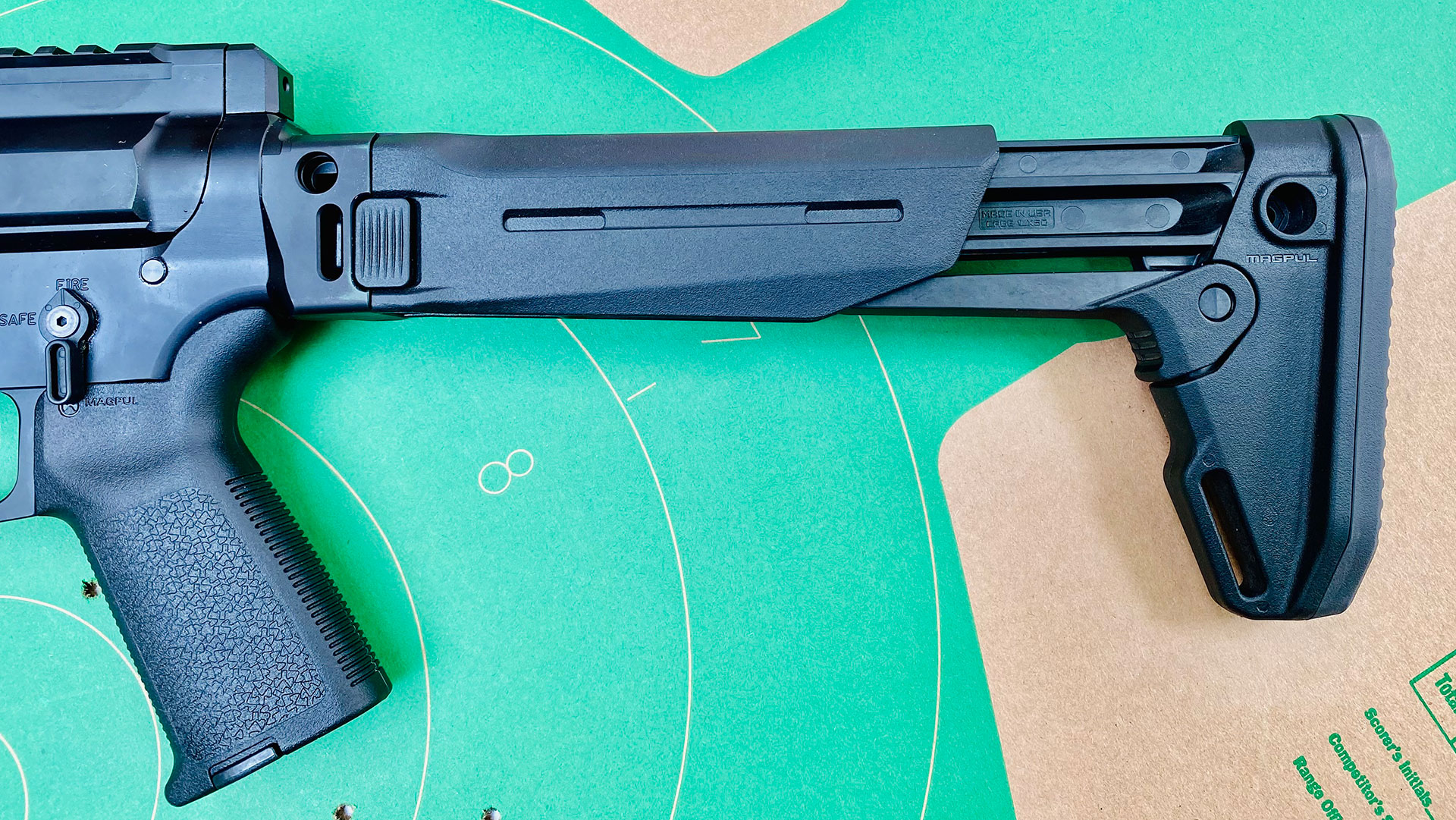 Mike-15 Features
The Mike-15 featured a proprietary bolt carrier designed to work with the forward charging handle system, with the end of the handle rod interfacing with a raised portion on the gas key of the carrier. The bolt carrier group reciprocated onto a unique "dual-nested" recoil spring fixed inside the upper receiver. That spring was also fully supported and captured to remain in place and keep the system aligned.
Side charger and no buffer tube, but still gas operated, as the charging handle rode  above a direct impingement, mid-length gas system, similar to a standard AR-15. What was not standard? The Mike-15 gas system featured a unique gas block, which indexed to the barrel with an alignment nub. The gas block was also secured in place via two coil pins, not set screws, to prevent any movement or gas leakage.
The metal charging handle could be adjusted to angle up or down and could also be switched to the right- or left-hand side of the barrel. My Mike-15 arrived standard with the charging handle on the left side of the barrel, and that was where it stayed.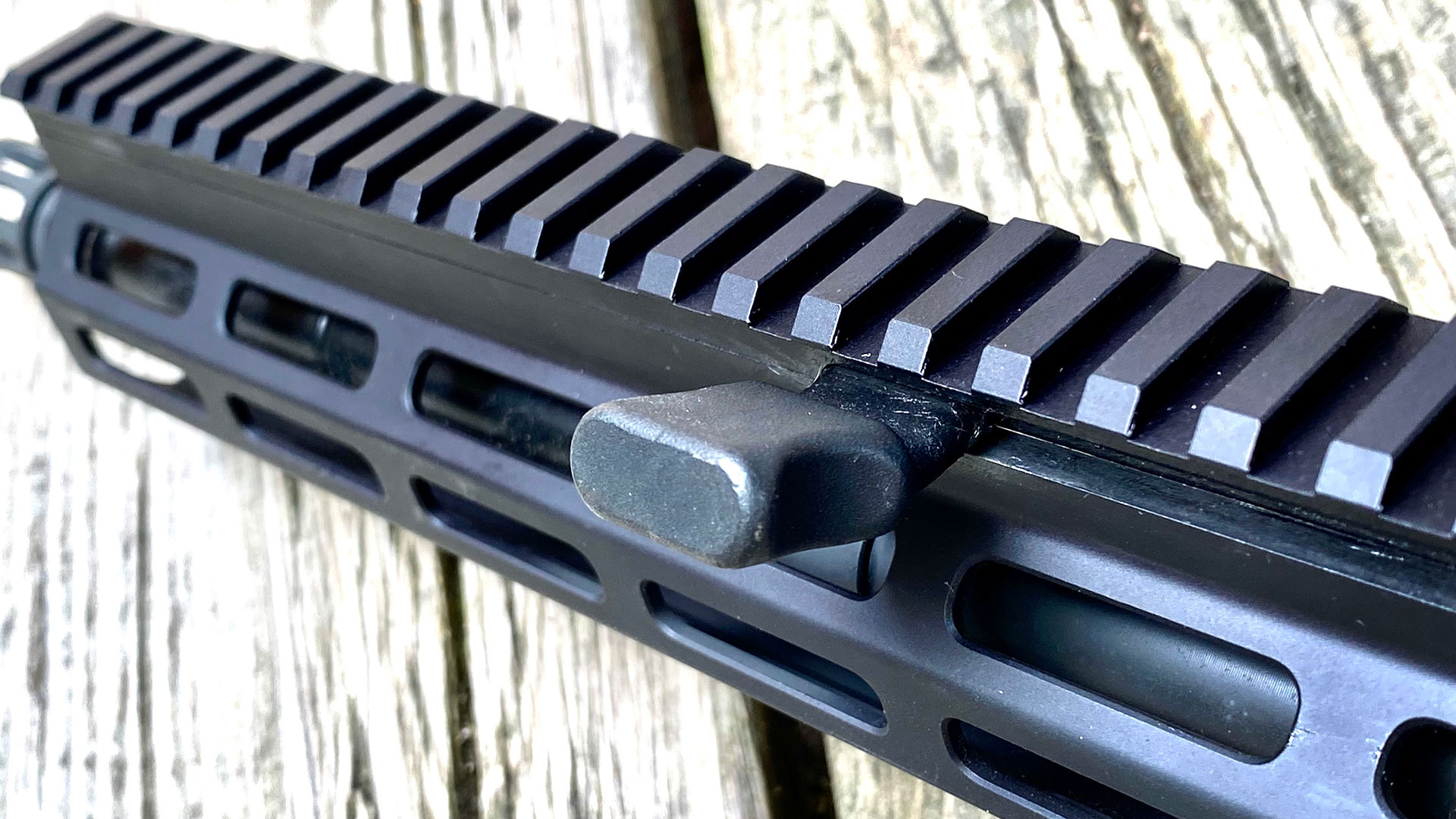 With this charging handle system, the Mike-15 can be fired with the Magpul Zhukov stock folded or extended.
Otherwise, the Mike-15 was chambered in .223 Wylde, had a 16-inch, match grade barrel with a 1:7 twist rate. The barrel was tipped with an A2 flash hider. The rifle sported a slim, 15.25-inch handguard with a full-length rail atop and M-Lok attachment spaces along the sides.
The Mike-15's upper and lower receivers were made from billeted aluminum, and the lower featured a large, flared magwell. The fire/safety selector switch was ambidextrous, and the rear grip was a Magpul MOE. 
Know When To Hold 'Em
To test for accuracy, I mounted Leupold's new Mark 5HD 2-10x30 rifle scope onto the rifle. The Mark 5HD featured a MilRad reticle and controls, a side-focus parallax knob and a handy throw lever. Images viewed through this first focal plane scope were extremely clear, the edges and colors of objects easily distinguishable, and the controls were very precise. All in all, a fine rifle scope, and one that just begs to be mounted on AR-platform rifles.
At my outdoor range, I first zeroed the Mike-15 and Mark 5HD at 50 yards and then moved to a 100 yard lane. I used three brands of .223 Rem. ammunition for my accuracy and function testing: Fiocchi Hyperformance firing a 50-grain Barnes Varmint Grenade bullet; Varmint & Predator from Federal Premium, loaded with a 50-grain jacketed hollow point; and Liberty Ammunition Overwatch and its 55-grain lead free, fragmenting bullet.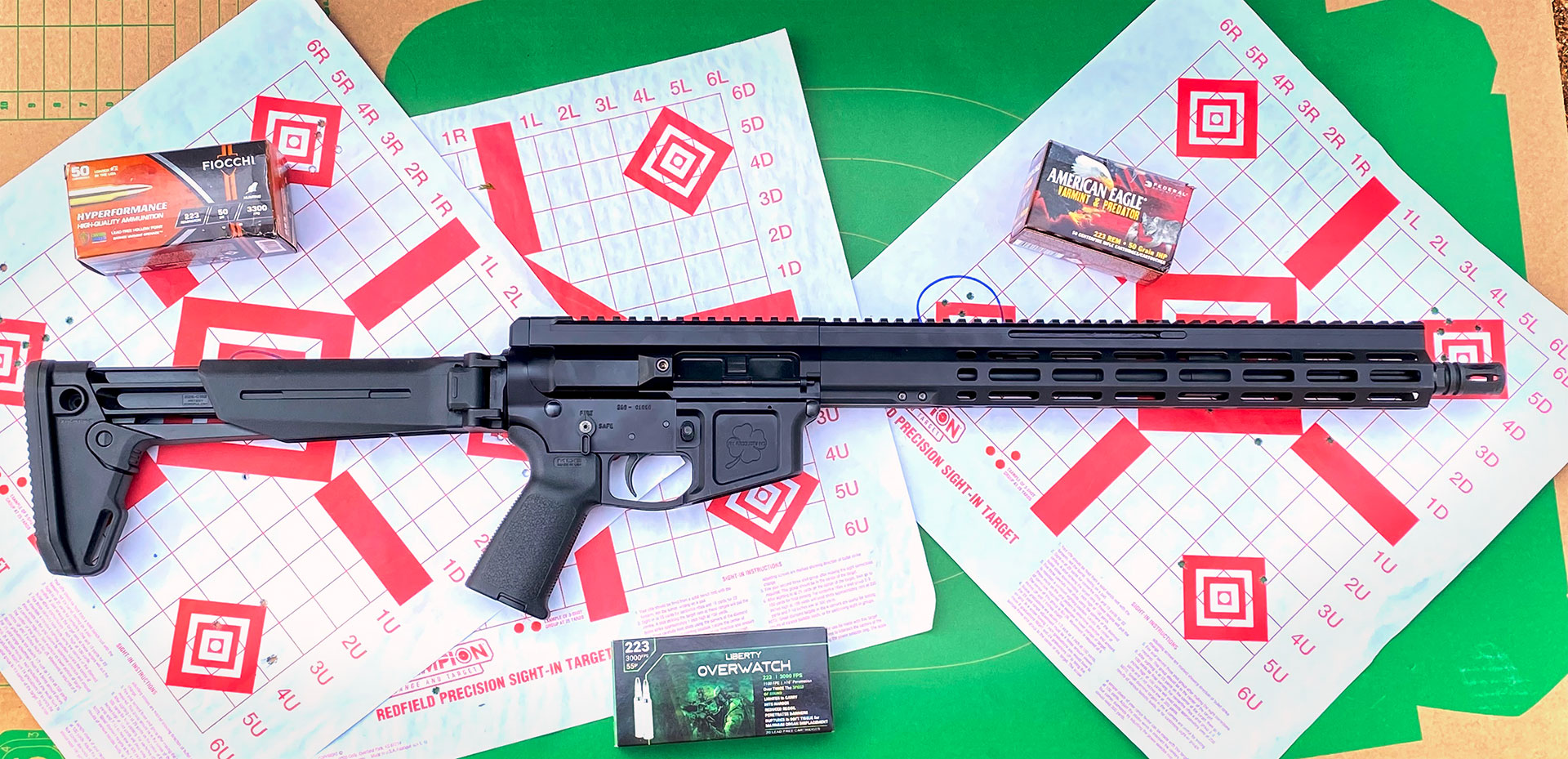 All three brands easily made four- and five- shot groups of 1.0- to 1.40-inches at 100 yards, firing from a sandbagged rest.
Best groups included four shots from with the Overwatch at 1.1-inches, five shots with the American Eagle at 1.1-inches, and five rounds of the Fiocchi at exactly 1.0-inches.
Of note, I began my accuracy testing using the American Eagle load. Then, I switched to the Fiocchi brand .223 Rem. Expecting a shift in point of impact from a different ammunition, I fired three rounds of the Hyperformance at my 100-yard bullseye.  Through the Mark 5HD I saw I was hitting high and left. I adjusted my scope and proceeded with four and five shot accuracy groupings.
When I pulled the targets, I noticed that my first three shots of the Fiocchi were tightly clustered: a .34 inch cluster, to be exact! Pretty impressive accuracy from the rifle, ammunition and scope. 
Know When To Fold 'Em
I also shot the Mike-15 with the Magpul Zhukov stock folded up against the right side of the rifle's receiver. I was a little concerned that ejected brass might bang off the Zhuhov stock as the edge of the stock appeared to line up right at the bottom of the rifle's ejection port. Worry unfounded. All brass ejected neatly and never pinged off the stock.
With stock folded, I fired the Mike-15 at 10 yards from the hip and accuracy wasn't exactly precise. But I didn't expect it to be, and I was able to better direct my shots as I got used to hip shooting.
As the folded stock provided a more maneuverable rifle, I wondered about the Mike-15's functionality as a home defense option.
With ten rounds of the Overwatch ammunition loaded into the magazine, I sat on the ground with the Mike-15. A Champion LE Target, a human silhouette printed on a 24x45-inch cardboard rectangle, stood five yards away. My idea was to mimic someone lying in bed who'd just heard their front door being kicked open, reached for their stock folded Mike-15 at their bedside and defended themselves.  
Firing from that sitting position, I emptied the magazine trying for the center X, and scored a pretty reasonable grouping. All ten shots landed within six inches of the center X, and six of those shots hit within 4.5 inches of the X.
Which would thoroughly wreck any home invader's night.
Obviously, the folded stock makes the rifle easier to transport, too.
All in all, the Mike-15 is a first-rate AR, capable of exceptional accuracy. The side charging handle may take a bit to get used to for shooters used to standard AR-15's. But the transition will be fast and once the side charger is experienced, I suspect all other common AR-15's will always seem a little bulky and awkward to operate.
Specifications: Mike-15 223 Rifle Gen. II
Chambering: .223 Wylde
Action Type: Semi-automatic, mid-length gas system w/side charging handle
Finish: Matte black
Barrel: 41V50 Steel, 16.0 inch, Nitride finish, 1:7 twist rate
Upper Receiver: Proprietary Gen. II billet
Lower Receiver: Gen. II Billet w/flared magazine well
Stock: Magpul Zhukov folding
Front Sight: None
Rear Sight: None
Magazine Included: No
Length: 35 inches full length, 26.25 inches w/stock folded
Muzzle: A2 flash hider
Weight: 6.5 pounds
MSRP for the Mike-15 is $1,049.99, and more information on this rifle is at brownells.com.