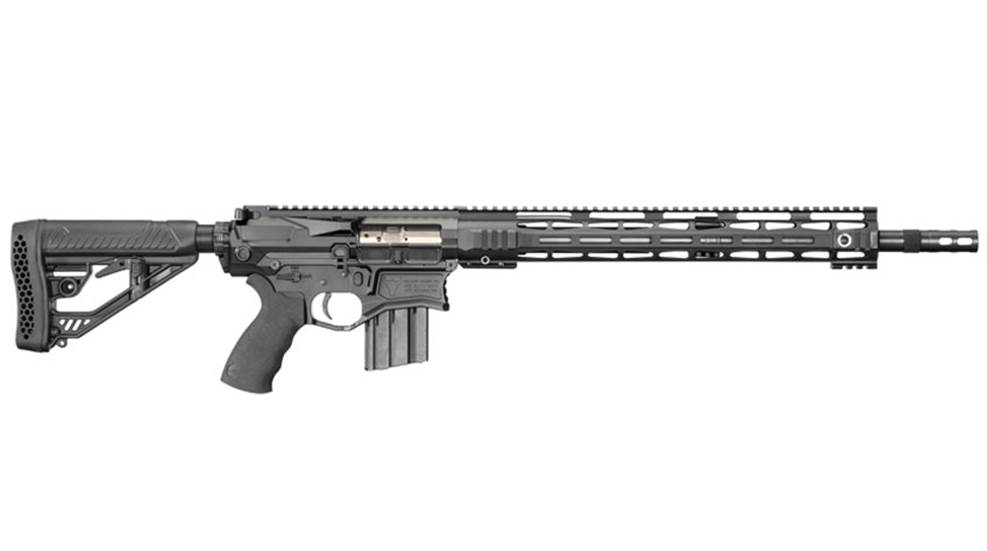 Big Horn Armory has come out with the biggest of big-bore ARs in its AR500, and it is as much as I want to use, until I can get some more help here.
Let's start with the cartridge first. Big Horn basically takes a .500 S&W Mag. case, turns the rim so it becomes a rimless case, and then takes full advantage of a rifle-length barrel. It calls the cartridge the .500 Auto Max. The .500 S&W Mag. has a rated pressure ceiling of 60,000 psi, so to hold this level of pressure, and the bolt thrust of a case this size, we clearly cannot wrap an AR-15-size receiver set around all this ballistic goodness. So, Big Horn Armory started with an AR-10, and the end result is a rifle it calls the AR500. Obviously, the bolt has to be altered, as the new rim on the .500 Auto Max is a nominal .520 inch in diameter, and the .308/7.62 NATO has a rim of .480 inch. The .500 Auto Max is actually a rebated rim, but I won't worry for a moment about the rim being .008 inch smaller than the case. There is plenty of room in the bolt for the .500 Auto Max rim, and Big Horn engineers then placed an extractor and ejector in the correct locations for proper function.
The AR500 is a DPMS-pattern AR-10, with all the size that it entails. The barrel is stainless steel, given a nitride, surface-hardening and corrosion-resistance treatment, and has a Rockwell C rating of 82. Its muzzle comes threaded for whatever device you need or desire that fits, with a thread pattern of ¾x28 tpi. It also sports an adjustable gas block, so you can alter the gas flow to accommodate any bullet weight with .500-inch diameter you care to shoot, load or find ammo for. That means anything from a plated 300- or 350-grain plinker bullet, at modest velocities, up to a subsonic load featuring the heaviest .500-inch bullet you can source and fit in the case.


The upper receiver has a full-length rail that extends the length of the handguard. The ejector pyramid is machined (the upper and lower receivers are machined from billet) to provide protection for left-handed shooters from the gallon-bucket-size empties that will each be flung out on a shot.
The handguard is a freefloat M-Lok pattern, with a full-length top rail, and the rest of the handguard is mostly covered with M-Lok slots. At the end of each the 3-, 6- and 9-o'clock positions, there is a short section of rail integral to the handguard. You can mount accessories there without having to have the M-Lok adapters to put on lights, lasers, etc. The handguard and barrel nut are a set. If you want to swap the handguard for something else, you'll have to swap the barrel nut along with it. Inside, the BCG is nickel-boron coated, for less friction, and eased cleaning.
Below, the lower receiver of the AR500 features an ambidextrous selector and bolt catch, but not an ambidextrous magazine release. The magazine well is a detail I found greatly interesting. Both receivers are an AR-10, meant for the .308 and similar-size cartridges. So why an AR-15 magazine? The big-bore mavens at Big Horn replied, "We started with a .308 magazine and found that it did not provide the proper feed geometry... So we went to an AR-15 magazine." The stainless steel ASC tube boasts a 30-round spring (so the magazine can lift the hefty cartridge fast enough to meet the bolt) and uses a single-point feeding follower. You cannot use a standard/STANAG magazine and expect the .500 Auto Max to feed.


The lower receiver has an AR-15-size magazine well broached into it. Though an odd setup, it runs reliably. Similarly, the lower receiver features a standard AR-10 buffer, and a proprietary action spring. It all works as a "standard" AR-10.
And what did I find? First, that I am not as inured to recoil as I have been in the past. Oh, I'm sure the muzzle brake Big Horn installs does a lot, but the .500 Auto Max exceeds all known factory loads of .45-70 Gov't.
This rifle wanted to shoot, if I did my part. Who among us can complain about sub 2-MOA accuracy, with this power? Combine tack-driving accuracy with pile-driving power, and whatever you want to shoot will stay shot. Buy this rifle, and no one can top you when it comes to horsepower in an AR.