Support NRA Shooting Illustrated
DONATE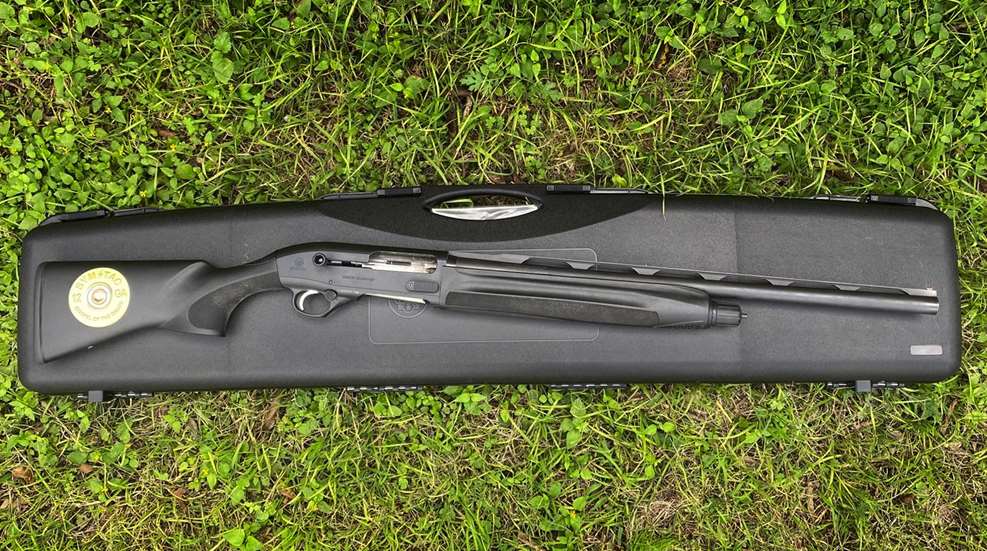 It's no secret that the Beretta 1301 Tactical shotgun has made a big splash in the defensive shotgun space since its introduction in the mid 2010's. The 1301 Tactical continues to prove itself and has quickly become the go-to for serious and newer tactical shotgun shooters alike. But the Tactical's more sporty cousins, the 1301 Competition models, are intended for use in dynamic shotgun shooting sports (eg 3-gun, etc). However, these Beretta 1301 Competition series guns are excellent all-around shotguns and useful beyond more than matches. Like the 1301 Tactical, much of these shotguns' greatness comes from their ultra-reliable gas systems and well-made quality barrels.
The Blink Gas System and Beretta Barrels
The Blink gas system is an extremely proven system first seen in the Beretta 391 Xtrema, a 3.5-inch waterfowl shotgun built for harsh hunting conditions. For more than two decades, it has cycled the actions of some of the 500-year-old company's most successful semi-auto shotgun designs including the Xtrema family, the TX4, the A400 family, and the 1301 family. The reliability of the Blink gas system's mechanism lies in its self-adjusting valves, so these shotguns are able to handle light sporting birdshot loads or heavy magnum loads without the shooter having to adjust anything. I have shot and patterned a vast quantity of both reduced- and full-power target, buckshot and slug loads through my personally owned 24-inch barreled Competition model with no issues since I bought it nearly two years ago. The Blink is also one of the fastest cycling semi-automatic systems found in shotguns–or any firearm.
Until Beretta started producing complete firearms a little more than a century ago, Beretta historically was known for its barrel making. Beretta's pride in gun barrels is still apparent today and it shows in their 1301 barrels, made from their proprietary alloy, Steelium. These barrels are cut and threaded for the Optimabore HP choke system (interchangeable with the A400 series and some O/U models too). Each 1301 Competition shotgun ships with one IC (improved cylinder) choke which is great for general purpose shotgun shooting. In my experience, shooting clay with the same brand of shot shells and breaking targets at the same angles, I have noticed that the Beretta breaks them a little more aggressively as it throws a denser pattern as opposed to some of my other shotguns. My 1301 Competition can consistently pattern Federal's Tactical Flite-Control buckshot at approximately 8.5 inches at 25 yards. Being that the Competition is designed for dynamic sport shooting, the barrel has a more traditional vent-rib system with a red fiber-optic front bead and smaller silver mid-bead. Unlike most clay shotguns whose ribs and beads are set up to have the target "float" above the bead (6 o'clock hold), the 1301 Competition uses a center-hold. After patterning some 1-ounce 1,600 fps Federal Tru-Ball rifled slugs at the recent Thunderstick Summit, I found that my 24-inch barrel was dead-on at 25 yards with a center hold as well. For tactical or defensive use, the vented rib provides the necessary height needed for the front bead to throw buckshot patterns correctly without point-of-impact shift. (An issue often seen on basic shotguns with beads directly on the barrel).
Stocks and Receivers
The 1301 Competition models' factory furniture set is probably one of the best in its class as far as factory stocks are concerned. The black polymer set is not too heavy and the texturing on the fore-end and wrist of the stock is aggressive. During rapid shooting, shotguns with smooth fore-ends can start to slip in the support hand and a shooter can lose control if they are not careful. The aggressive checkering found in this stock set definitely helps the shooter keep control of the shotgun. The edges of the fore-end also rise high enough to protect fingers from being burnt on hot barrels. Most shotguns sold in the United States typically come with a buttstock that has a length-of-pull (LOP) of 14 inches. The 1301 Competition's standard stock measures 13 inches and this slightly shorter LOP not only fits more people better than those typical stocks, but it makes the gun handle better. It also makes the shotgun easier to shoot from unconventional positions and angles.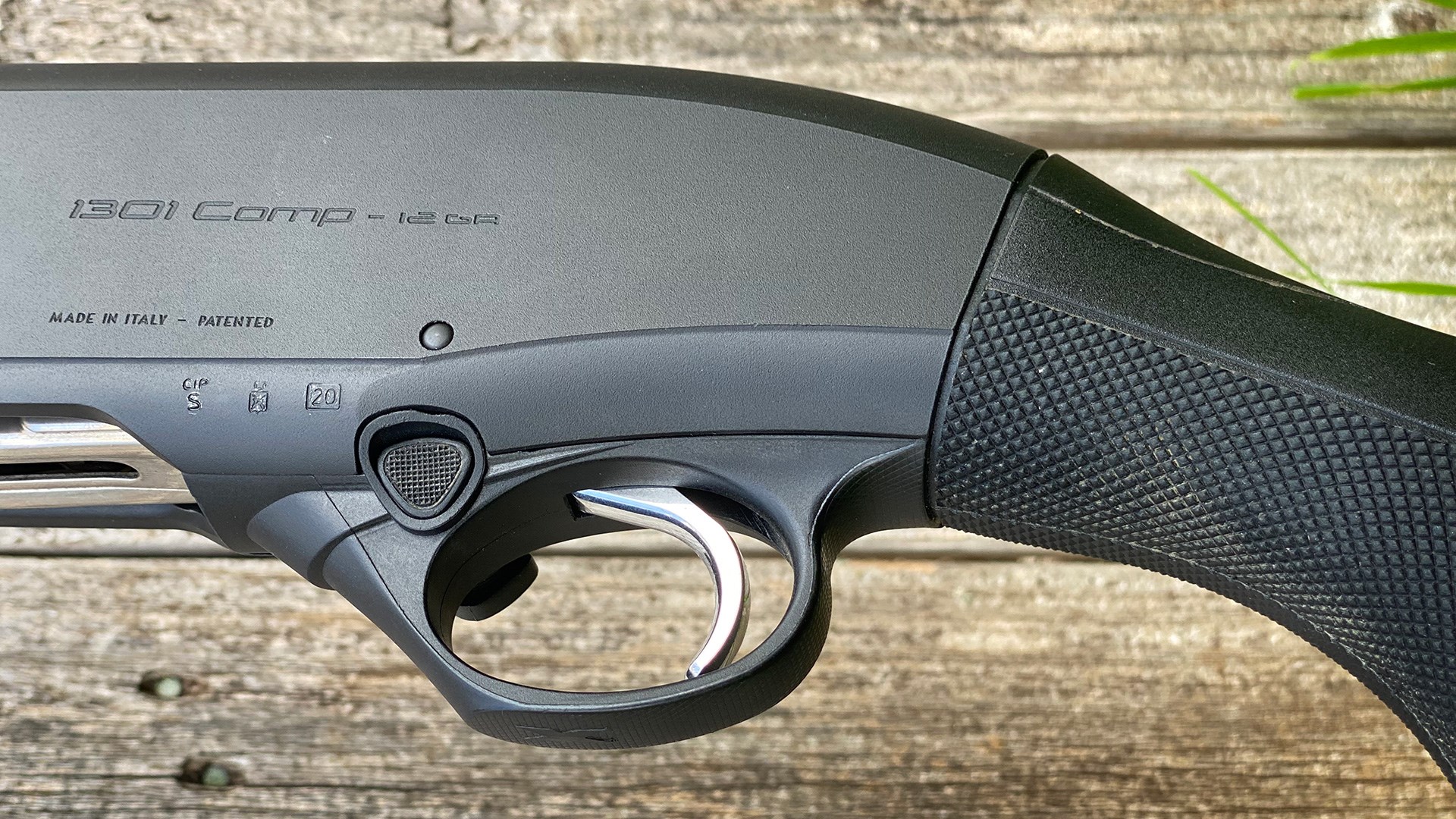 Beretta 1301 Competition receivers are light weight and made from anodized aluminum. The top of the receiver is ribbed and also drilled and tapped for rails and mounts. The shotgun has a reversible cross-bolt safety and an oversize shell latch. The latch is easy to actuate with minimal pressure and sometimes this causes the action to move forward at inopportune times, meaning that this shotgun is also susceptible to the infamous "shell-dump" issue. On a 1301, if the action is locked back, the latch releases it forward. If the action is locked in the forward position, pushing the rear of the latch releases shells (for easy unloading with the lifter pushed up and out of the way). However, if a shell is already sitting on the lifter and the latch is accidentally bumped or pushed in, it will release another shell into the already-occupied lifter area and create a jam. Replacing the latch with a more updated design or adding a shroud is a good idea for anyone wanting to seriously rely on 1301 Competition shotguns as these prevent the latch from being inadvertently actuated.
Adding to reliability is the fact that the bolt carrier and dual action bars are welded together and work as one unit. During firing, the Blink's piston directly taps on the carrier system and the bolt cams to lock into place at the breech, not the receiver. Doing so allows the Steelium barrel itself to bear the stress of firing which in turns allows the receiver itself to be machined from aluminum instead of steel, not unlike an AR-15. As this gun was designed around shooting quickly in matches, both the ejection and loading ports are oversize to better aid in loading manipulations. Additionally, the loading port is beveled and contoured making it easier to quickly load the magazine. As with many competition-oriented features, this one lends itself well to any type of shooting.
Not Just For Matches
With its reliability and ability to handle heavy firing schedules, the sum of the parts that make up a 1301 Competition shotgun have made it a darling of competition bays the world over (this means that many upgrades and extra accessories are available too). But this formula is also what makes the 1301 an excellent if-you-can-only-have-one shotgun. Take this Beretta to the sporting clays course, break some targets at the skeet range, then go to a 3-gun match with it. Or take it hunting, since it has a 3-inch chamber. Most of all, feel free to attend tactical shotgun class with it and use it to defend your property confidently. In spite of its lighter weight, the Blink gas system still absorbs most of the recoil. This shotgun can not only cycle a wide variety of ammunition, but it will do so very quickly and relatively cleanly. And the barrel will throw a good pattern. Most importantly, these utterly reliable shotguns are generally legal to possess in states where other firearms like semi-automatic rifles in common use are not. The versatility offered 21-inch 1301 Competition with a quality magazine tube extension, for example, would serve anyone well no matter where they lived in the country. A well-trained citizen with a shotgun like this one is a serious force to contend with.
Beretta 1301 Competition Specifications
Make: Beretta
Model: 1301 Competition
Gauge: 12-gauge, handles 2.75 or 3-inch shells
Action: Semi-automatic with Blink gas system
Barrel: 21 or 24 inch, vent-rib
Magazine Capacity: 5 rounds
Weight: 7 pounds, 3 ounces
Overall Length: 41 or 44 inches
Choke: Optimachoke HP
Furniture: Black polymer set
Safety: Reversible cross-bolt safety
Retail Price: $1250