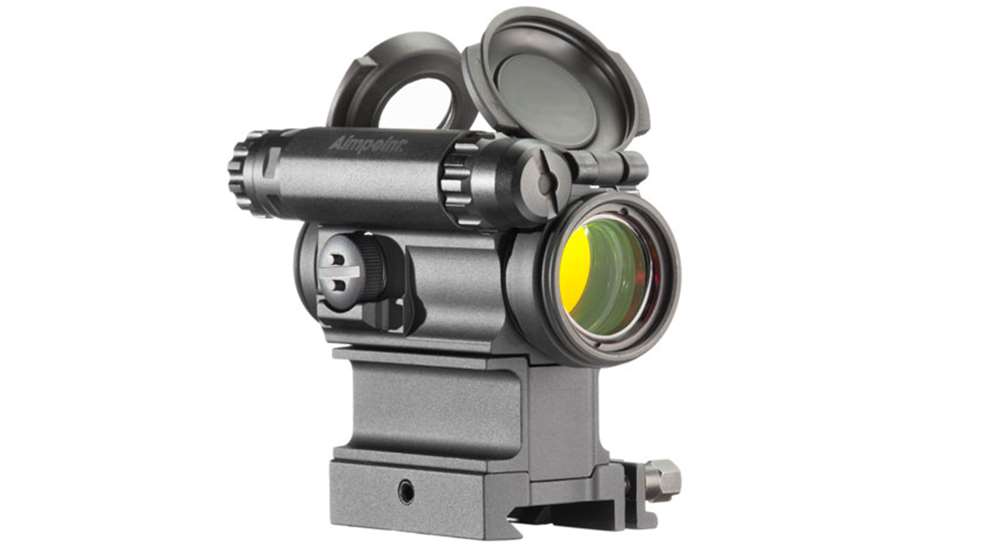 The biggest complaint we get from our readers is that the products we review are too expensive. Well, complain away, because the new Aimpoint CompM5 red dot is indeed obscenely expensive for an unmagnified optic—but read on, because the reasons for its high MSRP might convince you that it's worth the cost.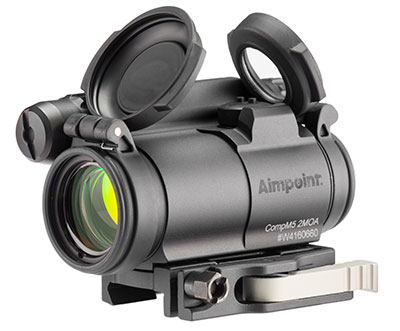 For starters, the Aimpoint CompM5 is essentially identical to the latest dot sight adopted by the U.S. Army as the M68 Close-Combat Optic, the Aimpoint CompM4, only in a package that is significantly smaller. The CompM5 is nearly 2 inches shorter, more than 1 inch narrower, nearly .75 inch shorter and about half the weight of the CompM4. Part of the size reduction is due to the use of a AAA battery in the CompM5 as opposed to the AA battery that runs its older, larger sibling, but despite using a smaller, readily available-at-any-store battery, it maintains the same ridiculously long battery life. At brightness level 7 (out of 10), the CompM5 will run for 50,000 hours, or more than 5 years. At the night-vision settings of 1 to 4, it will run for about 10 years. Full disclosure: I did not test those claims, since I figured our readers would like to learn about this sight before their flying cars transmit the review to the chips implanted in their brains in 2028. That said, I have an Aimpoint Micro T-1 on my Citizen Arms Hoplite, and I haven't changed the battery in about 4.5 years—it's been on that whole period and is still functioning as of press time.
Beyond being merely a miniature version of the U.S. M68, the CompM5 was itself developed for a military contract, though Aimpoint would not confirm which military sought the smaller sight. What that means is the Aimpoint CompM5 is as durable as a red-dot sight can be. The company claims it is waterproof to 150 feet, which is deeper than my bathtub—the sight did work just fine after a dip in a relatively full sink. I can attest to its optical quality and external fog resistance, since testing was conducted in a well-heated range when the outside temperature was pushing Canadian lows.
Two of the best features of this optic are the 39 mm spacer and quick-release mount (which Aimpoint calls an LRP Mount). The spacer provides the exact right height to co-witness the Aimpoint CompM5 with standard AR-pattern iron sights, while the LRP Mount makes attachment a snap. With this system, you needn't boresight the optic. All you need to do to get on paper is align the dot with your extant iron sights, and you'll be almost zeroed. It took me all of one shot to get within 3 inches of the bullseye, and just one more to deliver a round to the dead center of the target.


Despite the ease of zeroing and perfect repeatability of its windage and elevation adjustments, my biggest complaint about the Aimpoint CompM5 (apart from its cost) is Aimpoint's choice of mil-based adjustments. Mil-based systems are without question ideal for long-range tasks, but an unmagnified dot sight with a 2-MOA red dot is not designed for use at 1,000 yards. Most people will never use the CompM5 on targets beyond 200 yards or so, which makes mil-based adjustments a headache. Of course, most shooters won't be making any adjustments to the CompM5 after zeroing it, both because at ranges inside of 200 yards you don't have to and because the adjustment knobs require the use of the screw-off covers or the included tool to make changes. Still, I'd have gone with an MOA-based adjustment system for simplicity.
The Aimpoint CompM5 can also be mounted directly to the LRP without the spacer, and a shorter, 30 mm spacer is available for co-witnessing with Heckler & Koch-platform sights. While it might be absurdly expensive for a red-dot sight, its quality is unrivaled in today's market. But yeah, it's pricey.