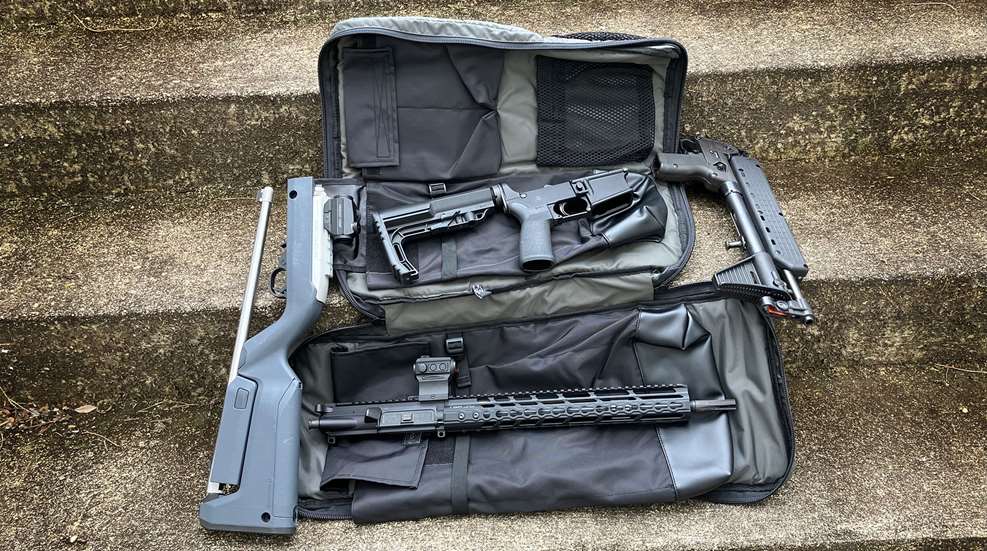 Old habits die hard. As an escapee of the People's Republic of Massachusetts (my apologies to my comrades still behind the Red curtain), I still find myself apprehensive about walking out of the house with an overt rifle case in my hand on my way to the range. It's much less of an issue in Virginia, even in modern times, but I still feel the hair on the back of my neck stand up when carrying a rifle case. "They can SEE me carrying a firearm!" the hindbrain screams.
For a multitude of reasons, being discreet when transporting firearms, especially long guns, is a smart idea. Whether you just don't want your nosy neighbor to know you're heading to the range or you're spending time deep in the woods and don't want to panic the nature lovers, a case that doesn't look like a firearm case can work wonders.
In the case of the Adaptive Tactical Takedown Firearm Backpack, you can carry a takedown or folding carbine, extra magazines, a few boxes of ammunition and other range gear, along with some snacks and a bottle of water or two. All while looking like a standard hiking backpack. Brilliant! A zipper running the entire front of the backpack allows the two halves to lie flat for easy packing, the pack has plentiful padding and cushioning to protect your firearms and a plethora of pockets exist to stow all your gear.
On one side of the pack's interior, there's a large pocket with a hook-and-loop flap that will easily store a takedown rifle like the Ruger 10/22 or PC Takedown Carbine or a folding rifle like the KelTec SUB2000 or the new Smith & Wesson FPC. On the other side is a smaller pocket that can take extra magazines or, if you have an AR-15 separated into upper and lower receiver sections, the lower receiver. Fitting an AR-15 upper receiver into the larger pouch is tricky, and may result in the barrel having to poke out of the pocket (but not out of the backpack).
There are two deep pockets for 30-round AR-15 magazines or 25-round Ruger 10/22 magazines and a mesh pocket for cleaning supplies or range gear on the side with the smaller pouch. On the outside of the backpack are two pockets (and a mesh pouch) for miscellaneous gear, and there's a sunglasses pouch on the top. A grab handle conceals another neat feature: There's an elastic strap with a quick-release buckle that can clip the pack to the back of your car's seat. Neat!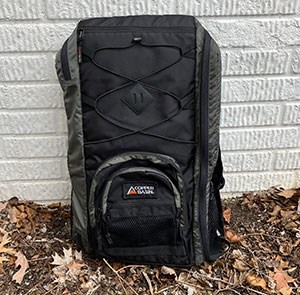 What I like best about the Takedown Firearm Backpack is that, all zipped up, it looks like a standard, run-of-the mill backpacking rig. There are two mesh pockets on the outside for water bottles, it's rigged up for a hydration pack, ample padding cushions the pack against your body and there's even a little whistle on the cross-chest clip. A reinforced section on the bottom guards against untoward damage to muzzles or folding mechanisms should the pack be placed on the ground, too. These are nice little touches that add up to a superlative, discreet design.
Whether you're taking your carbine to the range for a little practice and don't want the neighbors to know, setting up a hiking rig with a folding carbine in case of four-legged aggressors or simply having a go-bag with a carbine at the ready, the Adaptive Tactical Takedown Firearm Backpack is definitely worth a closer look. MSRP: $129.99; visit adaptivetactical.com for more information or to see other innovative products from Adaptive Tactical.