I used to strictly be a 12-gauge guy for home defense, but in the last few years I'm coming around to the notion of a 20. Here's why:  A 20-gauge with buckshot has ample killing power, yet it comes in a considerably smaller, lighter package with much less recoil. Consider the Winchester Super-X Pump (SXP) 20-gauge Defender. It's simply a scaled-down version of the company's venerable 12-gauge SXP.

With its slim, aluminum receiver and cutlass-like 18-inch barrel the SXP 20-ga. Defender weighs only 6.1 pounds unloaded. (I've caught four bass this year that weigh more than that!) This allows even smaller shooters to hold the gun to the shoulder and fire with just one hand on the grip and trigger. Of course, it will take two hands to cycle the action and fire again, but I've learned that being able keep a gun at the ready with one hand is hugely important. In a home emergency, the other hand will often be used for dialing a phone, aiming a flashlight, grabbing a handrail or steering a kid. Certainly, 12-gauge guns can be made light—although not this light—but if they are, their recoil is punishing, whereas the 20-gauge is much more manageable.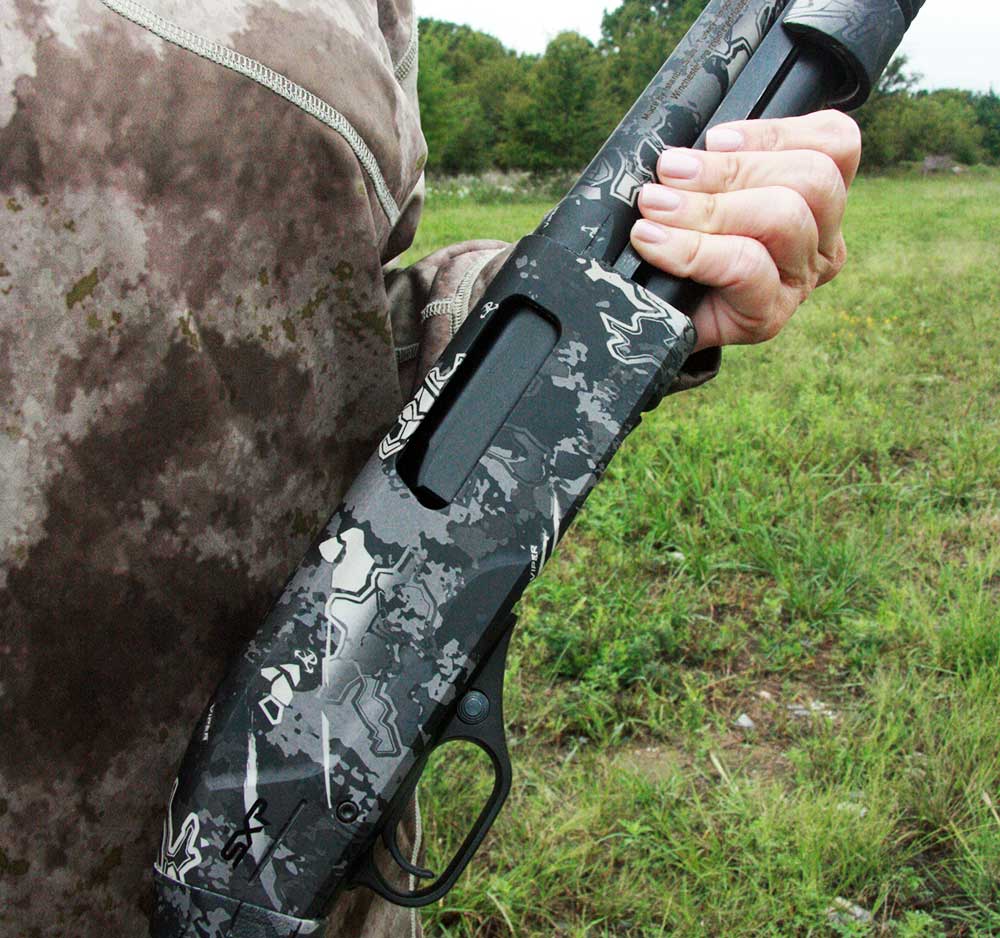 The Winchester SXP Defender Pump action is the real story here, because it's extraordinary. It uses dual-action bars and a spring-loaded, four-lug, rotating bolt head. The lugs rotate behind corresponding lugs on the barrel extension to guarantee unwavering lockup. But, when the gun is fired—or the action-release button is pressed—the spring tension produced by the shell trying to push against the rotating bolt head is realized as the bolt head is unlocked. As a result, the bolt springs partially open by itself and initiates the pumping action. This is why many people believe the SXP is capable of the fastest reloading in its class. The gun feeds and ejects 2.75- and 3-inch shells smoothly and reliably; I experienced zero malfunctions throughout testing.

It should be noted that this Winchester SXP Defender Pump, like many others, is made in Turkey rather than in one of Winchester's other plants in America or elsewhere. Companies in Turkey have been making guns for centuries and their manufacturing techniques, with CNC-machining capabilities, are now stellar. These companies can make guns less expensively, and that explains this gun's low price tag. Even so, I have witnessed no functional flaws in this gun or others just like it.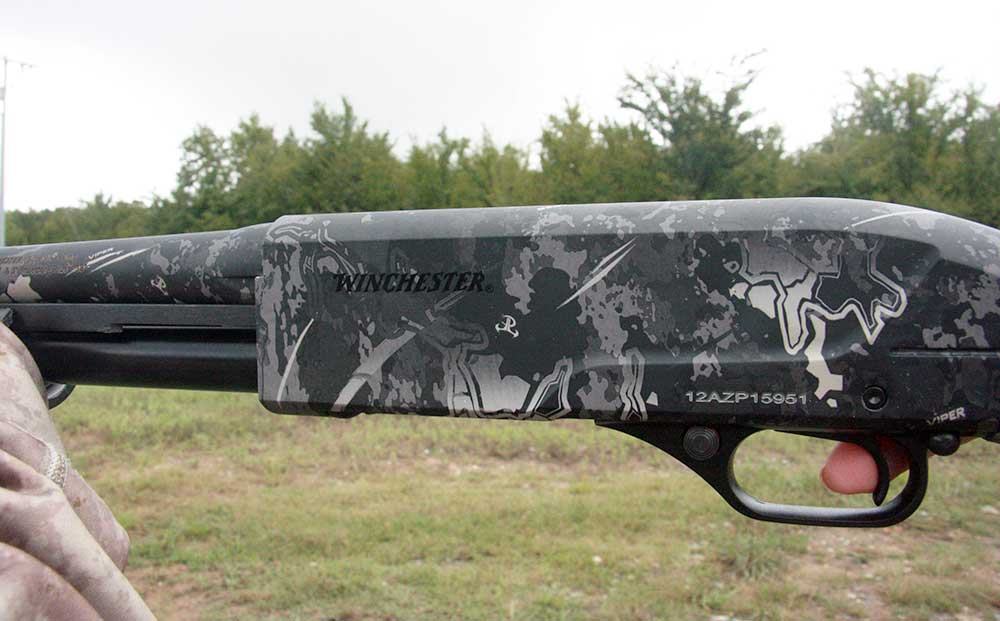 The low price is realized mainly via its furniture and finish; it features a fairly cheap-feeling injection molded plastic buttstock and fore-end. But both are durable and effective. The fore-end retains Winchester's trademark-style, deeply ribbed in a way I think is superior over simple checkering for grip, so I have no problem with saving some money on a stock material that will outlast me anyway. What is not cheap about the stock is its Inflex Technology recoil pad; it's a super spongy, quality pad that absolutely does its job. Plus, the top is beveled, so it resists snagging on clothing as the shotgun is shouldered.

Additional cost savings are also realized in the gun's polymer trigger guard and assembly, as well as the magazine follower and a small receiver plug. Many gun companies have gone this route, and while it makes the gun look cheaper, I don't believe it affects reliability. The worst part of its being made overseas is that it, by law, cannot come with an extended magazine. So the Winchester SXP Defender Pump holds five rounds in the mag, plus one in the chamber. This is perhaps this defensive gun's worst attribute. After a search, however, I found that aftermarket mag extensions are available for this particular model.

The shotgun's trigger is nothing special, but it's on par with most shotgun triggers, which means it breaks at about 6 pounds--after about 0.25 inch of take-up. More importantly, its crossbar safety is located ahead of the trigger, while its action release button is found in the standard position behind to the left of the trigger.

I like the Winchester SXP Defender Pump's simple brass-bead front sight that I think is superior to more complicated sights for home defense. It also comes with a Hi-Viz fiber-optic sight sleeve that clips on the barrel, but in my view this is mostly for marketing purposes. The brass bead is preferable because it's more durable and just as effective. Paint it white if you're worried about seeing it, but in most cases of low light, the front bead becomes a black silhouette and is therefore viewable, anyway.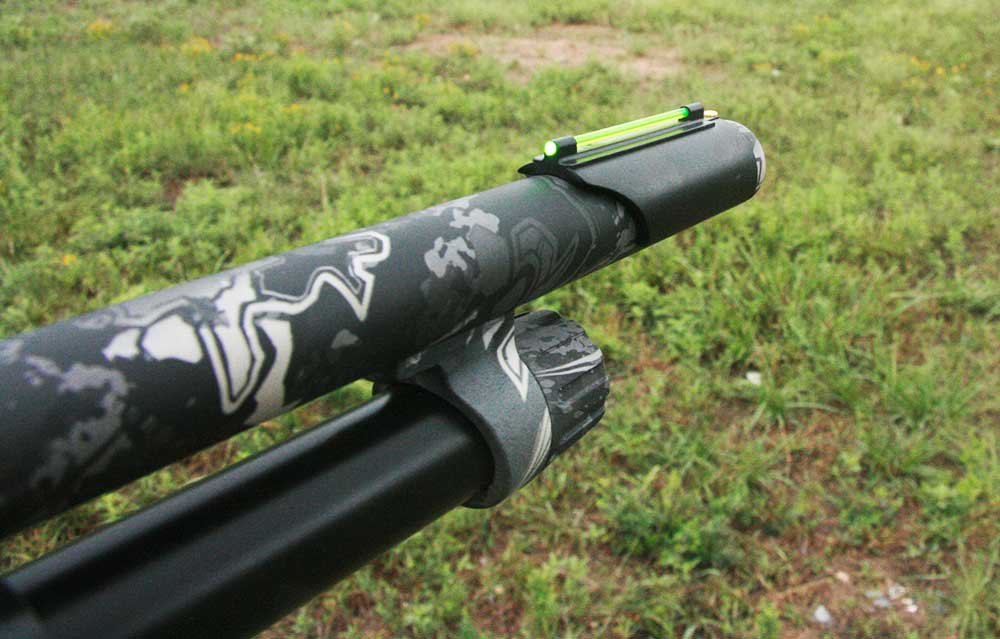 Overall, the gun measures just 38.5 inches total and handles like a magic home-defense wand. The version I tested is dipped in True Timber Viper Urban camouflage finish that makes it look cool, but more importantly, completely protects its exterior from rust.

The 20-gauge Winchester SXP Defender Pump is handy, ultra-reliable, quick and easy to pump and so light that you can maneuver it with one hand. It's fun to shoot because it recoils so little. It's got sling studs, so you can put it on your back in an emergency. Perhaps the best part is that the shotgun can be purchased for around $350. MSRP is $429, but you can get one closer to $325 if you choose a non-camouflage version.

The bottom line is this: If you're looking for a defensive shotgun to stash in a closet or even in a car trunk or boat hold, I'd strongly consider this 20-gauge. It's also a great solution for a wife or small-statured home defender. I promise you, it'll do the job on any bad guy in the world, and it will do so without breaking your shoulder or the bank.