There's a reason 5.56 NATO ARs are so prolific, and it's mainly because they are so darn fun to shoot. In other words, the AR's 3 ft.-lbs. of recoil energy is like playing patty cake with a toddler. Fact is, there are plenty of lightweight, AR-style 7.62 NATO/.308 Win. carbines available now, so if weekend warriors valued terminal ballistics over recoil, these ARs would dominate shooting ranges.

Yet, they don't, and the same goes for shotguns. I think more people would shoot them if they were more fun to shoot, but shotguns loaded with magnum loads can be a downright miserable experience for most of us. Of course, a huge factor in recoil mitigation is proper technique, but rest assured there are ways to modify the shotgun itself so the edge is removed from its kick. After you do, you'll find it more controllable, less painful, more fun and as a result you'll shoot it more and become a better defensive shotgunner.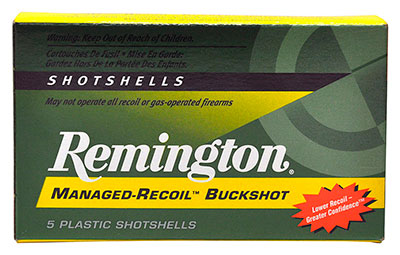 Low-Recoil Loads
The most important factor in the recoil equation is the energy of the shotshell, and several companies make low-recoil loads. While some choose to produce them by delivering smaller payloads at standard velocities, others fire standard-weight payloads at lower velocities, all resulting in the same thing: lower muzzle energy. However, there are two downsides to reduced-recoil loads.

First, any reduction in recoil of the load also means a reduction in terminal performance, i.e. pellets penetrate less and generally cause less damage to the target. Secondly, many low-recoil loads do not function well in all semi-automatics. In general, I don't recommend these rounds for home defense, particularly if you prefer a semi-automatic shotgun, mainly because better options exist for reducing recoil that do not sacrifice terminal performance. If recoil is a compromising factor for you, you can always move to a 20 gauge, just make sure the 20-gauge shotgun isn't ultra-lightweight, which would defeat the purpose of lessening recoil.

Weight Gain
An 8.5-pound shotgun shooting a nominal 1 1⁄2-ounce, 1,200-fps buckshot load generates about 31 ft.-lbs. of free recoil. A 7.5-pound shotgun shooting the same shell generates 35 ft.-lbs. So one simple way of reducing recoil is merely by adding weight to the shotgun. After all, we are talking home defense here, not hunting or other activities that require covering lots of ground or carrying things for a long time, so adding weight isn't a big deal.

You can buy a mercury-filled or steel "recoil reducer" and install it in the butt or you can secure lead tape or a roll of pennies in there. However, if you're going to add weight to the shotgun, it's my opinion that you're best served by adding accessories that are actually useful. Adding a flashlight, an extended magazine, a side-saddle with shells, a sling and a stick-on cheekpad can easily add 2 pounds to your shotgun—which will reduce free recoil significantly.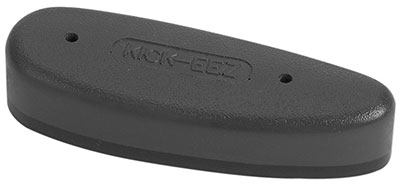 Mechanical Recoil Reduction
Felt recoil is a tricky phenomenon. While free-recoil energy can be calculated using gun weight, velocity and weight of the ejecta (among other smaller variables), it doesn't always equate to less pain for the shooter. Perceived recoil—or what the shooter actually feels—on the other hand, can be mitigated by various other mechanical means, but it's by definition impossible to quantify.

Take for example a pump shotgun versus a semi-automatic that weighs exactly the same. They both produce the exact-same amount of recoil energy, but because a semi-automatic uses some of the recoil energy to cycle the action therefore delaying and/or redirecting some of the recoil forces, the shooter feels a net reduction of recoil. Some semi-automatic, gas-operated guns can reduce felt recoil by 40 percent or more.


Furthermore, take two identical pump-action shotguns firing identical loads; one wears a soft-rubber recoil pad while the other wears a hard-plastic one. Obviously the two guns produce the same amount of free recoil energy, but the one with the soft-rubber recoil pad exhibits less "felt recoil" because its recoil impulse was spread out over a longer time period—or in other words ... padded. The point is, if your shotgun doesn't wear a quality recoil pad, install one now. The same goes for the stock's cheekpiece. If every time you shoot the gun your cheekbone becomes red and bruised, pad that thing with foam and duct tape or get a new stock.

Several gun companies have done a wonderful job mitigating recoil by way of mechanical technology. Benelli's ComforTech II technology uses a leaf-spring-like system under a cushy cheek pad to significantly reduce felt recoil. Remington's Versa Max features a gel-like comb insert as well. But, the king of recoil reduction is Beretta. Using the soft-recoiling gas-action of its A400 models, the company offers its Kick-Off recoil-reduction system in the stock that features spring-loaded shock absorbers. It absolutely works. 

Another way to tame the mule is by redirecting the shell's gas as it exits the barrel so not all of it is directed straight back toward your face and shoulder. Muzzle brakes are proven to reduce recoil by as much as 70 percent in rifles depending on the aggressiveness of their ports, but they also come with drawbacks including increased noise and blowback that can be harmful to nearby ears.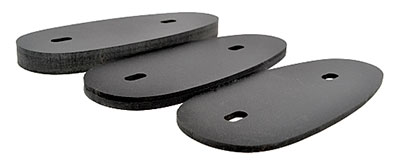 Fit
Often overlooked, but quite important for recoil reduction, is shotgun fit. All the rage right now are tactical-looking shotguns featuring collapsible, AR-15-style stocks that look cool and are great for AR-15s, but miserable for hard-recoiling shotguns. Turns out, British bird hunters perfected shotgun stocks a couple hundred years ago to fit shooters so recoil would be mitigated.

However, most of the old British gun stocks were custom-fitted to the individual shooter. Should you be 6-foot-two or taller (or 5-foot-eight or shorter), a mass-made stock from any modern shotgun company probably isn't going to fit you perfectly and will exacerbate recoil. Fortunately, many shotguns nowadays come with buttpad spacers and shim kits to customize the stock to your particular build. Take the time to experiment and install these accessories. If your shotgun didn't come with a stock fit kit, do what you can to modify the gun—even if that means buying a new stock.

Trust me, if you make sure your current defensive shotgun fits well by adding a few accessories to increase its weight and/or modifying it slightly in the ways I've mentioned, it can quickly go from a firearm you loathe shooting even once to a gun you enjoy shooting over and over at the range—and this can make all the difference in your proficiency for the times when you need it most.