From personal defense to slapping steel at the range, one of the most versatile and enjoyable AR platforms on the market is the pistol caliber carbine. Not only can the PCC harness the stopping power of a wide variety of top tier factory defense loads, it's generally available in compact, highly maneuverable variations from AR pistol and SBR to carbine lengths.

New for 2019, Stag Arms' new PXC-9 showcases the best of the PCC platform and is available in various lengths from 5.5 to 16 inches. This review highlights the AR pistol PXC-9 with 5.5-inch barrel and chambered in 9 mm.

Ultracompact, the 5.5-inch PXC-9 features a full-length Picatinny top rail with 5-inch M-Lok SL Gen2 handguard. The handguard utilizes M-Lok attachment points at the 3, 6 and 9 o'clock positions, and while short, it does allow for plenty of grip space and accessories like lights and lasers. The 7075 T6 aluminum receiver is engineered with a right-hand safety selector and a beefy ambidextrous mag release that's easy to manipulate even with gloved hands.

Built for heavy-duty use, the PXC-9 comes equipped with a carbine buffer and spring, while a proprietary bolt makes for the perfect pairing with pistol rounds. Unlike the standard BCG for the 5.56, the PXC-9 bolt is designed with a solid conical face and lacks the rotating extractor. It operates on a blowback design and, as testing demonstrated, makes for reliable function with various 9 mm loads. The bolt holds open after the last shot, as advertised, while the flared mag-well makes for easy loading.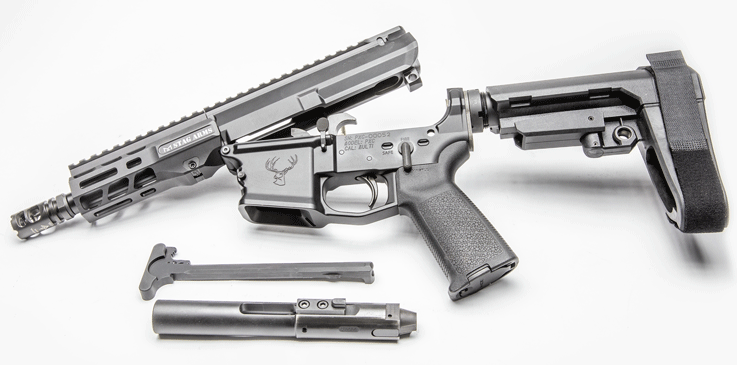 The PXC-9 also features a five-position SBA3 brace from SB Tactical, which classifies it as a pistol, not an SBR. The SBA3 brace features an integral, ambidextrous sling swivel socket and extends the pistol from 21.5 to 24.5 inches. A VG6 Precision Gamma 9 mm compensator helps manage recoil, making it easy to maneuver the PXC-9 with fast follow-up shots and moving targets.

At just 5.6 pounds and 21.5 inches, the PXC-9 is well-suited for backpack carry or easy stowing in the backseat of a vehicle. It pairs well with a red dot or magnified optic, which for this review included the EOTech HHS-2 with G33.STS magnifier. Despite its compact length, there's still plenty of room for a combination of optic arrangements.

The PXC-9 shipped with one Magpul PMag 10 Glock mag and will accommodate any capacity Glock-style mag. It's a convenient feature that the pistol accepts Glock mags, especially for those who cross train or carry with a Glock handgun.

At the range, the PXC-9 functioned flawlessly in fairly cold temps (27 degrees Fahrenheit) with a variety of ammunition, from SIG Sauer's 115-grain FMJ to Federal Premium's 124-grain HST HP. One of the huge advantages of an AR pistol in 9 mm is the availability and range of ammunition on the market today. There are plenty of loads with years of FBI protocol testing to back up their performance, as well as range-friendly and inexpensive blends like American Eagle's 115-grain TSJ. Whatever your situation, there's a load built to perform in that environment.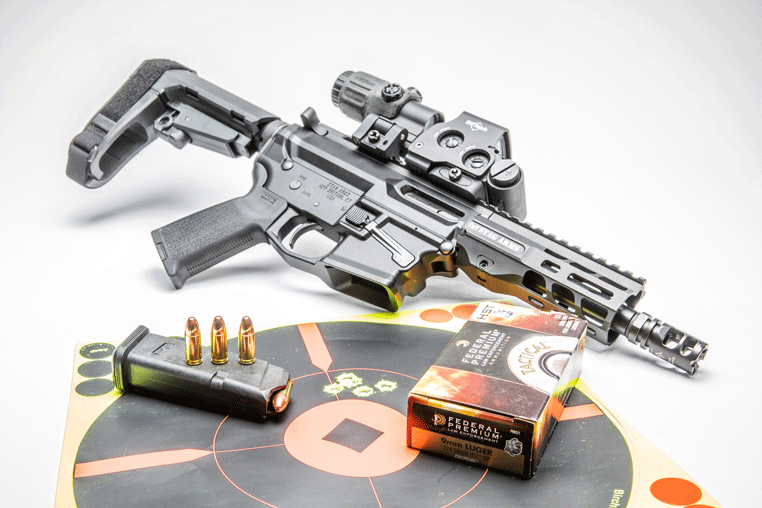 The best groups came with Federal's 124-grain HST HP, which averaged out at 1.19 inches after five, five-shot groups at 25 yards taken from a bench and sandbag rest. Equally important, there were no feed or function issues with any of the loads tested.

While not yet available, Stag plans on releasing pistol variants in .40 S&W, 10 mm and .45 ACP. Highly compact and maneuverable, Stag's PXC-9 is an accurate, well-built AR pistol that functions reliably. Great for home defense, concealed backpack carry, and compatible with Glock mags, the PXC-9 does not disappoint.

Testing




Accuracy data measured in inches at 25 yards from a bench and sandbag rest and based on five, five-shot groups. Velocity measured in fps with a Competition Electronics chronograph at 10 feet from the muzzle. Elevation: 4,582 feet. Temperature: 27 degrees Fahrenheit.

Specifications:
Manufacturer: Stag Arms; 860-229-9994
Action: Semi-automatic, blowback
Caliber: 9 mm
Barrel: 5.5 inches, 4150 CMV Steel, Nitride Coated
Twist: 1:10 inch
Muzzle device: VG6 Gamma 9 mm Compensator
Handguard: Stag Arms 5-inch M-Lok SL Gen2
Receiver: Mil-Spec, forged 7075 T6 Aluminum
Bolt: Nitride Coated
Brace: SB Tactical SBA3
Buffer: Carbine buffer/spring
Trigger: Mil-Spec, single stage
Grip: Magpul MOE Pistol Grip
Magazine: Glock-style, PMAG 10
Weight: 5 pounds, 10 ounces
Length: 21.5 inches (collapsed), 24.5 inches (extended)
MSRP: $1,499