Would you ever imagine the 450 Bushmaster would become Ruger's best-selling caliber? It is, and the company manufactures a Ranch Rifle, Scout Rifle, No. 1 Rifle and the test gun I'm evaluating: the Ruger AR-556 in 450 Bushmaster. As evidenced by Ruger's success with the cartridge, the 450 Bushmaster has really taken off in the past couple of years. A straight-wall case approved for hunting in places that prohibit bottleneck-cased ammo, the 450 Bushmaster delivers 45-70 power in a modern case suitable for single-shot, bolt-action and semi-automatic rifles.

With a suggested retail price of $1,099, the Ruger AR-556 is packed with features. The 18.63-inch barrel is cold hammer-forged, has 5R rifling and is threaded for accessories and suppressors. Ruger screws on its radial-port muzzle brake to both protect the barrel crown and reduce recoil. In practice, it works quite well and in my experience, these Ruger barrels are both accurate and easy to clean.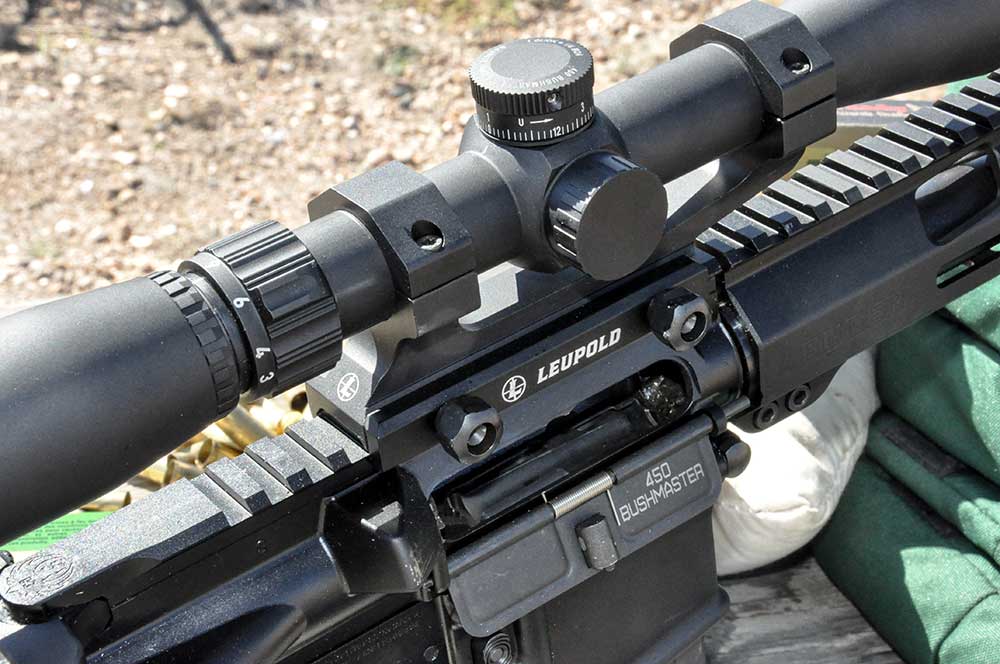 The rifle has a flattop upper receiver with an enlarged ejection port and a full-length Picatinny rail for mounting sights and optics. No sights are shipped with the rifle. Weighing 7.4 pounds, the rifle has a Magpul collapsible buttstock and pistol grip. The overall length varies from 35.6 inches to 38.9 inches and the length of pull varies from 11.1 inches to 14.4 inches. The free-float handguard measures 15 inches long and includes M-LOK accessory attachment slots.

The rifle ships with one metal magazine with a claimed capacity of five rounds. Looking very much like a military 20-round AR-15 magazine, I tried one out and discovered it will actually hold eight rounds of 450 Bushmaster and feeds and functions just fine. Modern Magpul 5.56-NATO magazines will not work, by the way, as they don't allow clearance for the larger bullet tip. In case you're wondering, yes, you can stuff about a dozen 450 Bushmaster rounds into a 30-round AR-15 magazine, but it will not function in the rifle.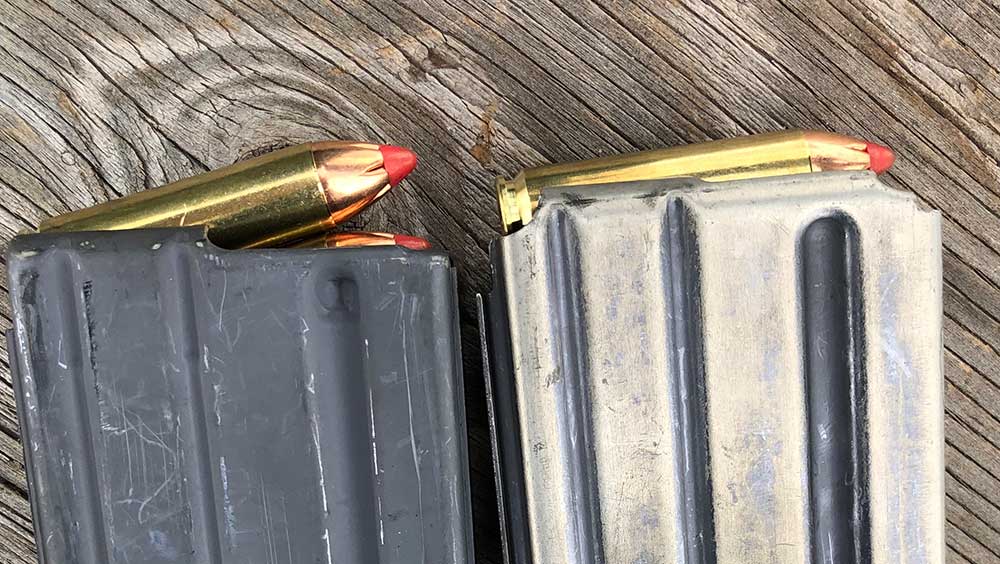 While appearing almost identical to an AR-15 bolt carrier and bolt, the 450 Bushmaster bolt used in the Ruger AR-556 is manufactured with tapered lugs to enclose the 450 case head and will not interchange with standard AR-15 bolts. Another departure from older designs, this new Ruger includes its excellent Elite 452 trigger. My sample came right in at Ruger's published specs, breaking at 4.5 pounds. It is a crisp, very usable trigger, and I imagine it contributed to my accuracy results.

Ammunition has been something of a problem for me when testing other 450 Bushmaster rifles. The only ammo I could get my hands on was Hornady's 250-grain Black brand. Now, Hornady has a 450 Bushmaster round in its Custom lineup as well and as far as I can tell it is identical to the Black. Remington has been making 450 Bushmaster ammo for some time but I have had poor luck in finding any of it. Fortunately, the folks at Remington were kind enough to send me some of their 260-grain Accutip ammunition for this test.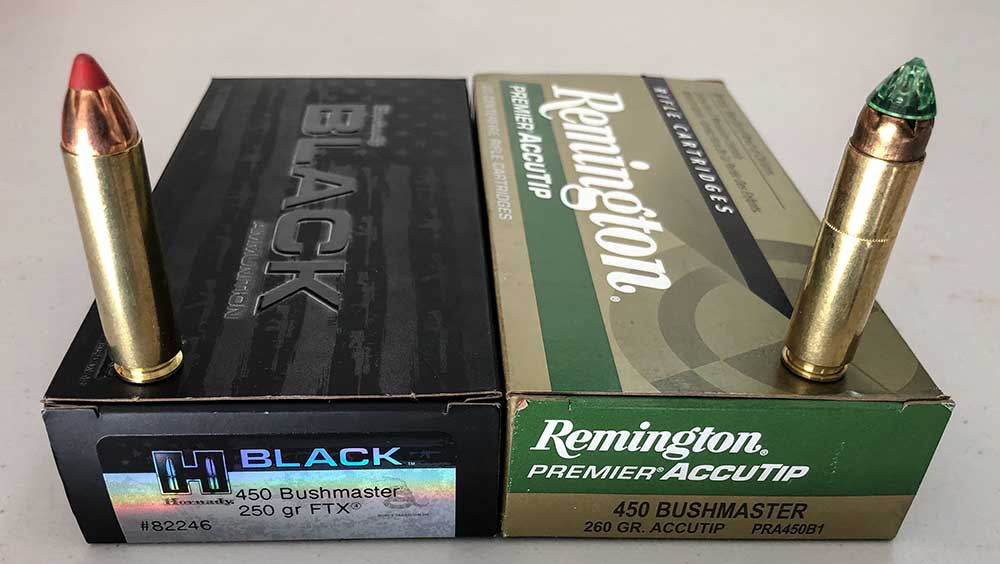 To get the rifle ready for testing, I had to come up with a suitable scope and a brand new one from Leupold came out just in time. The VX–Freedom 3-9x40 mm 450 Bushmaster features a duplex reticle and an elevation turret with the 450 Bushmaster ballistic trajectory built in. Simply zero the rifle at 100 yards, loosen three small screws, re-set the turret to "1" and tighten the screws. The scope is now capable of being dialed up for any reasonable 450 Bushmaster range.

The turret shipped with my scope was calibrated for the Hornady ammunition, but Leupold will be happy to create a custom dial for other ammunition, including your handloads. After installing the scope in the Leupold AR mount, I set off for Gunsite Academy's York Range to do some shooting. All was going well until I noticed the groups were shifting and getting bigger.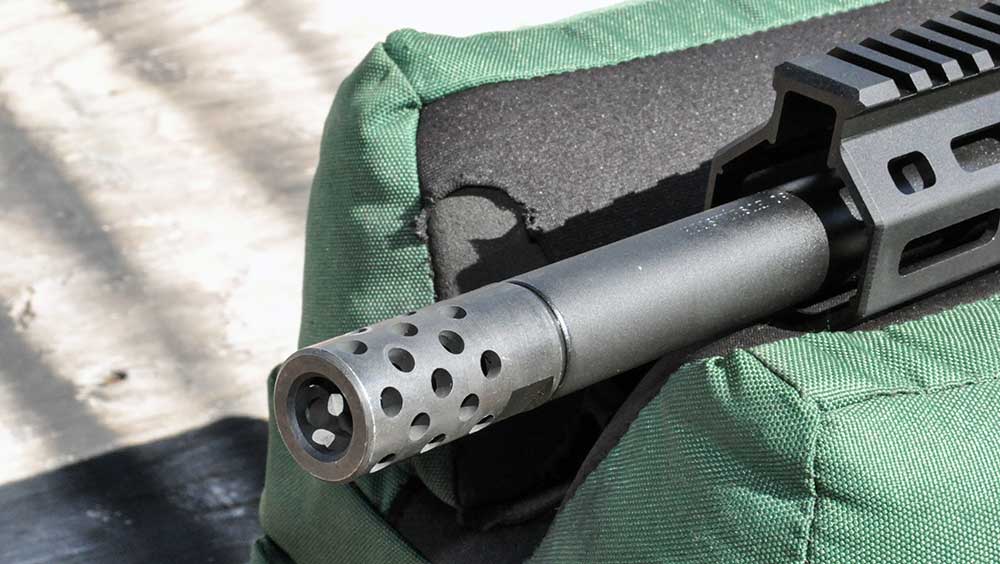 Checking the scope, I found the rings had loosened, allowing the scope to move. My bad. I should have known better and secured the screws with thread-locking compound. (Here are some great tips for mounting your optics I've learned over the years) Returning home, I remounted the scope, this time doing so correctly, and it held zero just fine for the remainder of my testing. During my two range sessions, the rifle functioned perfectly without malfunctions.

Here are my results; groups shown a result of five consecutive five-shot groups fired at 100 yards from a sandbagged rest. Velocities were recorded with a LabRadar Doppler chronograph placed on the bench.

Hornady Black 250-grain FTX

High velocity: 2,351 fps 
Low velocity: 2,115 fps
Average velocity: 2,303 fps
Extreme spread: 236 fps
Standard deviation: 56.8 fps

Largest group: 1.63 inches
Smallest group: 1.28 inches
Average group: 1.34 inches

Remington 260-grain Accutip

High velocity 2,172 fps
Low velocity 1,975 fps
Average velocity 2,116 fps
Extreme spread 197 fps
Standard deviation 50.8 fps

Largest group: 3.42 inches
Smallest group: 1.38 inches
Average group: 2.55 inches

This Ruger AR-556 is fun to shoot and should be capable of taking any game in America. It is particularly well-suited for deer-size critters and wild hogs, where I'm told these big, heavy bullets hit like a thunderclap.