by
posted on January 22, 2019
Support NRA Shooting Illustrated
DONATE
Ever since
Kel-Tec
brought the .22 Mag. PMR30 to market in 2011, its fans called for the .22 LR version of it for cheaper, quieter plinking. This year, after a long and secretive media blackout to allow production of plenty of pistols to fill the initial demand, the Kel-Tec CP33
—
the 33-shot Competition Pistol in .22LR
—
has arrived.
On the outside, it looks like an average between PMR30 and CMR30 carbine, with the centrally located pistol grip and substantial receiver overhand in the back. The pistol is 10.5 inches long, with 5.5 inches of that being barrel. Three-quarters of an inch longer than a conventional rimfire pistol with the same barrel length, CP33 unorthodox layout accomplishes several important goals. Adjustable fiber optic sight radius is a respectable 9.5 inches. Both sight blades are textured against glare, and the rear is undercut slightly. The bolt can overtravel up to 5/16 of an inch past the feeding position, allowing reliability with subsonic and high-velocity ammunition. 7.5 inches of Picatinny rail on top accommodates red dots and even magnified optics to make the most of this accurate barrel. Best of all, the balance of the pistol is so neutral that practical, off-hand accuracy is superb with minimal shooter effort.
The heart of this pistol is the innovative flush-fitting, 33-round, quad-stack magazine. A newly patented design, it uses the recoil spring guide rod as a cartridge stack separator. Loading is easy, with moderate spring tension, so that thin brass of individual cartridges does not deform. Dimensionally identical to PMR30 magazine, the feeding device for CP33 is transparent, skeletonized and used the excess length for an integral feed ramp. While the heel mag release isn't fenced, loaded magazines do not drop free, preventing accidental removal. For rough field use, Tandemkross makes a "ranger" floorplate for PMR30 and CP33 magazines that fences the release. An even bigger extended 50-shot magazine has been in testing for a while.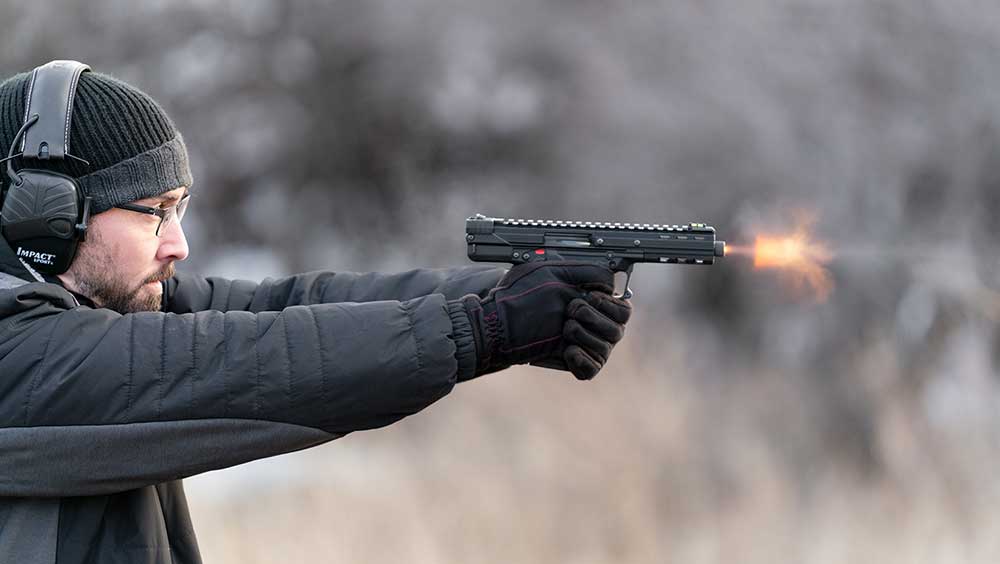 The CP33 bolt locks back on the last round. The non-reciprocating ambidextrous charging handle is placed at the back of the receiver in the manner of Steyr TMP or AR15. Made with production-grade 3D printing, it seals the receiver opening against any gas blowback towards the shooter. With the barrel threaded 1/2x28 for a flash hider or a sound suppressor, the pistol is very silencer-friendly. Even with a suppressor attached, CP33 retains its mostly-neutral balance. As the photo illustrates, the muzzle flash is minimal, even with high-velocity ammunition.
However, a compensator, such as those made by Kel-Tec or
Tandemkross
, is a useful accessory for rapid fire. The same neutral balance causes some muzzle rise, even with the forward grip location. Fortunately, a rimfire compensator is not concussive but steadies the muzzle in place effectively. Combined with a wider ledge-style TK safety lever and a forward "thumb pedal," CP33 in full competition trim stays on target even at several shots per second rapid fire. Shot more deliberately, CP33 easily allows overlapping lead splash marks on steel at 25 yards using just the iron sights, and better than that with an optic. Using Eley ammunition and a 2X scope pistol, the CP33 can cloverleaf bullet holes at 25 yards and stay on a silhouette at 100 yards.  
The plastic grip frame connects to a a smooth, aluminum dust cover on the front. Both the rigid dust cover and the extruded aluminum upper are pierced with M-Lok slots for accessories and barrel ventilation. The back of the grip frame has two solid, rectangular eyelets for attaching a lanyard or a sling. With tension on the sling and a two-handed grip, the pistol can be held very solidly. Trigger pull is advertised as 4-6 pounds, but the sample I have broke cleanly at 3.3 pounds. While re-set is almost the full length of travel, that doesn't affect speed-shooting performance at all thanks to the fairly strong return spring.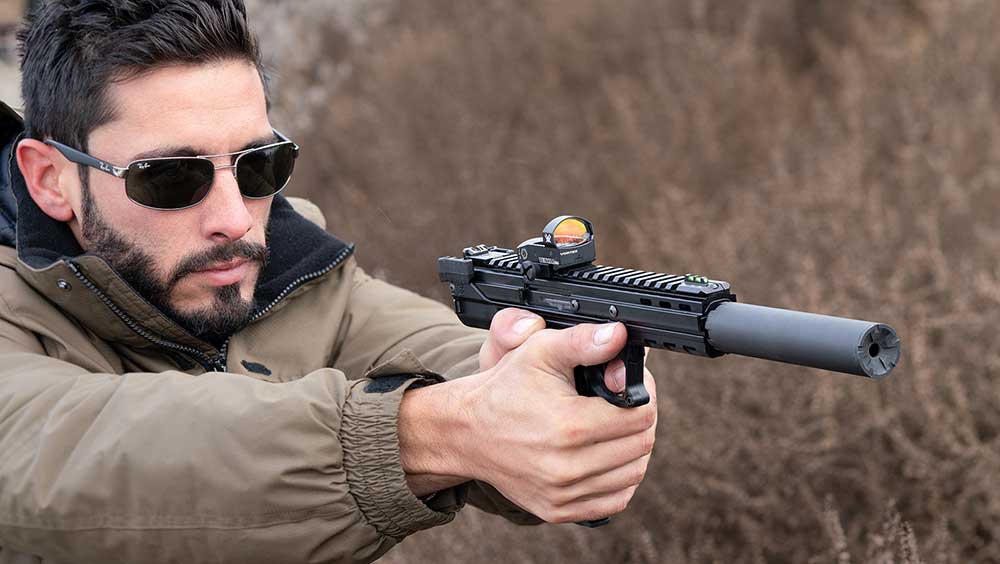 Disassembly is supremely simple. Just one push pin separating the grip frame from the upper. The bolt, the charging handle and the captive recoil spring come out of the back of the receiver with fingertip pressure. Internally, the pistol is very simple and well thought out. Internal rails stiffen the receiver and guide the bolt towards consistent in-battery position from shot to shot. This test pistol has been unfailingly reliable with all kinds of ammunition even in cold weather. From the 5.5-inch barrel, high-velocity, 40-grain loads develop 1050 to 1100 fps, and 32-33 grain hypervelocity loads in the 1200 to 1300 fps range, very respectable for a pistol. Recoil in this 24-ounce pistol is nonexistent. Great balance and an ambidextrous safety make it an easy pistol to shoot well with the weak hand as well.

Named "Competition Pistol" by Kel-Tec, the CP33 can definitely work in that role. Being light and weather-resistant, it can also be an excellent kit gun. Unlike the diminutive .22 LR revolvers usually pressed into that role, the CP33 can be accurate and terminally effective on small game up to at least 50 yards. As a defensive tool, it is limited by the power and the reliability of rimfire ammunition but, as far as rimfire pistols go, CP33 has been unusually reliable. In a pinch, 34 available shots remind us that sufficient quantity has a quality of its own.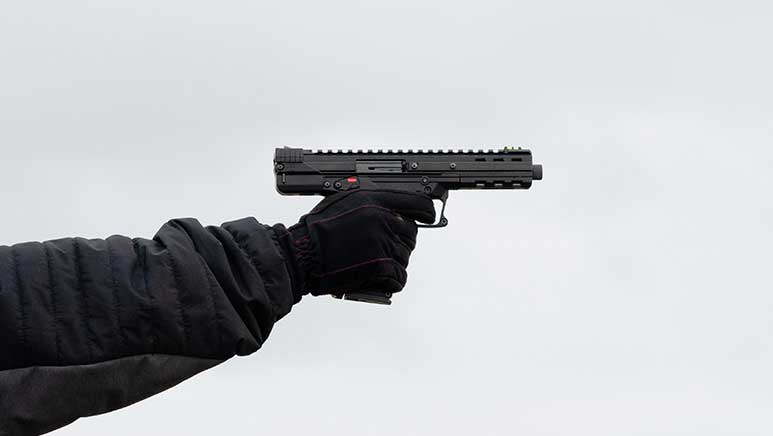 What can be done to improve it? If you plan to shoot with with bulky winter gloves on, a Tandemkross ledge safety lever is a definite help. It's too easy to bump the safety half-way to safe position otherwise. Depending on your hand size, you may find a slightly thicker backstrap desirable to bring the natural point of aim in line with the expectations. For people with medium and smaller hands, CP33 points perfectly. It's a very fun pistol, very reliable and impressively accurate. Good thing Kel-Tec produced quite a few CP33s before announcing it. Suggested retail pricing on the CP33 is $475.