Early this year, the internet was abuzz with rumors that Glock had a new gun on the horizon. At times, it was almost comical as people made guesses about the new pistol and some even claimed to have inside information that it would be this or that. In the end about the only thing they had right was that it was indeed a Glock. The new pistol that emerged from this event was the newest addition to the company's Slimline series–the Glock G43X.

When Glock released its Slimline series, it was a major hit. People were looking for a Glock that they could even more easily conceal and the Slimline fit that call. Glock had listened to its customers and it drove a design change. 

"With the success of the Slimline series in the marketplace and over one million Glock G43 pistols sold in just three years, the Slimline series pistols have been tested, trusted and proven," Glock, Inc. VP Josh Dorsey said. "We listened to the consumers request for a Glock Slimline model with increased round capacity. Glock's continued pursuit of perfection drives innovation while not straying from our promise of reliability and durability and that is demonstrated in the G43X."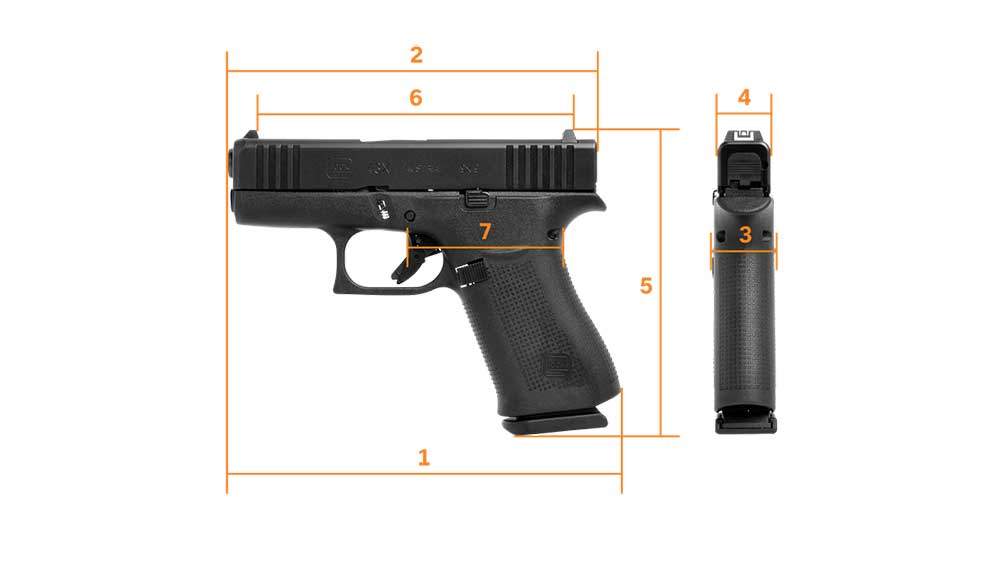 The Glock G43 has been one of the biggest successes in Glock's history. As Dorsey mentioned, Glock sold its one millionth unit in April 2018. That is undeniable proof that the small Slimline design is a hit. Like any product though, people began to ask for even more. The "more" regarding the G43 was capacity. With a 6+1 capacity, the gun did seem a little anemic in that category. Even with an extra mag in the pocket, we were still sitting with less rounds than even the Glock G19.

The answer to this puzzle was a continuation of Glock's crossover design and the launch of the G43X. Side-by-side, the G43 and G43X are close in size, with the G43 being only slightly smaller in height, width and weight. The G43X is only .75 inch more in height and still incredibly slender. The barrel on the G43 is only half a millimeter shorter than the G43X. Even with this minor size difference, the 43X brings an additional four rounds in capacity.

An unfortunate note to G43 owners though. G43X mags are not interchangeable with the G43. It's not a deal-breaker but worth a note for those who considered grabbing G43X mags and using them. Design-wise, the mags are not a true single-stack design. They are a slender double-stack, known as a 1.5-stack. They all still break down the same and have the same feel as previous mags.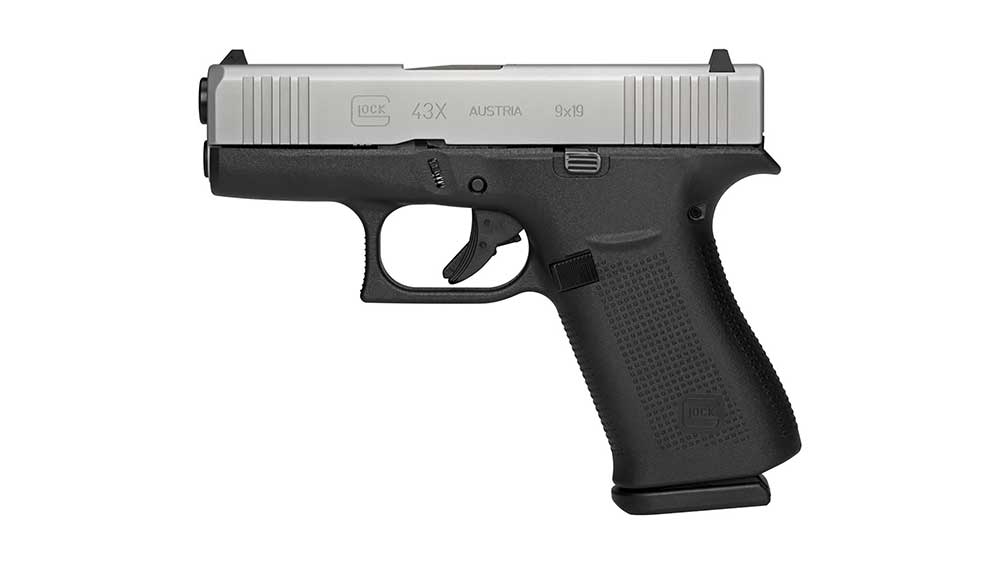 The gun is chambered in 9 mm and features a compact Slimline frame with a black slide with an nDLC finish. When the gun was first introduced, it was a silver-and-black, two-tone pistol. Since then, Glock has phased out that option and gone purely to black. The gun has a 10-round magazine capacity, making it ideal for concealed carry. Designed for comfort, the G43X combines a compact-size grip length and a subcompact-slim slide for a comfortably balanced, versatile grip ideal for a variety of users. The frame incorporates elements of the Gen 5 and Slimline series, such as the short trigger distance, a frame with a built-in beavertail, a reversible magazine catch and the incredibly accurate, match-grade Glock Marksman Barrel, as well as precision-milled front serrations.

I personally faced many of the same challenges as others with the original G43. It is a smaller gun and a little lean on real estate for my meaty paws. While I like the trigger and gun overall, it was still a wrestling match to obtain consistent accuracy. That changed with the G43X. The small addition to the grip length was all I needed to improve the fit for me, personally. The gun felt better in my hands, and I was much faster and accurate with it than I was with its smaller counterpart.

One area where this really helps is in magazine changes. Like many people, my strong-side hand would often interfere with mag changes, because it either held the existing mag in place or it partially obstructed the mag well. This meant either you couldn't seat the mag or you would end up pinching your flesh as the magazine slid into place. The extended grip solves that. While it is still small and easy to conceal, the added surface area is a game-changer for me and many like me.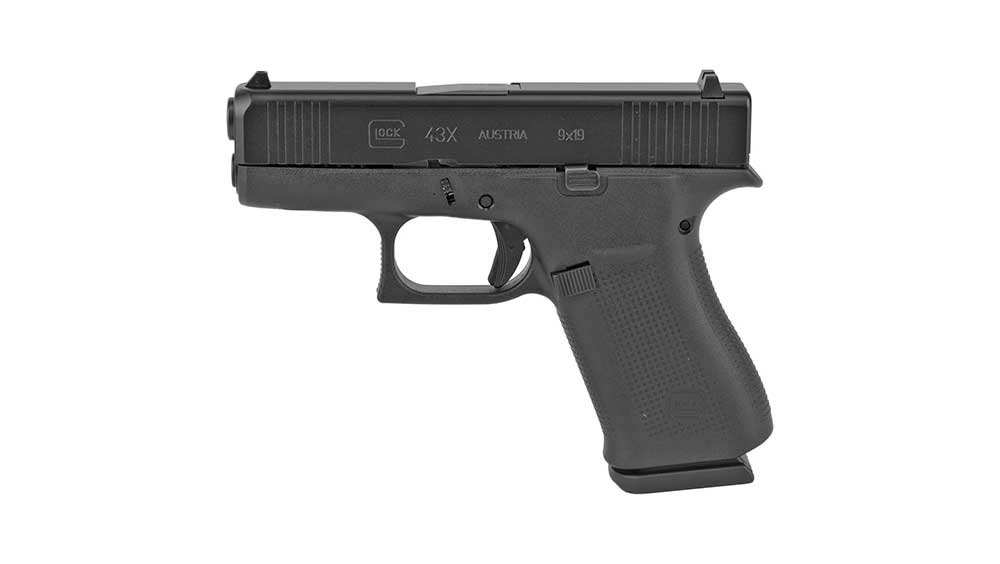 Performance-wise, the gun is all Glock. This is one of the major factors that drive many law-enforcement agencies to allow the G43X as a backup. It is simply a smaller version of the officer's duty weapon. There is nothing new to deal with other than a shorter sight radius and size. The gun performed well for me on the range, and like its larger brothers, fired everything I fed it without hesitation or malfunction. From aluminum-case ball to high-velocity, hollow-point defensive ammo, it never even flinched.

I ran a mix of ball with some more serious sounds such as Hornady 115-grain Critical Defense, as well as Federal Premium 124-grain Hydra-Shok. I have heard some grumblings that rounds like the Hydra-Shok are hard to handle in this small gun, but that is a laughable idea to me. I was able to print excellent groups with both ball and defensive ammo, and I experienced no major, earth-shaking change in recoil. Because of my familiarity with the trigger to begin with, I easily racked up great hits at not only CQB distance targets in the 5-yard range, but at 50 yards on steel as well.

I really like the Glock G43X and believe it is a solid shooter and perfect for concealed carry. I would still urge everyone to still carry an extra mag on them simply because even 10 rounds can evaporate pretty quickly in a defensive shooting. If you are a Glock person already, then this is the perfect bridge to a smaller carry gun. If you are new to Glock, you will enjoy the trigger that runs like a full-size gun. No major press or painfully long reset. In the end, I give it two thumbs up!