FN America's FN-15 Series offers the kind of no-nonsense, solid-performing AR-15s we've grown to expect from a company building firearms that stand guard on the front line of freedom. The Tactical Carbine FDE P-LOK version is one of the sleepers in the line, quietly packing on features enthusiasts appreciate, yet somehow evading headlines.

The stealth isn't deliberate, though. This AR-15 is solidly produced in FN America's tradition—built from the ground up to last—and it's been largely overlooked because the industry is awash with competing models wearing the latest eye-catching trends. Flash-in-the-pan fashionable isn't always a good investment, though, a fact driven home when an FN-15 Tactical Carbine FDE P-LOK surfaced long enough for a test drive.


At its foundation is the company's enhanced, mil-spec lower receiver—and, unlike most of their competitors, FN America has firsthand experience holding products to military specifications. The 16-inch, match-grade and cold hammer-forged barrel is chrome-lined for years of headache-free service. To maximize accuracy, the barrel, which has a rifling twist rate of one full right-hand twist every 7 inches, is free-floated.

The 5.56 NATO-chambered carbine uses a mid-length gas system with a low-profile gas block pinned to the barrel. It ships with the same three-prong flash hider that rides the FN SCAR.

Don't let the "FN Combat Trigger" lull you into thinking the company has cut corners on the unit. In testing there was absolutely no creep, haunting takeup or group-widening nightmares. It was crisp, just heavy enough to ensure safety and consistent. Test with a Lyman Digital Trigger Pull Gauge for 10 pulls, it averaged a let-off weight of 5 pounds, 8.6 ounces. Standard deviation was 0.6 pound. About the only criticism possible about the trigger is the fact there is no texturing or ridges to minimize the chances of a finger slipping in inclement weather.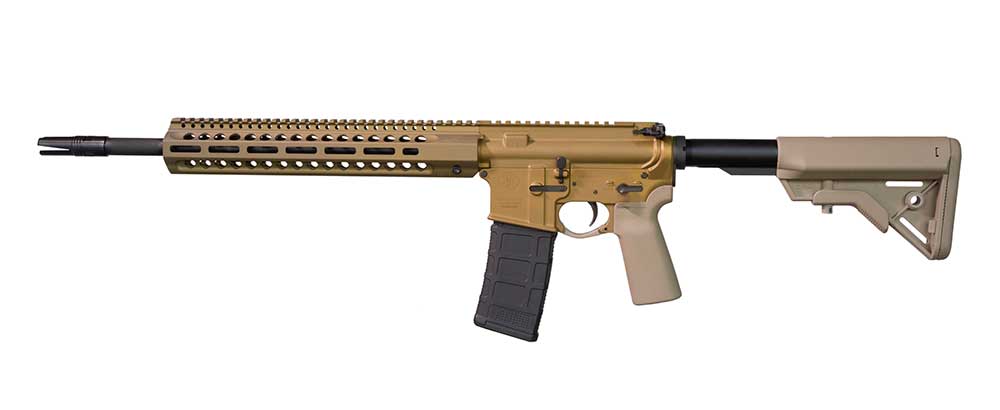 FN America then builds on that solid foundation with Type 3 Hardcoat anodizing and a flattop upper receiver with an M1913 Picatinny rail atop to minimize optic-mounting headaches. For range sessions a Nikon Black FX1000 Black FX1000 4-16x50 mm SF was used.

The 12.5-inch P-LOK handguard continues the Picatinny profile at the 12 o'clock position throughout its length—bringing total real estate on the rail up to 18 inches. At the 3-, 6- and 9-o'clock sides of the fore-end, M-Lok technology ensures secure anchoring of accessories at selected slots.

The pistol grip is manufactured by B5 Systems and so is the buttstock, which is adjustable for six positions, providing overall lengths from 34 to 37.2 inches. The latter also has a QD mount as well as more-traditional sling-mounting slots. Total weight of the gun, without the magazine filled, is 7.2 pounds.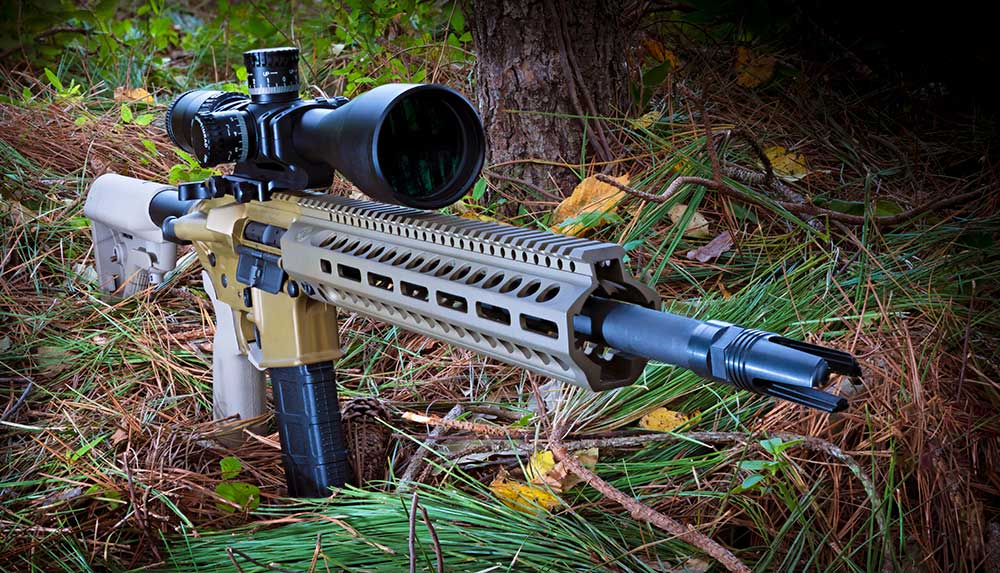 FN America explains the H1 buffer weight reduces recoil, although in a 5.56 NATO semi-automatic rifle, it's not much of a concern. Add the slightly cushioned recoil pad—that under testing wasn't tacky enough to hang up on clothing—and even new shooters will be eager to drop in new mags.

Cosmetically, the company introduced this Flat Dark Earth (FDE) version at the 2018 SHOT Show and the look is striking, to say the least. The finish is ever so slightly different, depending on the viewing angle. That makes photography something of a challenge, although at the range it's hardly noticeable without close inspection. At steep angles, it almost hints of a copper fleck on the receiver—perhaps a side effect from anodizing—but broadside it lives more aptly to its "flat" moniker, blending well with a variety of backgrounds.

The carbine is configured for right-handed shooters, with the forward assist and safety selector located in the traditional locations—right- and left-sides of the receiver, respectively. The magazine release is also located on the right side, and not ambidextrous.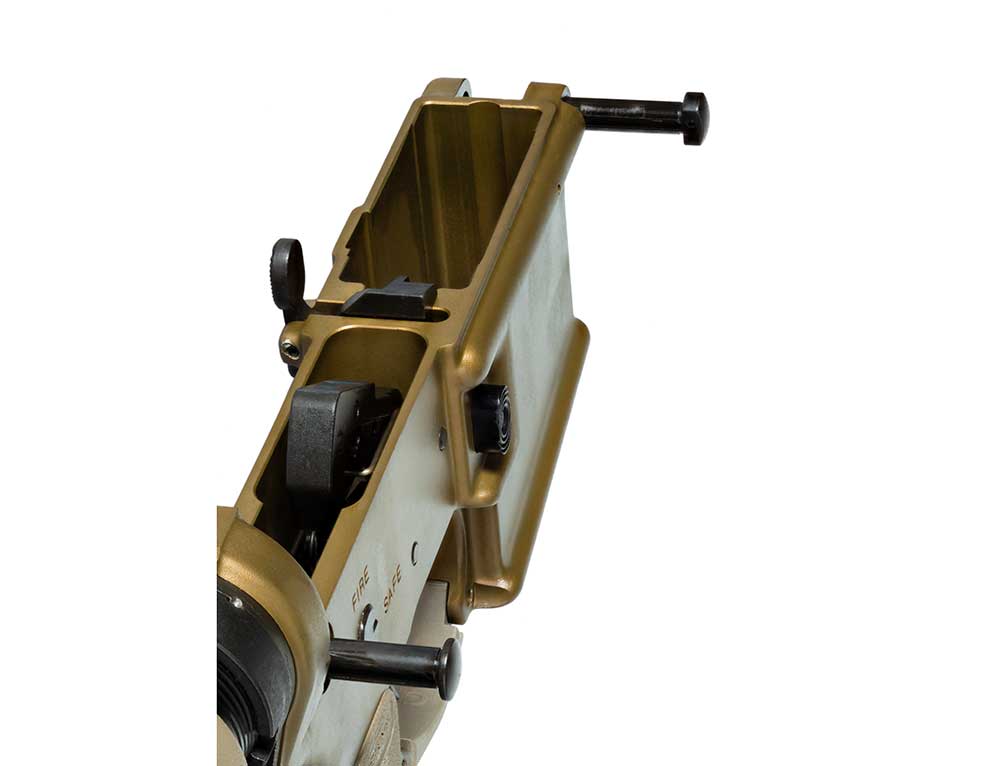 The carbine ships with a 30-round PMAG, and in testing there were no stoppages or failures to feed. The gun ran flawlessly throughout the range session with no cleanup between chronograph session and accuracy work.

I surmised averages for five, five-shot groups would be less than nominal with only one 5.56 NATO loads available for testing. I was wrong.

The Winchester White Box 55-grain FMJs in the 5.56 NATO flavor produced a very nice 0.7-inch group, although I wasn't able to repeat the feat, which is frustrating. Operator error, I'm certain. Hornady's 50-grain V-Max in .223 Rem. proved more consistent during the range session, though, and tied for smallest average group size.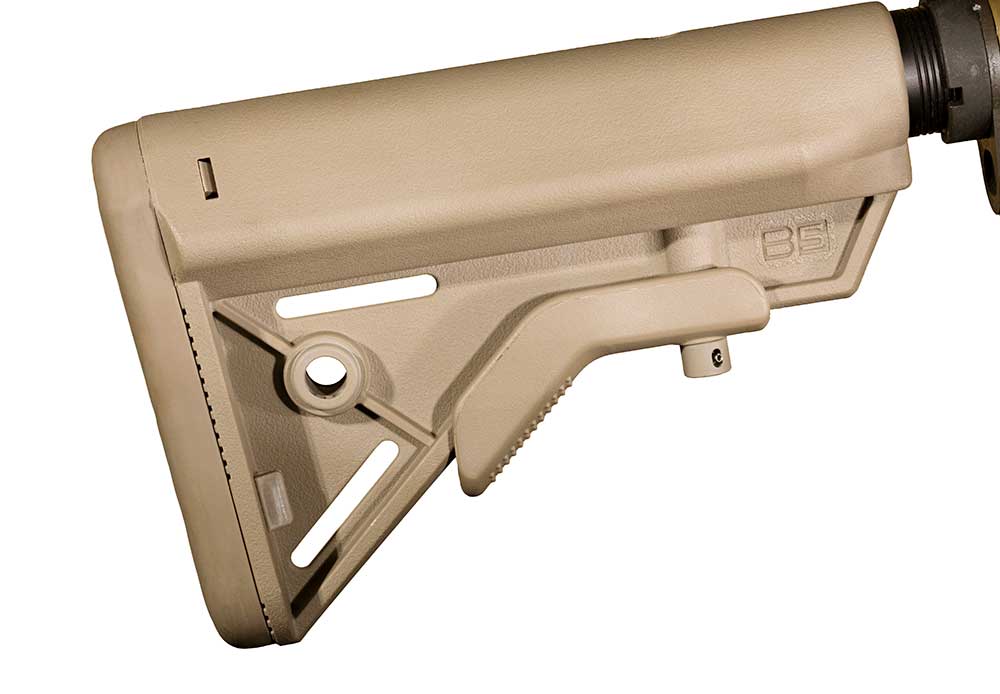 FN America's FN-15 Tactical Carbine FDE P-Lok didn't quite average MOA performance in my hands at 100 yards, but the potential is there. Work through the initial break-in, find a pet load, and there's no doubt groups will shrink.

It may not be hogging headlines, but this rifle is built on the kind of solid foundation that will last for years and look good doing it. It's refreshing to when a company that starts with the basics, builds a nimble firearm perfectly suited for home defense, and in the process shuns fads that often turn into clunky clutter that can compromise performance.