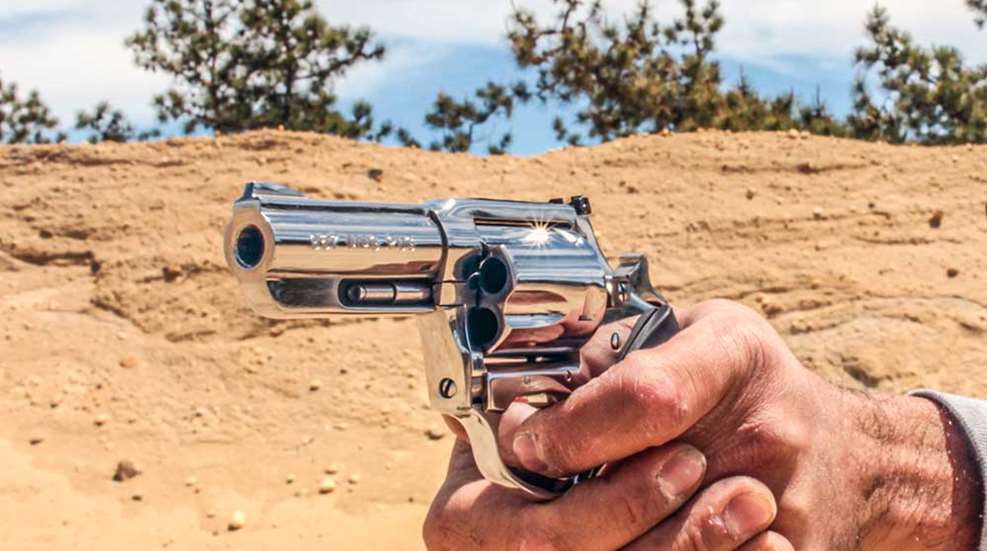 Nothing sparks opinions and emotions like the 9 mm vs. .45 ACP debate in a room full of firearms enthusiasts. While I never enter it, I occasionally like to sit back and watch it. For my money, it's better than any reality TV show on the air these days. However no matter how many times I've overhead this argument, no incident stuck in my mind greater than one episode in a local gun shop. As two patrons each pled their case, the shopkeeper snuck in between them and shouted ".357 Magnum!" as he slammed a snub-nosed revolver down on the counter.

While our friend was just trying to be funny, he did make a good point and even an argument for the wheelgun. Revolver carry is still a viable option for personal protection outside the home; however, I've always felt that revolvers are best inside the home, since most of the wheelguns I've handled and shot are heavy, clunky things. That was until I started spending some time with the Charter Arms Mag Pug.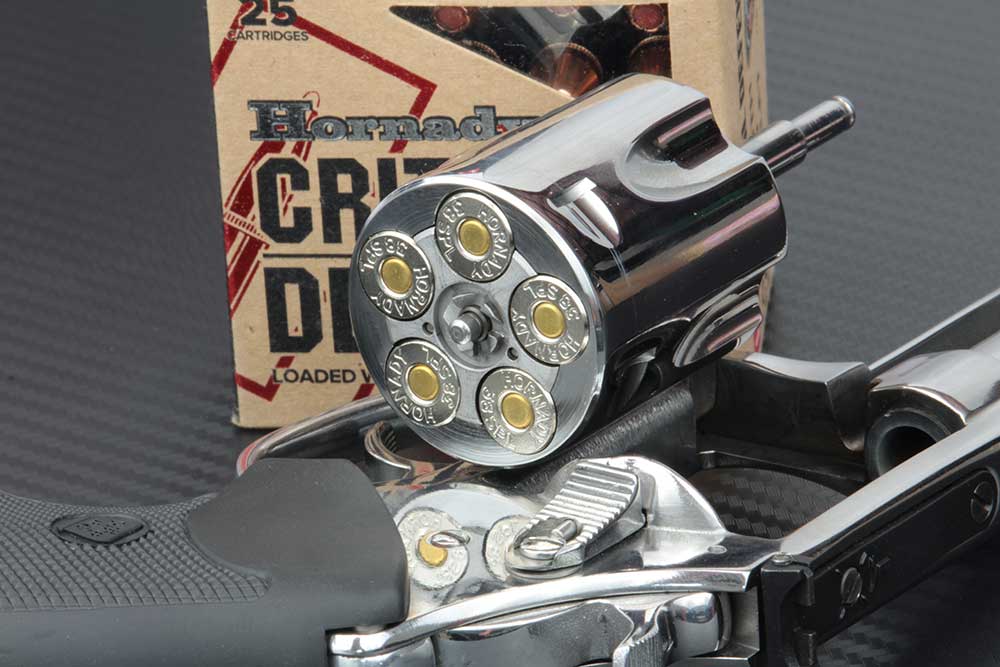 These folks have been around since 1964 and are still churning out high quality, affordable revolvers in Sheldon, CT. Their business model is wrapped around building guns that are lightweight, thanks to a reduction in the number of parts while still using a solid, one-piece steel frame. With a total of 11 product lines, the company is still growing and now offer its popular Mag Pug .357 Mag. in a 3-inch barrel.

When the gun showed up, I nearly had to put on sunglasses when we opened the box. The new Mag Pug not only came with the mid-length barrel, but a highly polished chrome finish as well. I'm not big on pretty guns, but this thing really grabbed me. For starters, a highly reflective gun does more than just look cool; it stands out. This kind of attention goes well with the open-carry, barbecue-gun camp.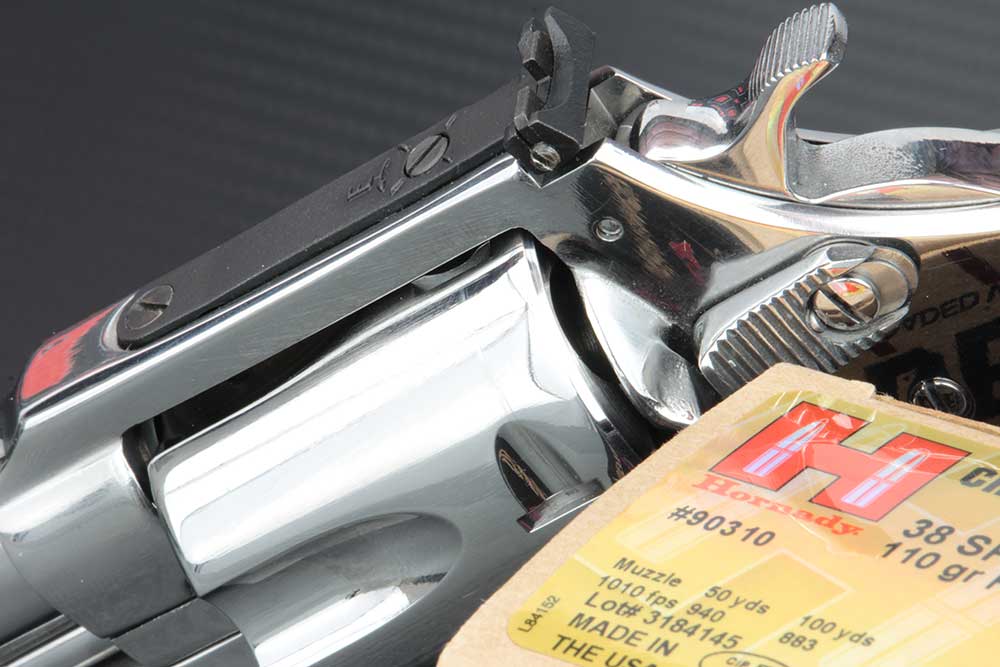 After spending way too long thinking about the looks of this revolver, I finally picked the gun up. Instantly, I noticed its slim profile and how light it was. At just 23 ounces, it certainly didn't have the feel of an all-steel gun. Deep-black rubber grips come standard with the new Mag Pug, as well as sights that are adjustable for not only windage but elevation, too.

I liked that the Mag Pug had a matte-finished rear sight, but the front sight retains the same chrome finish found across the whole gun, which certainly makes it very visible. Cylinder lock-up was smooth, although not the tightest I have ever felt. The trigger squeeze was pretty remarkable for a budget revolver, as the double action didn't have any "grit" to it and required a consistent pressure all the way through its movement until it broke. Over travel was nonexistent, and I was able to measure an average single-action break of 4 pounds, 11 ounces via a Lyman Digital Trigger Gauge.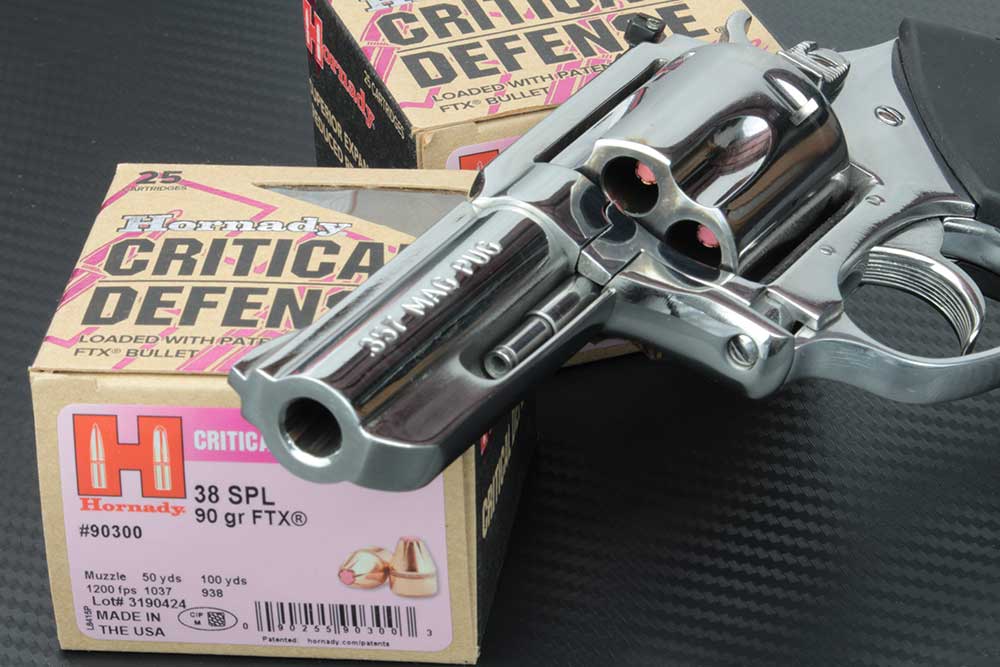 On the range I literally did need sunglasses while firing it because of the polished finish. We had a beautiful bright day, and I had a ton of ammo from Hornady and Black Hills. Hornady sent some 90-grain Critical Defense Lite .38 Spl. and the heavier 110-grain version of this ammo. Alongside the reduced loads, we had Black Hills 125-grain .357 Mag. From a rested, 15-yard position, I fired five 5-shot groups and here's what we wound up with (in inches):

The Hornady 90-grain Critical Defense load in .38 Special averaged 3.7 inches, with our best group measuring 3.2 inches. The 110-grain Hornady Critical Defense load averaged 3.94 inches, and our best group in that bunch measured 3.25 inches. Finally, we shot the Black Hills 125-grain JHP .357 Mag. load, which averaged 1.81 inches and produced a best group of 1.69 inches.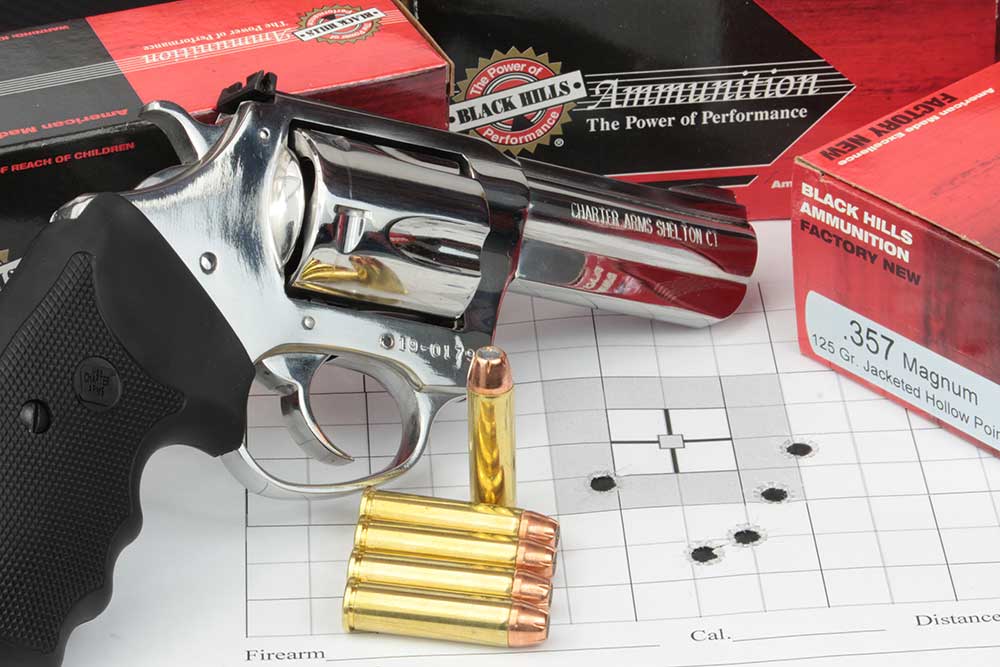 The gun seemed to favor the heavier .357 magnum loads, which is good, because I buy a .357 Mag. revolver for a reason. Having ammo interchangeability is always a great option, though. With shooting results averaging 3- and 4- inch groups, it's not exactly a tack-driver, but this is still more than accurate enough for defensive practice, which is how I spent the rest of the afternoon. As I sent cylinder after cylinder into cardboard IPSC targets, I purposely tried to get the gun as hot as possible to see if the extractor would stick, and I'm glad to say it did not. Accuracy also remained consistent throughout the entire range session as well.

After exhausting my ammo, I wiped down the Mag Pug with a rag that I keep in my range bag that has a combination of CLP, Hoppe's and nearly every other oil-based lubricant and cleaner you can imagine. That's where the benefits of the highly polished finished really showed up. All the fouling just slid off the gun. If you are in the market for a good pistol that is small enough to carry, yet has a sight radius and enough weight to remain shootable, check out CharterArms.com to see this latest launch.