by
Evan Brune, Associate Editor, Shooting Illustrated
posted on April 14, 2019
Support NRA Shooting Illustrated
DONATE
Generally, when writing an article about a new firearm or a piece of gear, there's an element of evergreen timelessness to the story. It's likely that newly released firearms will be sold for years to come, and offering thoughts that remain relevant throughout that period is one of the benefits of writing. It's for posterity's sake, isn't it? However, my look at the CBC Industries Model 160120 Complete AR-15 Upper Assembly showed me that right now, as in at this very moment, the AR-15 market is in a unique place it may not ever be in again.

Long story short, there literally has not ever been a better time to be a fan of the AR-15 platform. There are more components than you can dream of out there, and the pricing is insane. If anyone told me in 2012 that I would eventually be able to buy a free-float, M-LOK-equipped upper receiver that included a charging handle and bolt-carrier group AND shot sub-MOA groups for 260 bucks, I would have questioned their sanity. Yet, here we have it in the CBC Industries Complete Upper Assembly.

A while back, in late 2017, I built a AR-15 using parts from a well-known supplier of budget AR components. The rifle was a Magpul furniture-equipped AR-15 complete with a desirable mid-length gas system from the ground up that cost about $400, which is still pretty unbelievable. However, because of the low price, there were a few things I had to contend with. First, it wasn't a free-float handguard, and the rifle was equipped with that ugly A2 front-sight gas block. I figured those were features I would just have to accept in an AR priced this low. Then I discovered the CBC Industries team.

These guys aren't some faceless importers bringing dragging a bunch of components into a warehouse. Operating out of South Carolina, the CBC Team is staffed by U.S. veterans, and they're churning out AR-15 components at what they say are "highly competitive prices." Boy, they aren't kidding.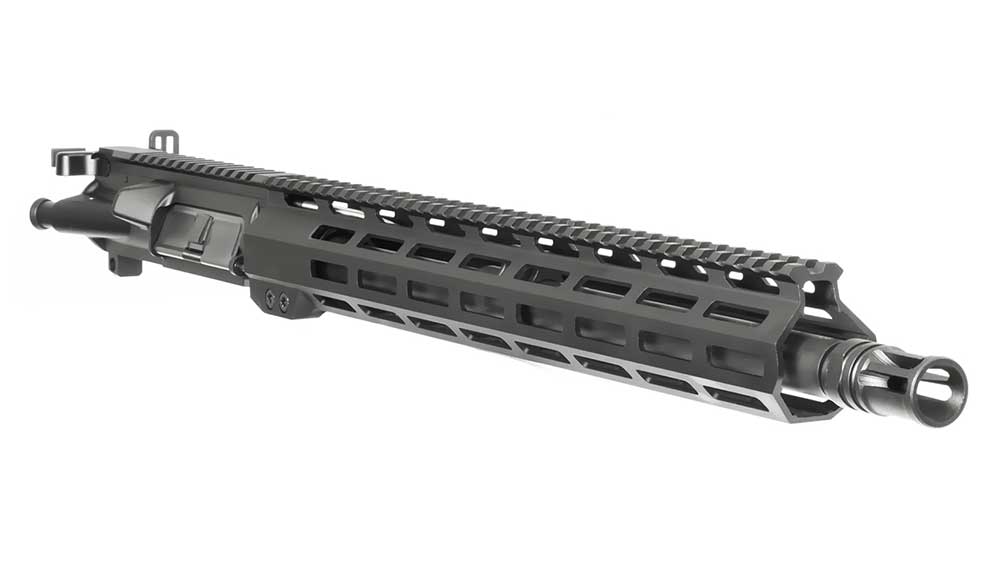 Just for grins, I looked up the A2-style upper receiver I used for my sub-$400 AR-15 built a few years back and found it was still selling. The upper receiver alone is $250, the bolt-carrier group costs an extra $70, and the charging handle tacks on another $24 for a grand total of $344 for a complete upper receiver, which is really not bad. But the CBC Industries team trounces that price point with its Model 160120 Complete Upper Receiver Assembly, which features a free-float, M-Lok handguard wrapped around a carbine-length gas system complete with a low-profile gas block, bolt-carrier group AND charging handle for $259. Wow.

So, what do you get for that price point? I already mentioned a few of the features, but there are definitely some other points to hammer. For one, it really is a complete upper receiver. Some manufacturers, in an attempt to save cost, tend to cut corners on things like the forward assist, plugging the hole with some polymer or omitting it entirely. Whether or not the forward assist is something you need is a question for another article, which our Rifles editor conveniently has answered right here, but that is a component that requires extra time and investment, and it's here on this upper.

One of the other elements found on this upper that many AR owners might not think about all that often is the BCG coating. Hey, if it works, who cares, right? Actually, there's a bit more to it than that, and it displays an attention-to-detail that makes CBC a company to watch. Most budget AR manufacturers will understandably go for the cheapest option that'll work, which is a phosphate coating. It protects the metal, and while it isn't the most lubricious coating out there, it'll hold oil and run fine, for the most part. However, phosphate is a bit of an oil hog. You need to keep that sucker wet to keep it running right, and it'll get dirty. That carbon fouling won't come off easily either. CBC Industries skipped the phosphate and went right to a nitride surface treatment. This produces a BCG that has less friction and will clean easier, as that carbon fouling just slides right off. At this price point, a nitride BCG is an impressive feature to have.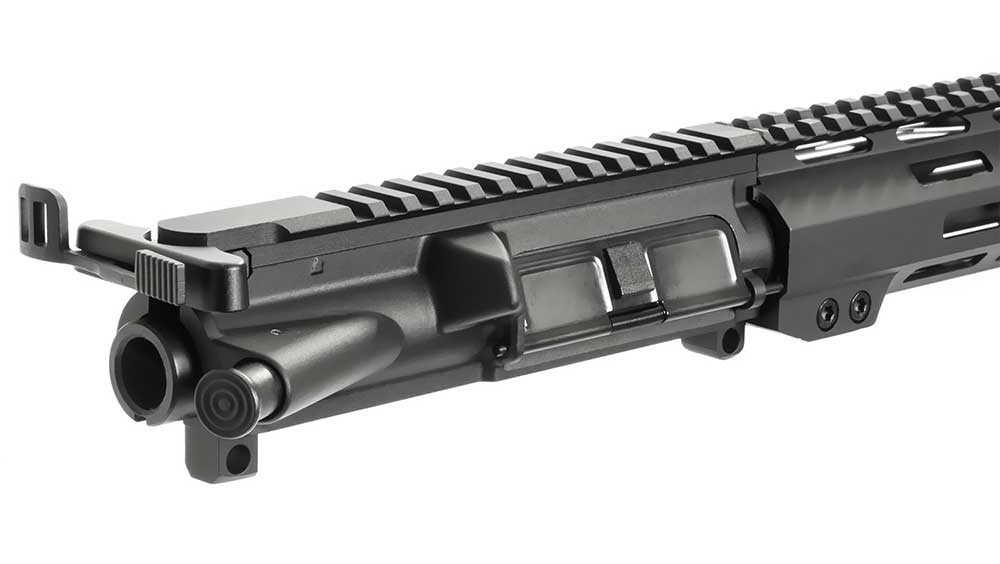 Of course, price point doesn't matter much if the product doesn't work when the rubber meets the road, so that was the next stop on our examination. To see what this thing could really do, I had the CBC team send me one of these upper receivers, which I bolted to a budget-built Anderson Mfg. lower receiver. We had a couple boxes of 55-grain SIG Sauer Match Elite .223 Rem. and 77-grain Hornady Match .223 Rem on-hand, so I took the ammo and my franken-rifle down to the range to see what it could do alongside that A2-equipped budget upper from my last build.

The A2-equipped, mid-length upper did pretty well, running a few groups that were just about 2 MOA. I even managed to squeeze a 1.2-MOA group out of it, which ain't bad for a budget beater AR. Then we went to the CBC Industries upper to see what it could print. Through a few groups, it hovered just above MOA, but then it settled right into its sweet spot with that 55-grain SIG ammo, printing a nice, .402-inch, five-shot group at 50 yards. I'll take that for a $259 AR-15 upper receiver any day of the week.

With all that in mind, let's consider where we're at in the marketplace. You can pick up a budget stripped lower receiver for $35-40, depending on sales, along with a complete lower-receiver build kit from Palmetto State Armory for $90. That, combined with this complete upper, puts a sub-MOA, semi-auto rifle into the hands of any citizen for well under $400. If there's anything that's sure in today's world, it's that a deal like that won't last forever.