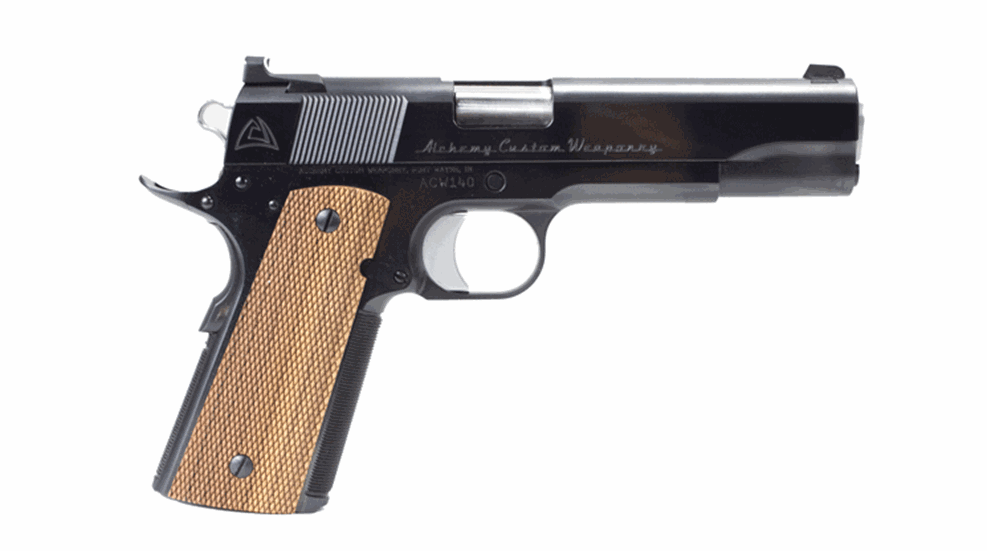 Some things will remain classic and even iconic. That is the case with the venerable 1911 pistol. This masterpiece from John Moses Browning calls to a classic time when "Men were tough, ships were crafted from wood and guns were made from steel." When the 100-year anniversary of the 1911 hit, there was renewed interest in this gun and the market responded. While some companies have pushed out what I describe as "and also" guns, there are several serious shops making excellent pistols. One such shop is Alchemy Custom Weaponry.
Run by master gunsmith Rob Schauland, Alchemy offers a no-nonsense lineup of handmade, hand-fit, custom firearms that are a bold and welcome throwback to Old World craftsmanship, classic styling cues and reliable performance. An interesting fact is that Alchemy is actually a division of the premier 1911 builder Cabot Guns. I had the chance to visit with Cabot owner Rob Bianchin and he put it quite simply. He wanted to hire Alchemy's owner Rob Schauland to work on Cabot guns, but Rob's own success and schedule made that difficult. The answer in Rob Bianchin's mind then was that he would just buy ACW and work with Schauland to produce both Cabot guns as well as the beautiful pieces he was already making. The product of this teamwork is a gun coming from Alchemy that is not only beautiful and precise, but with an affordable price that will make you do a double take.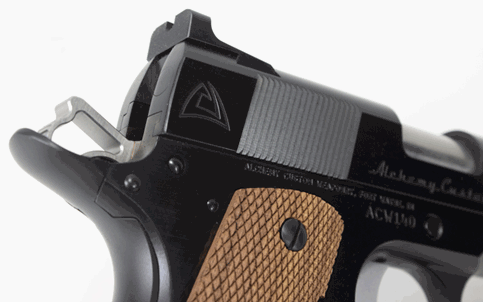 One of my favorite guns in the Alchemy line-up is its Prime model. I have a special place in my heart for a gun with classic lines and a respect for a simple design. The gun is uncluttered and is simply beautiful. Alchemy likes to use the term "Resto Mod" when it talks about its guns. A translation is that these guns are made in the classic style with modern-day modifications that improve function and accuracy. The Prime is a gunsmith-crafted government-size 1911 with 25 LPI checkering on the front strap and mainspring housing, an extended thumb safety and low-profile combat sights. It has hand-beveled edges for comfort and a hand-fit match-grade five-inch barrel and bushing. All ignition components have been hand polished and the trigger breaks at a very nice 3.5 pounds. Lastly, the gun's blued finish is hand polished giving it a nice sheen. When I got my Prime, the first thing I noticed was the absolute perfect fitting that had been done on the gun. There was no play in the gun at all and lock up was real. The barrel and bushing were hand fit to the gun and it screamed accuracy. In fact, ACW confidently offers an accuracy guarantee of 1.5 inches at 25 yards.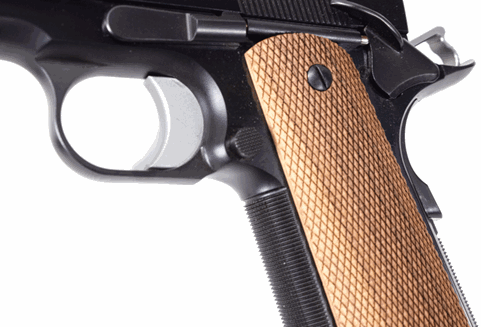 With all of this in one package, I was excited to hit the range. While I don't normally bench handguns, the Prime was just begging for it. I set up at 25 yards with a sandbag and ran three different rounds though the gun. Of the three I tested, the Black Hills 200-grain Lead Semi-Wadcutter won the day with a sub-MOA group of .90 inches. All three flavors of ammunition beat the 1.5-inch guarantee and I believe I could have done even better if I had used a sled or other device. Once the academic work was done, it was time to get into some defensive-handgun drills. I ran a series of failure-to-stop drills as well as timed head shots and the Prime never flinched. The gun was very comfortable to run, and I found the design allowed me to get a nice high grip which minimized muzzle rise and recoil. This design has what ACW describes as "High Grip Ergonomics." It has a high sweep beavertail grip safety and a relief cut at the juncture of the frame and trigger guard. This allows me the opportunity to get a nice high grip on the gun and get me closer to the bore axis. The part that made me chuckle was that in all the shooting I did, I didn't experience one malfunction. I know the meme makers on the internet are freaking out right now, but it's a fact.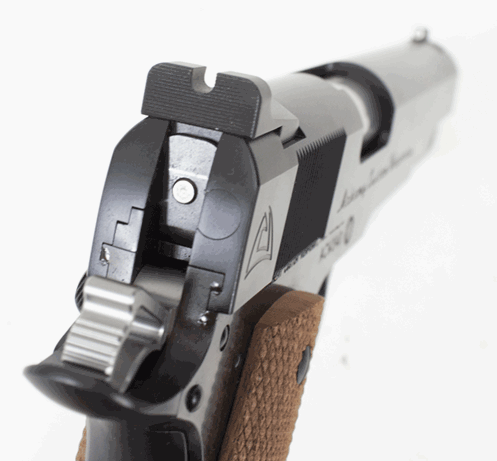 The prime and all the guns from Alchemy enjoy a custom build design and feel at a manufactured gun price. The Prime retails for just over $2,500, which is shocking considering the craftsmanship that is put into the gun. No, it is not $500 like a polymer, everyday gun, but this is not just a utility piece. ACW has managed to produce a beautiful serious shooter at a great price. The simple fact is that 1911s aren't for everyone. It was once said that there was a way to know if you were a 1911 person: Go outside and look at your lawn mower. If it is covered in grass and just pushed off in a corner, you may not be the best candidate for a 1911. If your mower is well-maintained, however, you have the personality to own this classic gun. 1911s need a little more attention than polymer guns, but if you keep them oiled they will serve you reliably. The Alchemy Custom Weapon Prime is a beautiful gun and is an exceptional performer on the range.
Testing
| | | |
| --- | --- | --- |
| Ammunition | Velocity | Best Group |
| Hornady 185-grain XTP American Gunner | 1,107 | 1.1 |
| Black Hills 200-grain Lead Semi-Wadcutter | 875 | 0.9 |
| DoubleTap 230-grain FMJ Match | 1,034 | 0.95 |
Note: Bullet weight measured in grains, velocity in fps and accuracy in inches for three, five-shot groups at 25 yards. 
Specifications:
Caliber: .45 ACP, 9 mm
Frame and slide machined from forged 4140 carbon steel
Beveled magazine well
25 LPI checkered front strap
25 LPI checkered flat mainspring housing
Tuned and polished extractor
Hardened steel pin set
Forged steel slide stop
Lowered ejection port
Extended billet steel pinned ejector
Polished feed ramp
Throated barrel
ACW fixed rear sight with serrated blade, low-profile tac hook and .140-inch wide U-Notch
Cylinder and slide single side thumb safety
Serrated black front sight with blended dovetail fit
Traditional guide rod and cap
Checkered walnut grips
Two, eight-round magazines with steel followers