One of the many things to like about the AR-15 platform is the modularity. With a minimum of skill needed (trust me, if I can do it, you probably can, too), you can swap out barrels, grips, stocks, triggers, safeties and much more. One of the things that really help in this regard (in any regard, really) is a good set of quality tools. Now, if you're like me, you picked up tools here and there, on an "as-needed" basis (meaning, you realized that the vise grips and toothpicks weren't going to cut it. Wait, that's just me?), which is fine. I've acquired a number of
Real Avid
products, found them to work exceedingly well, and the company has rolled all of its AR-15-centric tools into one Armorer's Master Kit.
For starters, the bench block alone is pretty awesome. When assembling a lower receiver, one of the areas where I have struggled is getting the roll pin that holds the bolt release lever in place properly installed without scratching the receiver. Painter's tape, extra hands to hold roll pin holders, I've tried a number of different ways to get that roll pin in place without putting a few scratches on the lower. With the Real Avid Bench block, the receiver sits perpendicular to the bench so you can more effectively drive the pin in. It's a simple, yet elegant, solution. Molded sections contain the bolt, upper receiver, charging handle and front sight for various installation projects, and about the only one that's not explicit is the staking of the gas tube inside the gas block - but there's plenty of areas to get that done, too. Also, the block is magnetic, so springs and pins don't roll away. Genius!
When working on the upper receiver, the Lug-Lok vise block holds the upper securely without relying on the strength of the upper receiver, instead locking into the barrel lugs for extra stability. Just be careful about leaving the Lug-Lok in the bench vise and bending over to retrieve fallen parts. Ouch! Should you require a faster method of holding a lower (or complete rifle in place), there's a block for the magazine well that's adjustable for proper tension. Rather than simply insert the block and deal with a bit of wiggle, the Real Avid block can be tensioned accordingly. It makes tasks like mounting a scope much easier when the rifle doesn't move around...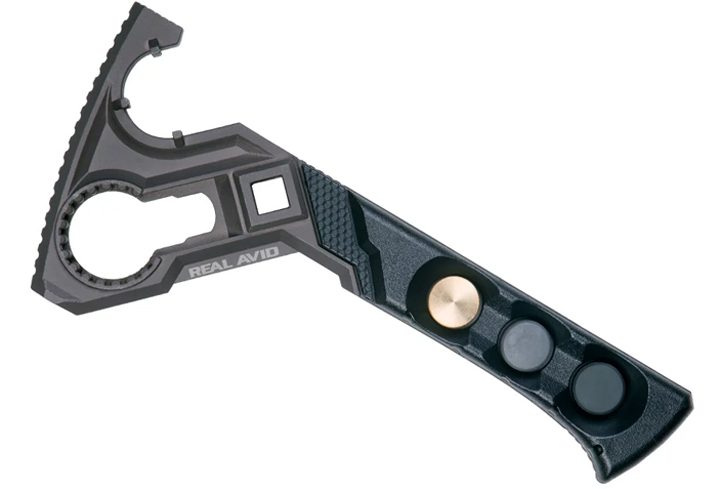 The Armorer's Wrench is a multiple-use godsend, with dedicated sections for mil-spec barrel nut, castle nut and standard 5/8" cut-out for muzzle devices. Three separate heads screw into the hammer - rubber, brass and plastic - to avoid marring finishes whenever possible. There's even a standard 1/2" receiver for a torque wrench, which is also included in the Master Kit. 
Other specialty tools, like the aforementioned torque wrench, receiver pivot pin tool, handguard removal tool, punches and more all have their specific locations in the molded case. This appeals to the OCD side of things, as well as helps keep tools organized. Everything you might need to build a complete AR-15-style rifle from individual components rests in this sturdy case -  all you need is a bench vise. Want to have a build party? Have Armorer's Master Kit, will travel.
Sure, if you're only going to build one AR-15 from components just for bragging rights, this is more than you're going to need. However, if you're really into the AR-15 platform, and relish using all that modularity to its fullest extent, this is simply a "must-have" item. If you're the "go-to" gun person in your circle of friends, you know what happens. "Hey, could you give me a hand with [insert task here]? I just need a little help." When you have the right tools for the job, it's not only easy to lend a hand, but you'll get the job done right the first time, with a minimum of expletives (springs gonna launch themselves no matter how hard you try...)
MSRP: $249.99.