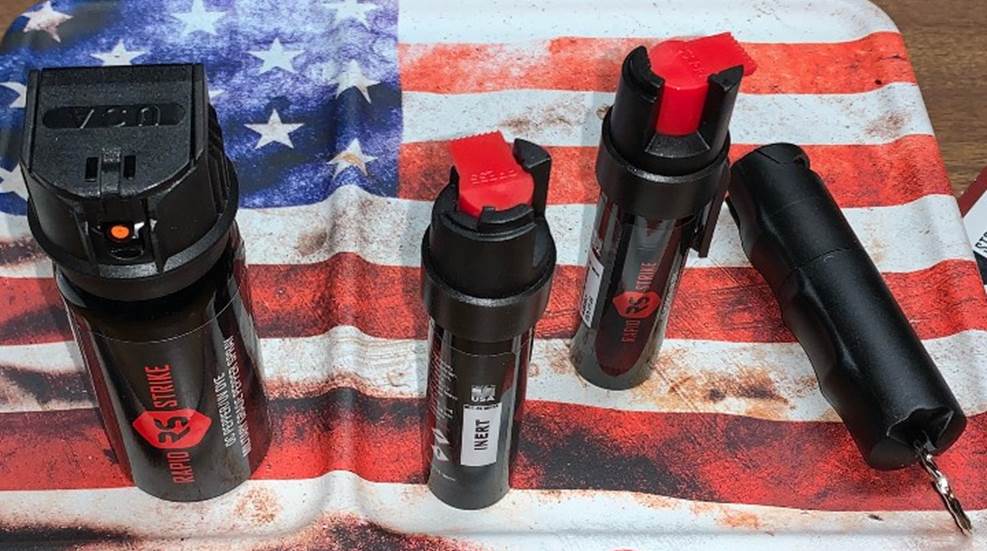 Having a less-than-lethal option in your EDC gear is a pretty great idea. Even if all it ever does is give you peace of mind about warding off aggressive canines on your afternoon run, having the option gives you more tools in your self-defense toolbox. Not every confrontation can or should have a ballistic solution, yet there are absolutely situations where having something is better than nothing, and in these cases, OC/pepper spray is a great option.
Mission First Tactical has offered spray for a while now, in what can be boiled down to small, medium and large sizes. There's a keychain size version, a pocket/EDC mid-size and a large size for the home or auto. Each spray has 10 percent OC and UV dye for detection, and each size offers an optional CS component as well. Obviously, the amount of OC/OC and CS varies according to the canister size, with the smaller sizes offering .5 ounce through 1.8 ounces for the large size (with an even larger size coming soon). Either flip-top or "safety-top" are offered, with keychain sizes and the large offering the flip top variant.
One important offering is the inert trainer available. When we featured the EDC size in an episode of "I Carry," the video includes footage of the spray being deployed. Obviously, this was the inert version, and one thing became immediately apparent when recording the episode: Aiming a stream-delivery OC/CS device is not as intuitive as you might think. It took a few tries to get the stream to impact the target, which meant we needed multiple takes for the video - if it had been during an attack, though, it would have been more problematic. Pick up a couple training canisters and practice with one until the aiming and deployment can be accomplished easily. Then, secure the second one away and re-acquaint yourself with the operation on a regular basis.
MSRP starts at $12.95; visit missionfirsttactical.com for ordering information and to see all options available.