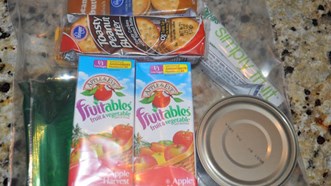 There are the, for lack of a better word, glamorous aspects to preparedness. You know, killing zombies, helping Will Smith stop an alien invasion or getting your "Red Dawn" on. But preparedness has a less sexy side, and that is bad weather or general mayhem. Recently, we were prepared to weather a storm that turned out to be for naught, but it was comforting to be ready. And the kids got to play along.
If you have to bug out, your kids will too. As an added bonus, they also can help carry stuff. Not as much as mom and dad, but they should be able to provide some help. And, if you're like me, you kind of like having them around.
The first thing you do is talk to them about why. Don't bombard them with doom and gloom scenarios—make it fun. In discussing why with my children, we talked about everything from weather, asteroids, zombies, pirates and more stuff than I can remember. They had fun with it, imagining the different reasons we'd have to get out of The City (My The City). Their little imaginations run wild, making-believe all manner of silliness, and they're funny and intuitive.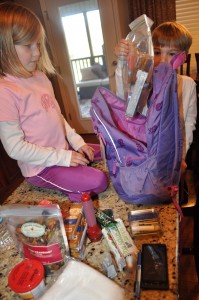 For instance, my daughter recommended we take some extra dog food in case we ran into any stray dogs. She was thinking. It's important to make them think and get them involved. They'll have a good time doing this and imagining all manner of things they need and can do.
The primary purpose of the bug-out bag is, simply, sustenance. Gun people like to debate which gun for the zombie apocalypse and how much ammo to take, but give little thought to how many calories and water an adult or a child need per day. The standard bug-out bag setting is three days. I set out to figure what each child would need. I found a good list as a starting point provided by a blogger's church.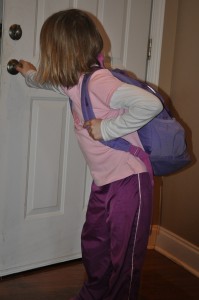 I modified the food a bit based on my children's likes and dislikes, and altered some quantities and volumes for convenience. For instance, instead of each of them having one small peanut butter, we put one large peanut butter in one bag. Instead of individual packs of trail mix, we put a big one in one bag. It saves space.
The next step is to make three packages of one day's worth of rations. Explain to your children that it is a one day supply. If I let my son eat whatever he wanted, he'd eat nothing but the cereal bars for the first day.
In addition to the food, you'll need utensils to eat. We opted for the CRKT Eat'n Tool, since it doubles for other uses. Don't forget, if you take canned goods, a can opener is essential. Load the individual bags into the bug-out bag with water and other supplies.
After you make the food portion of your bug-out bag, rotate it out every six months. Just put the food in your pantry to eat, and refresh the stock in the bag.
Other items to include in the bag:
Flashlight
Pen and paper, in case we need to leave notes
An old, unused smart phone. In addition to being able to dial 911, it has games and other entertainment for the kids. Make sure you charge it periodically.
Lip balm
Money, in small bills and coins only, in case of vending machines
Folded paper towels kept in a zip bag. These serve many purposes, such as cleaning and emergency toilet paper.
Hand sanitizer
We also have a few stacks of games and toys that are easily grabbed for the trip, since bugging out would likely be boring for kids.
There are a few things we don't keep in the kids' bags, such as guns, knives, medicines and items used to start fires. Those are kept in the adult bags for obvious reasons.
The kids enjoyed this project, and it's always fun to see them thinking and doing things. Try it for yourself—you'll be surprised by their creativity.