To some, it looks like the victim of an experiment gone horribly wrong. To others, it is an example of early revolver refinement still reflected in many of today's self-defense wheelguns.
Its creator, former New York City cop J. Henry "Fitz" FitzGerald, worked for Colt from 1918 to 1944. During that time, he traveled across the country to shooting competitions, fixing pistols (not just Colts) and spending countless hours on the firing line.
Considered a ballistics and firearms expert, FitzGerald regularly lectured and instructed on the principles of competitive and defensive shooting. In addition, he occasionally testified in court when an authority was needed in relation to firearms. He even wrote the book, "Shooting," which was published in 1930. J.H. FitzGerald's contributions to the shooting community were many, but his crowning achievement was still to come.
A One-of-a-Kind Design
The majority of the revolvers produced by Colt during FitzGerald's employment possessed long barrels, frames and grips. While these features were beneficial for competitive and recreational shooting, Fitz viewed their large size, weight and overall design inadequate for defensive use. With that in mind, he set out to make a revolver suitable for self-defense by enhancing the speed with which it could be drawn and fired.
In the beginning, Fitz focused his efforts on converting big-bore revolvers, such as Colt's 1917 and New Service models. Later he turned his attention to the smaller-framed Police Positive and the improved Police Positive Special. Then, in 1927, Colt released a 2-inch version of the Police Positive Special eventually deemed the Detective Special.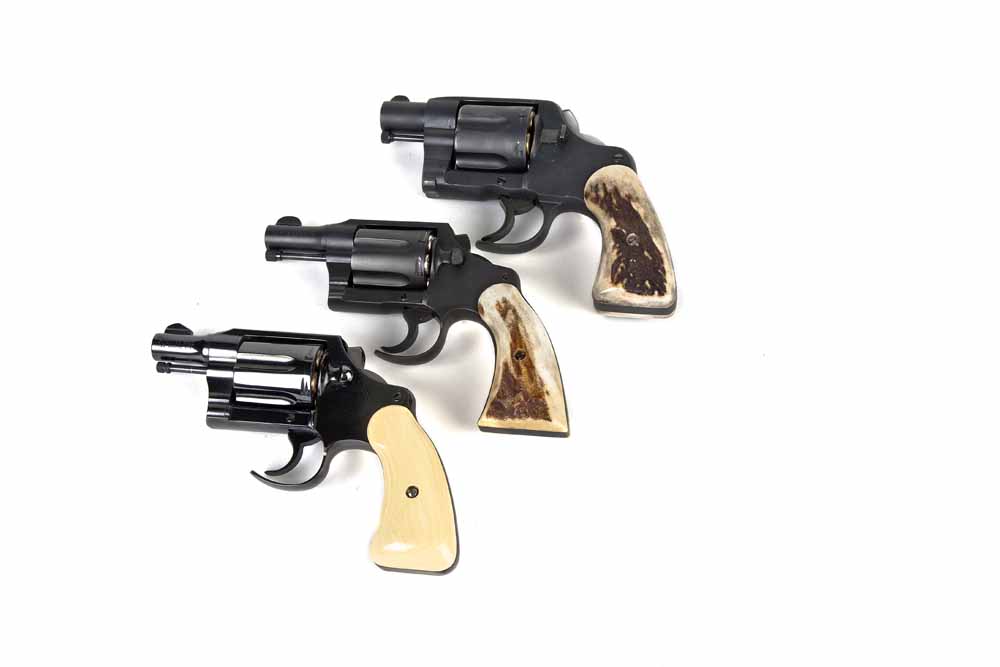 MetamorphFitz
What exactly did FitzGerald do when producing his namesake pistols? First, he cut the barrel to 2 inches and re-fabricated the front sight (except on the 2-inch Detective Special). Fitz also removed the front of the trigger guard to create more room for the trigger finger and eliminate any potential interference during fast draw. But, the primary reason for this modification was to allow the pistol to be fired with gloved hands. Fitz wanted his pistol to be easily accessible in any condition. Even for a retired NYPD beat cop, the winters in New York were memorable. (While cutting away the front of the trigger guard was relatively common throughout the 1930s and even later, there are those who consider the practice a safety hazard.)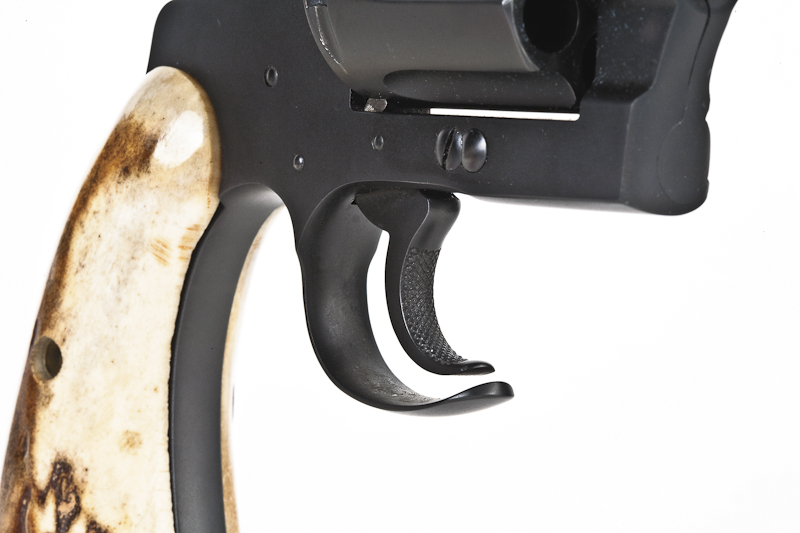 Next, he removed or bobbed the hammer spur to prevent it from snagging on clothing when drawing the pistol. It also made the pistol's primary mode of fire double action, which was inherently faster than single action and the most practical for defensive shooting. Yet, for those customers who still wanted the option of shooting single action, Fitz serrated the top of the hammer to aid in its cocking.
Lastly, he shortened and rounded the pistol's butt (a feature seen primarily on the larger-frame 1917 and New Service). This made the gun more concealable and easier to handle when drawing.
Original FitzGerald Specials are very rare and extremely expensive. It's estimated approximately 100 Fitz conversions were made on the Detective Special frame, while significantly fewer were made using New Service, Police Positive and Police Positive Special models.
Given the scant number of conversions FitzGerald made during his 26 years at Colt, only two have been documented in shooting periodicals. With an inscription on the side plate that reads, "To Rex From Fitz," there's little doubt regarding the authenticity of the late Col. Rex Applegate's Colt New Service. One of the original member's of the Office of Strategic Services (OSS) during World War II, Applegate purchased the .45 ACP wheelgun following a gunfight in Mexico.
According to legend, Applegate and a friend were accosted by a man waving a machete after dinner one evening. Applegate was carrying a 2-inch Smith & Wesson Safety Hammerless revolver—commonly referred to as a "lemon squeezer"—chambered in .38 S&W. He carried it muzzle up in an S.D. Myres Detective Wonder Holster.
Applegate responded as if still studying under Fairbairn and Sykes, emptying his pistol into the man with mechanized precision. All five shots struck the man in the torso, but failed to neutralize the threat. (The .38 S&W cartridge delivered a 146-grain bullet at an anemic 600-700 fps.) It wasn't until his friend intervened, firing a dedicated pair from his Colt 1911, that the attacker finally met his demise. Need-less to say, Applegate learned his pistol was a poor choice for self-defense and soon replaced it with a Fitz Special.
Famed American aviator Col. Charles A. Lindbergh was another Fitz patron. Colt shipped him a converted Detective Special (serial number 418162) on Oct. 4, 1934. According to Lindbergh's autobiography, he carried the gun everywhere following the trial of his son's kidnapper. Lindbergh left for England in 1935, but not before giving the pistol to a friend. Forty-seven years later, it was sold by Christie's auction house for $17,000.
A Fitz to Call My Own
Given the scarceness and value of authentic Fitz Specials, I knew the closest I'd ever get to the real thing was a replica. What I really wanted was a New Service in .45 Colt. Unfortunately, canvassing local gun shows and websites yielded only marginal specimens at insane prices.
Reluctantly, I set my sights on a Detective Special. After months I finally found one. Once used as a police gun, it had seen better days, but I knew my local gunsmith—Sandy Garrett of Northern Virginia Gun Works—could resurrect it.
The restoration took several months and quite a few replacement parts. But in the end, I had my Fitz Special. The rust and pits were replaced with a glossy blue, and the newly tuned double action would put a vintage Python to shame. Still, I longed for a New Service in .45 Colt and decided to resume the search.
After many months and hours online, I found my gun. Like my Detective Special, it too had seen better days. Almost all of its original finish was gone and traces of minor pitting could be seen. Yet, the pistol was tight and appeared to be mechanically sound. Tracing the serial number placed manufacture at the turn of the century. Similarly, a second three-digit number below the cylinder suggested the pistol might have been issued to a police department.
I boxed it up and sent it to Andy Horvath. He happened to be quite the "afitzcionado," according to Shooting Illustrated Field Editor Wiley Clapp, specializing in Fitz Conversions.
Months passed, but the day of its return finally arrived. To say the least, my expectations were exceeded—even as a first-time customer. In addition to Horvath's craftsmanship, I found his attention to detail impressive.
The new front sight was crescent-shaped, just like I requested, and he also welded a new knurled tip to the end of the ejector rod—although Fitz preferred not to and briefly mentioned it in his book. Horvath even installed a ball detent in the cylinder crane to improve lockup. He didn't charge extra for these additions.
From the sight serrations to the handcrafted burl walnut grips, my new Fitz Special in .45 Colt was a thing of beauty. I soon discovered it shot just as nice when my first cylinder through the pistol produced a sub-2-inch group at 21 feet.
I was later referred to a gun shop in Texas with an interesting .45 ACP pistol for sale. Even though it possessed the L-shaped New Service cylinder latch, U.S. Army 1917 was stamped on its butt. The barrel had been professionally cut to 21⁄2 inches and was devoid of any rollmark information. Interestingly, a new sight was fashioned out of a tubing cutter disc. It was advertised as a pilot's pistol.
Colt did what's referred to as a commercial/military production run at the end of World War I. The company pulled excess frames, which already contained military proofs, and used them as commercial guns. I saw it as a potential candidate.
I purchased it and went back to Northern Virginia Gun Works. Since the barrel had already been cut, to preserve the military markings I opted not to alter the grip. In turn, the pistol wound up with a partial Fitz conversion: The hammer was bobbed and serrated, the trigger guard cut, an action job was done and the lanyard ring removed. The end result was quite satisfying, and I have no doubt Col. Applegate would have approved.
Distant Cousins
With the exception of the FitzGerald Special, the design of snub-nosed revolvers has remained virtually unchanged since the Police Positive Special and Detective Special of 1927. Demand is at an all-time high, due largely to the passing of shall-issue concealed-carry laws in 39 states.
A good deal of firearm manufacturers produce snubbies reminiscent of Fitz's creations, as seen with the Charter Arms Bulldog Pug, along with Taurus's Model 450 and a truncated version of its Judge aptly named the Public Defender.
Almost all possess features of FitzGerald's design—short barrels, shortened grips and bobbed hammers, which are now standard on many production guns. Each serves as a testament to J.H. FitzGerald's variations and continue to set the standard for today's concealed-carry revolvers.