by
Shooting Illustrated Staff
posted on January 25, 2012
Support NRA Shooting Illustrated
DONATE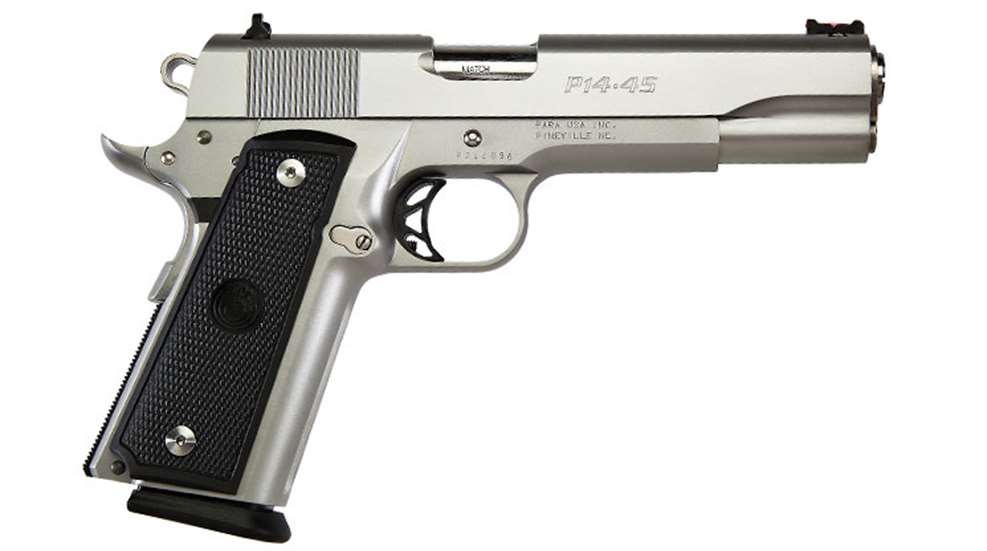 1911 aficionados loved the stopping power of the .45 ACP cartridge and the great ergonomics of John Browning's Government Model pistol but the yearned for the impressive magazine capacity of the Wonder Nines.
PARA's introduction of the P14-45 solved that problem. Model 1911 pistol owners no longer had to compromise, and could enjoy an increase in magazine capacity-from 7 rounds to 14 rounds. But PARA did not stop with creating a high capacity 1911 frame. It improved the design at the same time.
The frame was redesigned with built-in plunger tubes and grip bushings, leaving no possibility of the loose or lost parts that plagued the old Model 1911 design. Frame wall thickness around the slide stop hole was made 20% greater for extra strength under stress. Always the quest at PARA has been to give its customers the best, so they incorporated a ramped barrel with supported chamber into the new pistol.
Last year PARA brought back its famous high capacity 1911 pistol. The return of this classic pistol at a great price was such a hit that PARA owners asked if they could get the P14-45 in Stainless. We listened and the P14-45 is now available in all weather stainless steel.
PARA P14-45 Stainless Specifications
Model: P14-45 Stainless
Product Code: P1445S
Caliber: .45 ACP
Capacity: 14 + 1
Receiver: Stainless Steel
Slide: Stainless Steel
Action: Single-Action, Auto Loading
Barrel: 5-inch Match Grade Stainless Steel with Integral Ramp
Barrel Twist: 1:16 LH, 6 Grooves
Sights: Fixed Rear Sight, Fiber Optic Front Sight
Trigger: Competition type with over travel adjustment
Hammer: Skelton for fast lock time
Stocks: Ultra-thin Polymer
Safeties: Slide Lock, Beaver Tail Grip Safety with Speed Bump and Firing Pin
Magazines: Two 14-Round Expert Magazines
Finish: Classic Brushed Stainless
Weight: 40 ounces
Length: 8.5 inches
Height: 5.5 inches
MSRP: $899