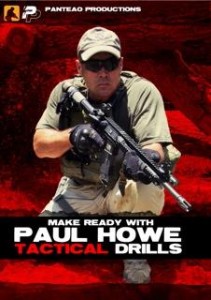 Tactical Drills is a concise video featuring the benchmark range drills taught by Paul Howe. Paul is a high-risk training instructor that served 20 years in the US Army, ten of those in Special Operations. He served as a Tactical Team Leader and Senior Instructor while assigned to Army Special Operations. During his tour in special operations he was involved in several combat actions. One of the most notable was the battle of Mogadishu that was later portrayed in the motion picture Black Hawk Down.
Paul takes you step-by-step through drills like the plate rack from a vehicle drill, engaging multiple targets from cover, interior movement drills, line drill, immediate threat drills, forward movement drills, dealing with wounds, 100-7 drill, battlefield weapon recovery, and the granddaddy of all drills - the 500 yard Scrambler. If you are looking for a video that covers a wide range of drills that you can utilize for both your pistol and rifle training, look no further.
Panteao is accepting pre-orders for the DVD and expects it to be released in July.
Product Page Link: http://www.panteaoproductions.com/products/tactical-drills
Video Trailer: http://youtu.be/GNTHcF66iJs
About Panteao ProductionsPanteao Productions is a video production company that produces instructional videos from the top firearms instructors in the world. For more information about Panteao, visitwww.panteaoproductions.com.
You can follow Panteao on Twitter (http://twitter.com/PanteaoVideos) and find us on Facebook (http://www.facebook.com/PanteaoProductions)