by
Evan Brune, Associate Editor, Shooting Illustrated
posted on March 17, 2017
Support NRA Shooting Illustrated
DONATE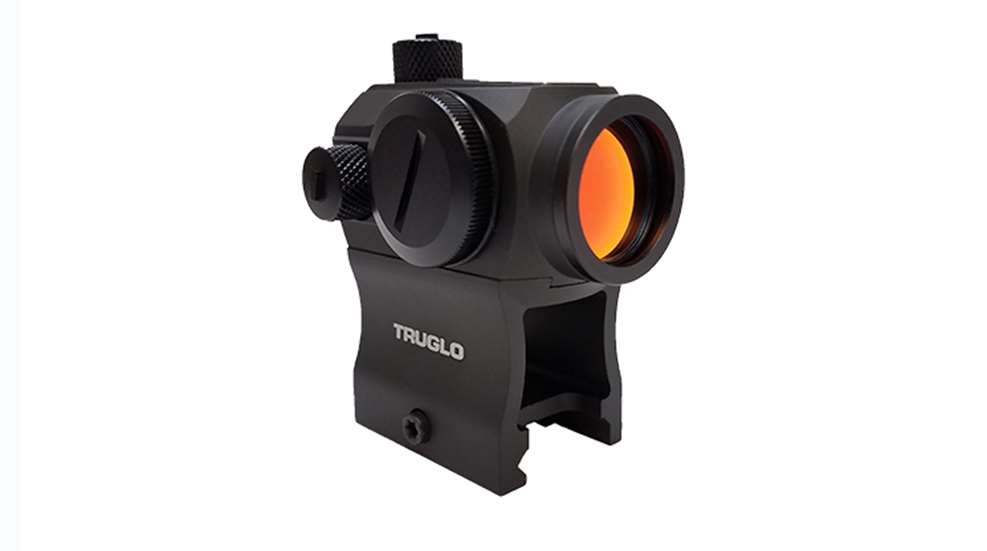 TruGlo
added the new
20 mm Tru-Tec Red Dot Sight
to its product lineup in 2017, and the addition of the optic helped to bring together affordability, accessories and other add-ons for red dot sights.
The red-dot market has always been separated between affordable options that lack certain features and accessories and expensive options that, while pricey, come with an array of mounting options and programmable features. TruGlo changed that split with the new Tru-Tec optic.
The Tru-Tec Red Dot Sight comes with all of the standard features. The optic is adjustable for windage and elevation and provides 10 brightness settings for use in bright sunlight and low-light. Brightness is controlled through two push buttons on the top of the optic, just in front of the elevation-adjustment turret.
The optic itself features a 20 mm objective lens that produces a 2-MOA reticle with a minimum parallax setting of 50 yards. TruGlo warns that parallax shift can be observed when aiming at targets significantly greater or less than 50 yards and suggests keeping the reticle in the middle 2/3 of the field of view to minimize parallax.
The sight is powered with a single CR2032 battery that fits into a gasket-sealed housing on the right side of the optic. The company claims that the battery will power the optic through many thousands of hours of operation. In addition, the optic is rated to take up to 1,000 Gs of shock and is waterproof and fogproof.
The Tru-Tec Red Dot Sight has a number of other features, though, that help the optic to stand out in the crowded marketplace of affordable red dots. 
In addition to its long battery life, the optic features auto-on and auto-off features. To turn the optic on, users can simply press either brightness-adjustment button. After the optic is on, owners can simply leave the optic running. An adjustable auto-shut-off feature is included that turns the optic off after a period of inactivity.
Users can select how many hours the optic keeps running until it's shut off. Simply hold down the + brightness button until the reticle begins blinking. The reticle will blink once for every hour that the system is programmed to leave the optic on. Users can select an auto shut-off point anywhere from 2 to 8 hours of inactivity. At the selected point, the optic will cease drawing battery power.
In addition, the optic also features an auto-on function. After the auto shut-off feature is tripped, an integrated motion sensor will detect movement and automatically turn the optic on when needed. The added features don't stop with the programming, though. The optic ships with an attached high mounting base that features a see-through window for back-up iron sights. For users who want a lower mounting base, TruGlo includes a low mounting plate as well.
The suggested retail price on the new TruGlo Tru-Tec Red Dot Sight is $221.