For most of our shooting needs, the .223 Rem. is fine, but in my never-humble opinion, there are times when it could use a little more horsepower. The ammo makers claim a muzzle velocity of 3,240 fps with a 55-grain bullet, but I rarely see that on my chronograph screen.
High velocity would mean more energy at the target and flatter trajectories for easier long-range hits. With a 55-grain bullet, both the .22-250 Rem. and the .220 Swift achieve muzzle velocities around 3,650 fps, but both cartridges are too long to fit into an AR-15 magazine.
The .223 WSSM, introduced in 2002, has a water capacity of 55 grains, which is considerably more than the .22-250 Rem. (44.62 grains) and the .220 Swift (46.25 grains). That means it has the potential to outperform both. It's a rather goofy-looking cartridge, but goofy can be good. With catalog ballistics showing a muzzle velocity of 3,850 fps with a 55-grain bullet, it beats both by 200 fps. The .223 WSSM is 600 fps faster than the .223 Rem. In fact, the .223 WSSM is the fastest factory-loaded, .22-caliber cartridge available. Better yet, it will also fit in an AR-15.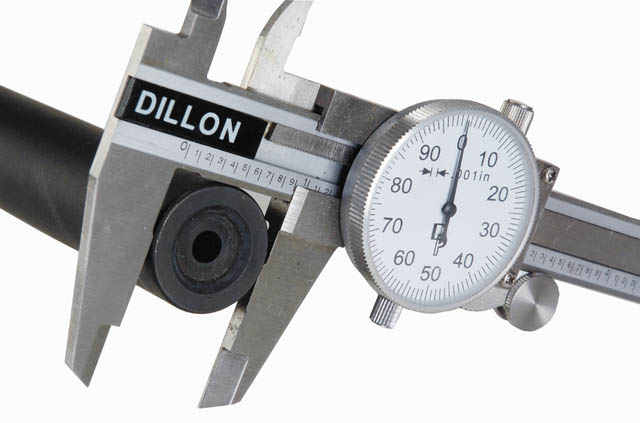 Olympic Arms currently offers rifles and upper receiver assemblies in all three of the WSSM cartridges: .223, .243 and .25. The company is also working on a proprietary .30-caliber super-short magnum it claims will exceed .30-06 Sprg. ballistics with a 150-grain bullet.
The .223 WSSM is only available in Olympic's K8 Magnum Targetmatch model, both as a complete gun or as an upper receiver to fit any standard AR lower. The K8 Magnum features a 24-inch bull barrel that measures .90 inch in diameter at the muzzle. At 9.41 pounds (plus scope and ammo), the rifle is a bit heavier than I'd like for most applications.
That said, there are advantages to a heavy barrel. For example, the Targetmatch shot just as well hot as it did cold, with no change in group size as the barrel heated up.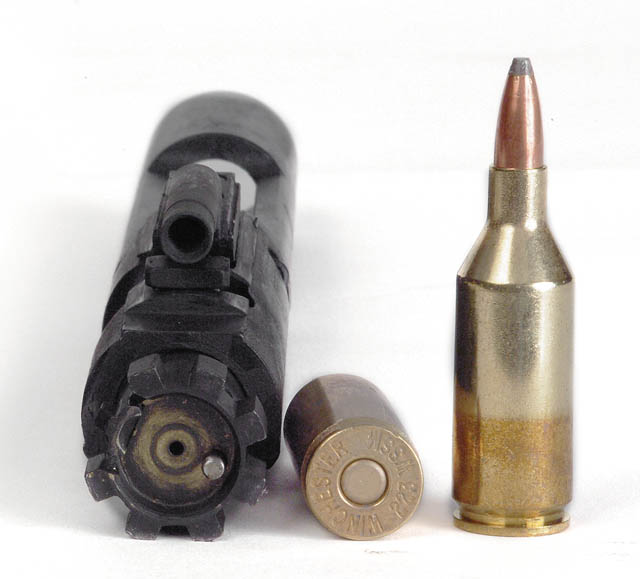 The black-oxide-coated, 416 stainless steel barrel has broach-cut rifling with a 1:10-inch twist rate. A low-profile gas block has a rail on top for mounting a backup iron front sight. The full-length, 12 1⁄2-inch, round, floating aluminum tube has knurling on the gripping surface. Both the upper and lower receivers are forged from 7075-T6 aluminum alloy and machined before being anodized. The ejection port in the upper receiver is enlarged to accommodate the bigger cartridge and as a result, there is no dust cover.
The bolt head is much bigger than a standard .223 Rem. bolt, measuring .1 inch larger on opposing lugs—.840 inch versus .740 inch. Despite the necessary modifications, these unique uppers will work on any standard lower.
A standard A2-style buttstock boasts a trapdoor buttplate—although Olympic offers other stock options—and the lower receiver is pretty much mil-spec. The buttstock has a sling swivel, but there is no front swivel on the rifle unless ordered as a factory option. Its grip is also the standard A2 plastic version, but, again, there are enhancements available from the factory. A mil-spec trigger, which is to say a single-stage, creepy-crawly thing that breaks at 5 pounds, 13 ounces is present. Again, Olympic offers to improve the base version. With the rapid evolution of replacement triggers for AR rifles in the past couple of years, however, I would buy one of the new drop-in triggers from Timney or American Trigger.
Magazines for the K8 Magnum are 20-round AR-15 versions modified to work as a single stack. The gun is shipped with one magazine, which holds seven of the rotund WSSM rounds. I also tested a few magazines blocked at four rounds so they are legal for hunting in my state. After firing more than 200 rounds through the magazines at random, I did not experience a single failure to feed. One problem I did have was the bolt, more times than not, failed to lock back after the last round. The magazine catch is modified to make the magazine ride lower, and I suspect that is the reason.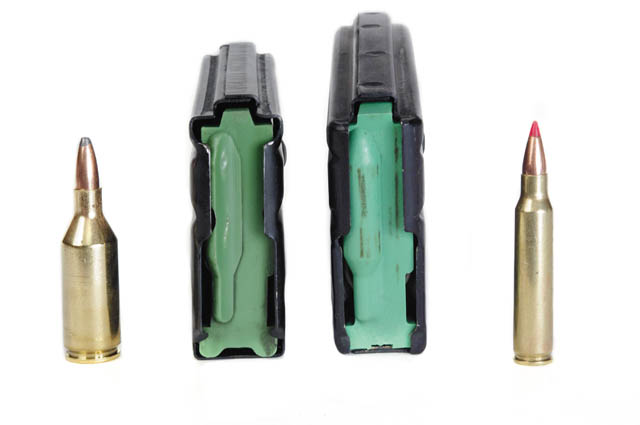 The K8 Magnum is reliable and reasonably accurate. It offers about the same accuracy I typically see from most production bolt-action rifles chambered in this cartridge. While this test did not include any handloads, I have yet to see a rifle chambered in .223 WSSM that failed to improve in accuracy with handloads. With a better trigger, this rifle would be an excellent choice for any shooter looking to upgrade the performance of the .223 Rem.
Manufacturer: Olympic Arms; (800) 228-3471
Action Type: Gas-operated, semi-automatic
Caliber: .223 WSSM
Capacity: 7 rounds
Receiver: Black-anodized, forged and machined 7075-T6 aluminum alloy
Stock: Synthetic, A2-style
Barrel: 24 inches; 416 stainless steel
Rifling: Broach-cut; 4 grooves; 1:10-inch RH twist
Sights: None; Picatinny rail for mounting optics
Trigger Pull Weight: 5 pounds, 13 ounces
Overall Length: 42 1⁄2 inches
Weight: 9.41 pounds
MSRP: $1,363.70