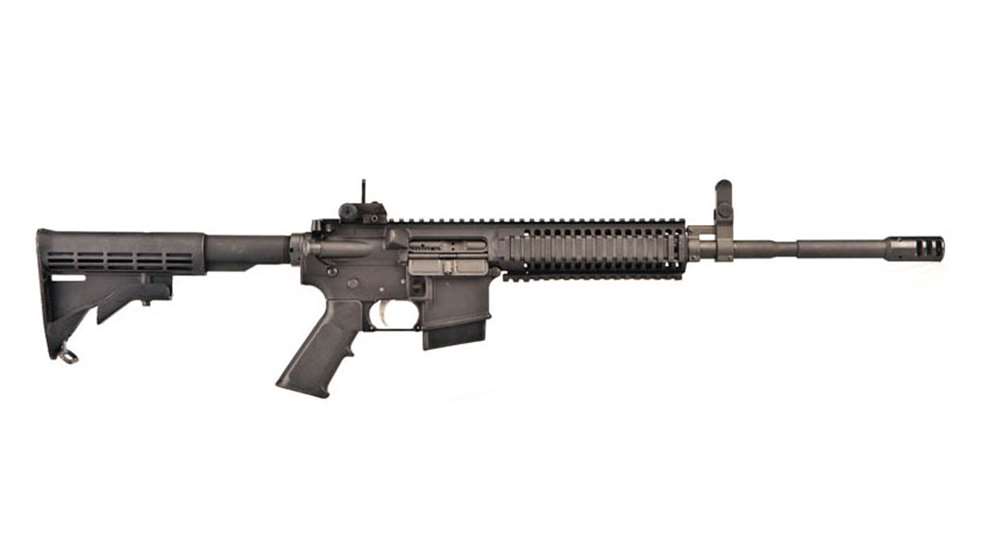 The first handgun I ever fired was a Ruger Mark II and the first gun I ever purchased was a Ruger 10/22. The rifle with which I learned to truly shoot at distance, the one that set me on the path to becoming a rifleman, was the Colt-manufactured M16A2. Many veterans complained and whined about the M16...not me. 
In 1985 Colt was the top manufacturer of the AR-style rifle and M1911A1 pistol. A decade later it had been surpassed on both counts.
Last fall, I was a guest at a special event held at Tac Pro Shooting Center outside of Mingus, TX. Over a period of three days, my group worked with a number of AR- and AK-platform rifles at CQB distance out to 300 meters.
During this event, Dave Biggers of XS Sight Systems introduced me to the Colt Match Target M4 carbine. I was so impressed by the gun I contacted Colt to see about getting a rifle to test.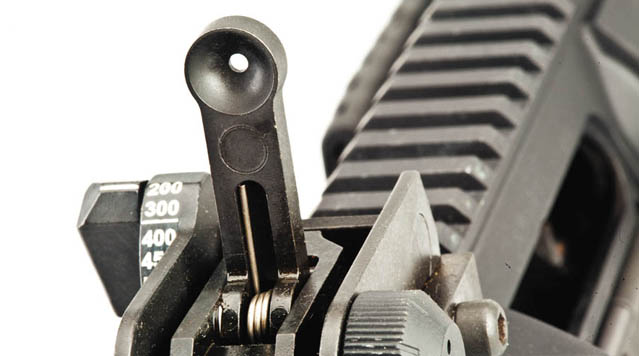 I have to admit I don't get overly excited about writing gun reviews, but I was genuinely enthused about this one. As a small-arms instructor for the military I've used Colt M4s and M16 rifles for the last several years, but they've always been what we call rental guns—ragged-out military models, not new rifles. For the first time in more than a decade I was going to work with a brand-new Colt AR.
At first glance, it was clear this Colt carbine was built to mil-spec standard. The quality was apparent, as were many of the enhanced features of the gun. First, the upper receiver has a monolithic flat top. The four-way rail system is an integral part of the complete upper receiver, not an add-on or replacement for handguards. The top rail runs from the gas block all the way to the charging handle.
The Colt Match Target M4 uses a traditional direct-gas-impingement operating system with a rotating bolt. A 16.1-inch barrel with the M4 government profile is used. Rifling is 1:7-inch versus the 1:9-inch twist found in most AR variants on the market. Out front is a fixed gas compensator, which vents gas at a rearward angle to the left and right.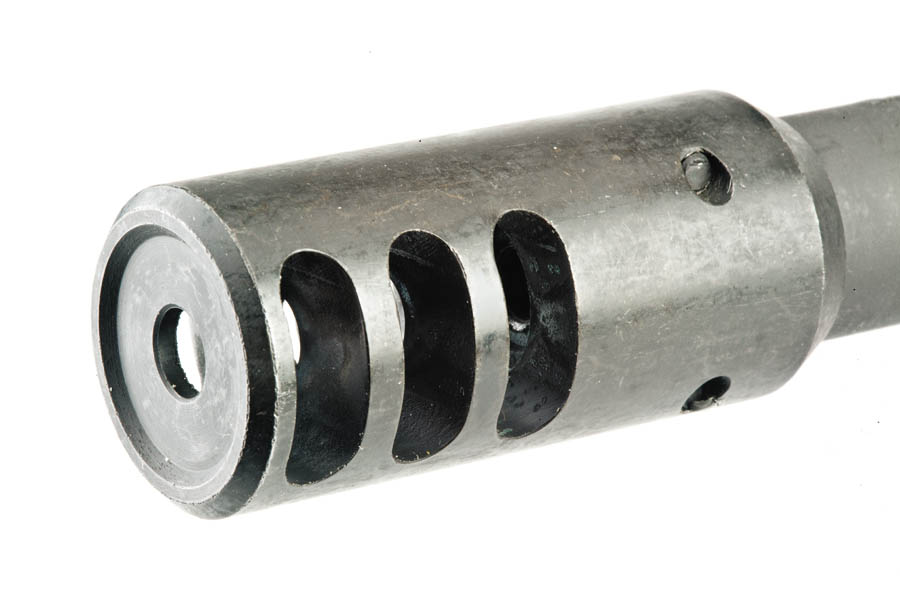 The stock on this particular carbine is an M4-style, fixed version. It looks like a retractable stock, but it is non-adjustable. There are two mounting points on the stock for a sling; the slot below the buffer tube and the more traditional sling loop found at the toe. A standard AR pistol grip is used.
At the front of the aluminum rail system, Colt installed quick-detach mounting points for QD sling swivels. In the accessory pack included with the rifle, you'll find a nylon sling with hardware and a QD sling mount. There is also a cleaning kit and a nine-round magazine. Not to worry, the Match Target M4 will accept any AR-style magazine.
Colt took the time to install a quality trigger group. It is not a fragile, half-pound trigger, but a solid, well-built unit that breaks cleanly without creep or stacking.
As for iron sights, the front and rear are fold-down/flip-up versions. The front sight uses a traditional quarter-click, square front sight post, while the rear sight has a single flip-up piece that contains a small aperture. It's fully adjustable for windage and elevation. The elevation setting on the left side is reminiscent of the M203 tangent sight and will be familiar to old infantry guys.
This rifle is chambered for 5.56 NATO and will naturally accept .223 Rem. ammunition as well. For my testing, I decided to work with both. Manufacturers represented were Hornady, Summit Ammunition and Winchester. The Hornady load is a relatively new .223 Rem. law enforcement training round, while the other ammunition was 5.56 NATO.
I decide to go back to my Parris Island roots. The nylon sling was adjusted to fit snuggly on my left arm. From a solid prone position, I verified my natural point of aim and pressed off three successive slow-fire shots on a target at 30 meters. Within 10 rounds, I confirmed my zero and was ready to move on. Having already experienced the rifle's trigger in Texas, I was very pleased to see it was not an anomaly, but standard for these new Colts.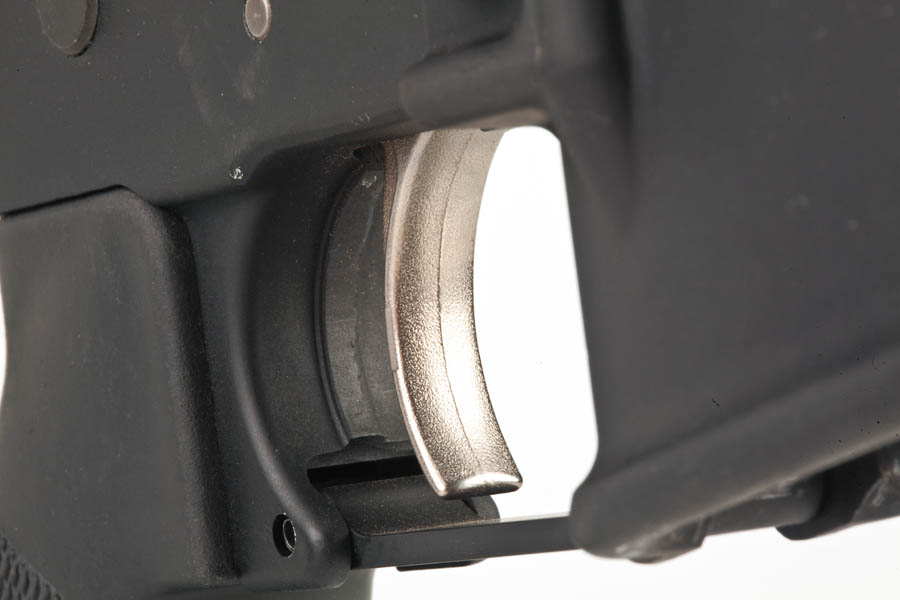 Moving to 100 meters, I set out to perform some serious work. I deliberately slow-fired the rifle, allowing the barrel to cool frequently. Rather than mount an optic, I fired with iron sights only.
On day two I ran the rifle until the barrel was too hot to touch. Thirty-round AR mags from Brownells and Magpul fed the Colt. The sun caught the rear sight and slowed aiming, which was particularly noticeable when movement was added. Military and LE folks—and even many civilian shooters—will likely mount an ACOG or some style of red-dot optic on the gun and use the iron sights as backups, but I thought it worth noting. Accuracy is nice, but function is final. During the evaluation period, hundreds of rounds were run through the Colt and there were no stoppages or failures.
During my initial experience with the Colt, a Leupold Mark 4 LR/T was mounted to the rifle. With deliberate trigger manipulation, I was able to regularly achieve sub-MOA groups using Federal's 77-grain Gold Medal Match load. Bottom line: the gun will shoot—and shoot well—if you do your part.
The carbine is well-built, has a solid trigger and is reliable, as you would expect from a Colt. The Colt Match Target M4 Carbine is a great rifle, and one that I highly recommend.
Specifications
Manufacturer: Colt's Manufacturing; (800) 962-2658
Action: Gas-operated, semi-automatic
Caliber: 5.56 NATO
Capacity: 9 rounds, accepts STANAG magazines
Barrel Length: 16.1 inches
Rifling: 6 grooves; 1:7-inch RH twist
Sights: Flip-up front, Matech rear
Stock: Fixed, M4-style
Trigger Pull Weight: 6 pounds
Length: 35 inches
Weight: 7.3 pounds
Accessories: Cleaning kit, nylon sling, QD sling mount, one magazine
MSRP: $1,615