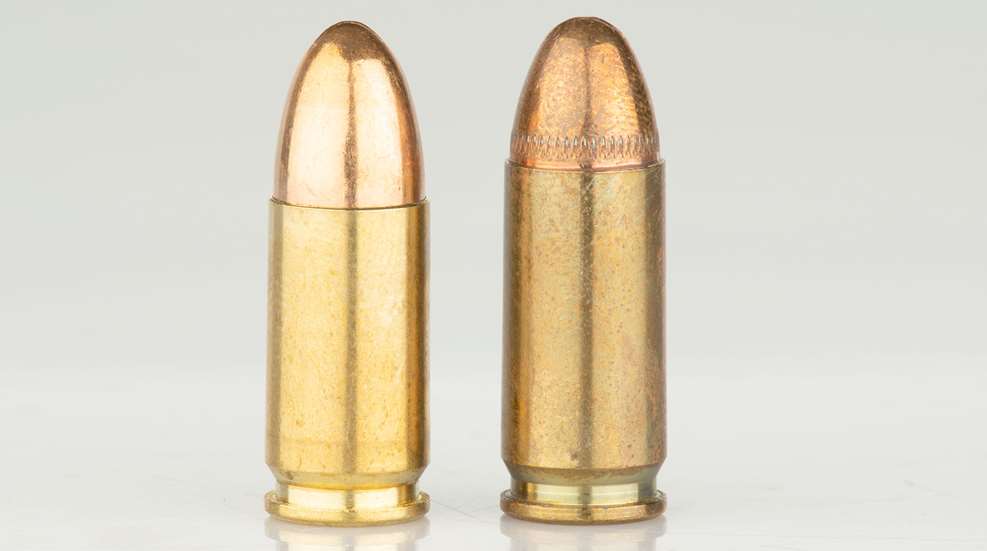 When dealing with two similar calibers like the 9x21 mm (right) and the 9 mm (left) one must be particularly cognizant that the ammo used matches the caliber stamped on the barrel to lessen the possibility of potential damage to yourself and/or your firearm. 
I am hoping you can assist me. I have been a reader of Shooting Illustrated since 2017. In June of 2022, I purchased a Beretta 92X RDO DA/SA full-size, semi-automatic pistol with a 15-round magazine. Once I read the owner's manual published by Beretta, in the Specification section (page 14) it stated that this model was also capable of using 9x21 mm cartridges in addition to standard 9 mm ammunition. I have since found that 9x21 mm ammunition is used in Spain and Israel, and is available here in the U.S. Where can I purchase a Beretta 92X barrel chambered for 9x21 mm? I have contacted the Beretta factory with no luck. In addition, I have tried a few gun shops noted for spare parts but again, no luck. I have loaded the magazine and cycled the 9x21 mm ammo and its works until chambering the cartridge, which sticks out about 2 mm so the slide cannot close. Any help would be greatly appreciated. Peter Smario Jr., Daytona Beach, FL
---
Let me give you a few considerations regarding the 9x21 mm cartridge before I suggest an option or two regarding a barrel for your Beretta 92X RDO.
The 9x21 mm cartridge was developed in the very early 1980s to accommodate laws in Italy and several other countries that prohibited civilians from possessing the standard 9 mm cartridge and compatible firearms, which is also known in the firearms world as 9 mm Parabellum or 9 mm Luger. The countries with these prohibitions were apparently of the opinion that their military-service cartridge, the 9 mm, was believed to be overly dangerous in the hands of non-military personnel. 
Ballistically, the 9 mm and the 9x21 mm are identical performers. Pressures and velocities for each cartridge are not rated as identical, but they are so close that they overlap in acceptable standards for each cartridge from manufacturer to manufacturer.
The major difference between the two cartridges is the length of the cartridge case itself, which is sufficient to prevent the chambering of the 9x21 mm cartridge in a barrel with a 9 mm chamber. The overall length of the 9x21 mm case is listed as 1.171 inches, .002 inches longer than the listed overall length of the 9 mm at 1.169 inches. That's small, but enough to prevent the 9x21 mm  from functioning in a 9 mm pistol. Apart from that, the differences are insignificant. 
Since 9 mm ammunition is available almost anywhere in the United States as well as the rest of the world with a few exceptions, and 9x21 mm ammunition is less so, there is no advantage to having a 9x21 mm barrel for your pistol unless you have a stockpile of 9x21 mm ammunition from which to draw.
I was able to come up with some options regarding a barrel for your Beretta 92X RDO, should you wish to pursue that desire regardless of reason.
My go-to guy when I need anything Beretta related is Ernest Langdon of Langdon Tactical. His website is langdontactical.com. 
He is a former Marine and master gunsmith specializing in Beretta pistols along with Glocks, H&Ks, Springfield Armory and others that need some attention to suit the needs of the customer. As an aside, his trigger jobs are second to none, no matter the type or brand of firearm put before him.
I'm confident that Langdon has the barrel you are looking for, or as an alternative can assist in rechambering an existing 9 mm barrel to 9x21 mm if that is your chosen course of action. You can discuss your technical and tactical needs with him with confidence and satisfaction.