Top: The Nighthawk Custom Browning Hi Power, a truly high-end pistol, with other high end items: Rolex watch, Cuban cigar, Krudo Knives DAO Executive folder and Dragon Leatherworks Executive holster.
Most articles about the Browning Hi Power start by detailing the pistol's long and storied history. Not this one. This is because what a pistol has done for 80 years is of really no mind to what it can do for you today. Let us imagine for a moment that the Browning Hi Power was never invented, so we can look at Nighthawk Custom's latest creation with a clear, uncluttered mind.

Imagine
Imagine a standard-capacity 9 mm pistol with a grip so ergonomic, everyone who picks it up responds with the same three words, "This feels good!" Imagine a 9 mm pistol with a slide measuring less than .75-inch wide at the muzzle, a pistol with a hinged trigger, breaking with a consistent and light, buttery feel. A pistol you can fieldstrip and assemble with only one hand, without pulling the trigger. A full-size, hand-filling, all-steel pistol weighing only 29 ounces that has had every sharp edge removed. A pistol you can feed any 9 mm load with utter confidence that it will work reliably and deliver precise hits on target.

This is the pistol Nighthawk Custom has created. Yes, it is based on an 80-year-old design. And, yes, it is based on a pistol that has been used by more soldiers, in more battles, than any other handgun. The Hi Power is without question the original "wonder nine" and was the forerunner of the Glock. Its double-stack magazine, linkless barrel, revolver-like pivoting trigger, simplicity of takedown and irreproachable reliability are all touted as benefits of today's most-popular polymer pistols. The Hi Power was the new beginning, the transition from the slab-side 1911 to the modern handgun. The Browning Hi Power changed the world, and Nighthawk Custom has changed the Hi Power—for the better.


Imagine a Transformation
The Browning Hi Power and variants have been manufactured by a multitude of different companies, to a variety of different standards. Nighthawk Custom starts with only brand-new Browning Mark III Hi Power pistols manufactured by FN in Belgium. The first thing Nighthawk does is address a long-standing complaint some shooters have with the Hi Power, extending the grip tang by about a full inch. This eliminates any chance of hammer bite on the web of the hand and further enhances already superb handling.


Just as importantly, this extension of steel is done so flawlessly it appears the pistol has simply grown into the form before you. There exist no joint lines, evidence of welding or any other indication the frame was not cast with the extended tang. If you have picked up a Hi Power and thought it felt good in your hand, grasping this Nighthawk-modified variant might just make your knees weak.

Then, the same gunsmith who did that glorious work—at Nighthawk, each pistol is assigned a dedicated builder who works on that pistol from start to finish—applies a texture to the surface of the metal on the rear and front of the grip and underneath the trigger guard. This helps stabilize the grip, does not bite like the checkering on some handguns and looks amazingly elegant. Continuing this stylishness, the rear and top of the slide are textured and a French border is applied.


The slide is then meticulously cut to accept a Heinie, square-notched, Slant Pro black rear sight. It has a wide—.13-inch—notch and mates exceptionally well with the .125-inch-wide, post front sight with a 14-karat-gold bead. Unlike many modern sighting systems utilizing too narrow a rear notch or a front sight that's too wide, there's room to spare here. This makes initial and follow-up sight acquisition and alignment seriously fast.

The dedicated builder removes the factory firing mechanism and installs a new steel hammer, an improved sear and a straighter trigger. He also does away with the magazine disconnect, which stops the Hi Power from firing unless a magazine is locked in place. The result is a pivoting trigger that glides through its stroke as smoothly as Morgan Freeman narrating a documentary, and also enables the pistol to be fired with the magazine out of the gun. The trigger breaks crisply at about 4 pounds and will leave Glock shooters shedding tears.


Other tweaks include a 25-lpi-serrated magazine release, a contoured magazine well to assist with speed loading, a crowned barrel, tightening of the slide-to-frame fit and the removal of any and all sharp edges that might bite the hand during operation in a high-stress environment or snag during the draw stroke. The entire pistol—with the exception of the barrel—then receives a satin Cerakote rust-resistant finish.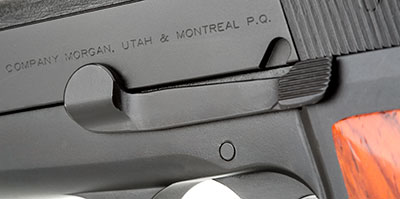 Nighthawk offers two finish options. Its version of the Hi Power can be had in all black or with a black slide and silverfish frame. Two grip options are also available. Standard are the custom, select cocobolo checkered grips with the Nighthawk logo. Optional are black G10 checkered grips, also with the Nighthawk logo prominently but tastefully etched in place.

Each pistol is shipped with its own Nighthawk pistol rug and two 13-round magazines. The Hi Power carries with it a level of elegance exceeding all other standard-capacity 9 mm handguns, and boasts a combat history more varied and telling than almost any other firearm.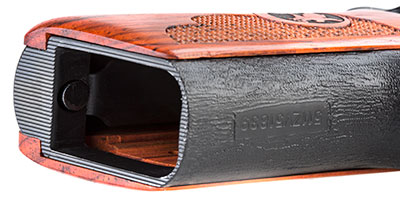 Imagine Accuracy
The test sample Nighthawk Custom Browning Hi Power was subjected to the common 25-yard benchrest accuracy protocol using three different loads. Out of the 15 groups fired, the largest measured 2.39 inches and the smallest 1.21 inches. Average for all groups was 1.89 inches, and the average standard velocity deviation was 11 fps. An additional 275 rounds were fired conducting various drills. During the firing of more than 350 rounds, not a single stoppage, malfunction or hiccup was experienced.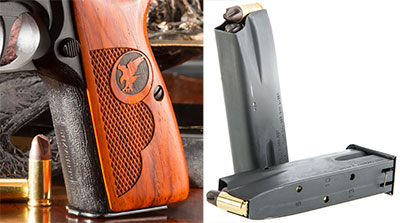 The smoothness with which this pistol shoots and operates must be experienced. While 9 mm has never been known as a hard-kicking cartridge, in this Hi Power it is inexplicably comfortable. Surprisingly, this pistol is noticeably easier-shooting than a full-size, steel-frame 1911 in 9 mm. There is something about the ergonomics and something about the way the barrel and the slide unlock during recoil that make shooting this pistol joyously smooth and fast.

For example, on the Forty-Five drill, where the goal is to draw from concealment and fire five rounds into a 5-inch circle at 5 yards within 5 seconds, I was able to complete it—on every attempt—in less than 3.5 seconds with zero misses. Sub-10-second El Prez drills were not a problem, nor was hitting a man-size steel silhouette target at 100 yards about 80 percent of the time. You can shoot this pistol all day without fatigue. It's no wonder the first 9 mm handgun to ever win the IPSC World Championship (in 1977) was a Browning Hi Power.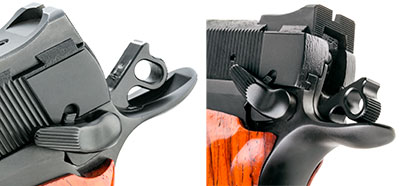 Imagine a Stuffed Wallet
Do not, I repeat, do not shoot this pistol unless you are prepared to write the check or swipe your card. It's rare to handle a firearm today that you simply must have. If you shoot Nighthawk Custom's Hi Power and do not walk away with it, you will lust after, covet and yearn for this pistol until you possess one. Should that not be the sensation you experience, your senses may be dulled due to over-exposure to polymer pistols, 1911s or illicit narcotics. 

Forget all that crap you hear about big bullets and calibers that start with "4." Modern 9 mm ammunition is as effective as can be engineered for defensive purposes. This custom Nighthawk is, after all, the Grande Puissance and just might be the grandest pistol of all time. It begs to be carried on your hip. It beckons you to caress its sultry grip. And, it begs to be placed between you and evil—a spot its kin have occupied for more than 80 years.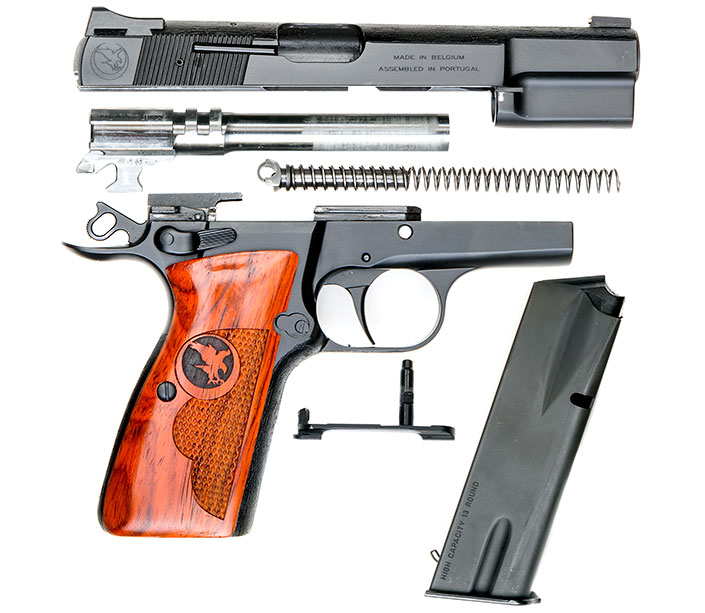 As magnificent as this pistol is, the old adage that "nothing is perfect" always applies. If you want a Nighthawk Custom Hi Power you'll have to pay to play—it has a suggested retail price just shy of $2,900. And, you'll have to wait in line for months; how many will depend on how soon you get your name on the list. If you can afford it, and if you can stand the wait, you'll still have to deal with a fly in the Hi Power ointment. Fully loaded Hi Power magazines have a tendency to rattle. They'll not give away the fact you're carrying, but it nevertheless can be annoying. Then again, it wouldn't surprise me in the least if Nighthawk figures out a way to fix that, too.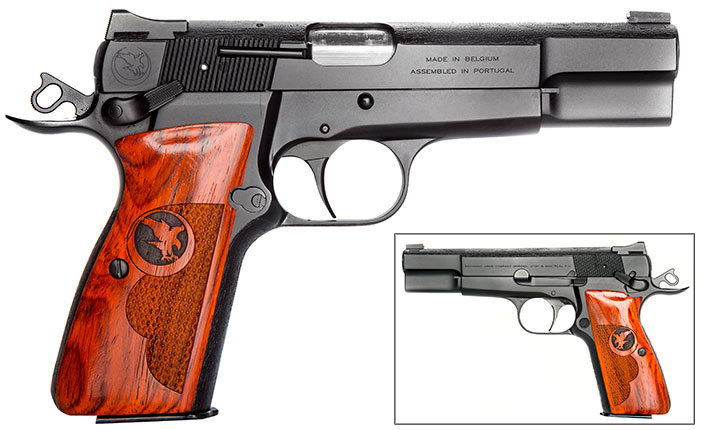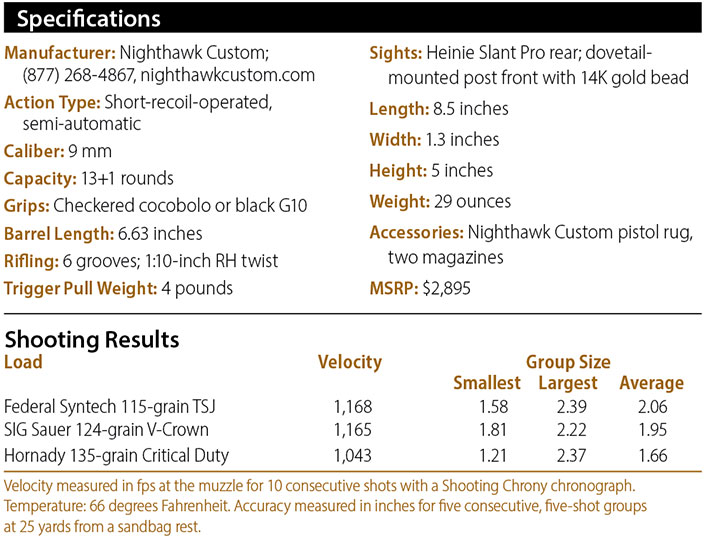 ---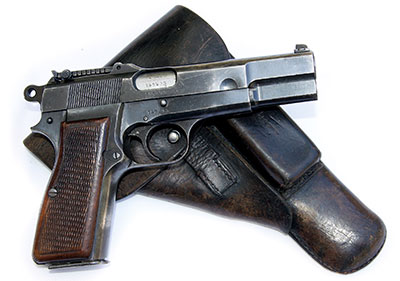 The Obligatory Hi Power History
Fabrique Nationale (FN) was approached by France about creating a new military pistol in 1921. Ultimately, Dieudonné Saive of FN provided John M. Browning with the first ever double-stack 9 mm magazine, and Browning developed the prototype into the Hi Power. Browning died in 1926, but Saive and FN continued with the project, which in 1934 became known to the French as the Grande Puissance (High Power).

France ultimately passed on the Hi-Power—yes, the French have a record of bad decisions when it comes to armaments—but the Belgians did not. Due to the capture of the FN factory by the Nazis and the adoption of the Canadian-built Hi Power (P35) by Great Britain, the pistol has the unique trait of being used by opposing forces during World War II. Very likely, soldiers were shooting Hi Powers at each other.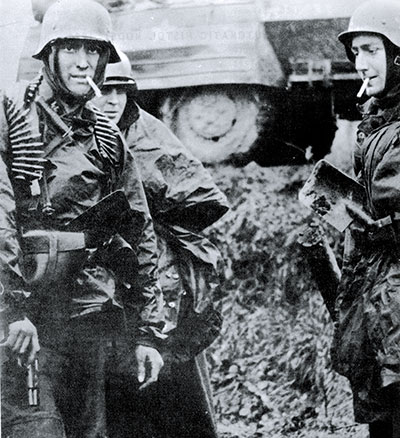 After the war, the Hi Power became integrated into military units worldwide and was even the issue pistol of the United States Office of Strategic Services (OSS). Some sources place the number of militaries using the Hi Power at one time or the other as high as 50. The Irish Army was one such military, and it called the Hi Power the BAP. Since 1935, the pistol has been built by a number of manufacturers, and its double-stack magazine, linkless barrel and pivoting trigger have become the most copied features of the modern handgun era.

Currently, Hi Powers are manufactured by FN in Belgium, assembled in Portugal and imported by Browning in Utah. This version is the Mark III, which incorporates a firing-pin safety and ambidextrous thumb safeties, and the throated barrel of the Mark II design.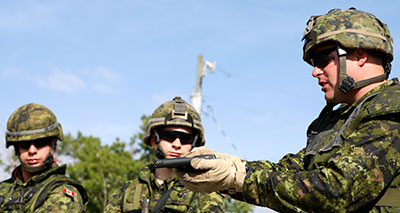 Over the years, several custom pistolsmiths have offered refined Hi Powers, including the addition of an extended tang. But these have mostly passed unnoticed because the alterations were mostly offered on customer-supplied pistols. As a result, quality and configuration varied as much as price and performance.

Some argue the Hi Power was John Browning's best pistol design. The truth is, it was a collaboration between Browning and FN. Another truth is that the Browning Hi Power
laid the foundation for the modern handgun, and its operating system, ergonomics and reliability equal or better any mass-produced pistol today.