My first exposure to Nightforce optics was during a wet and wintery long-range course in the Utah mountains. For five days, I pounded steel targets at extreme ranges in extreme weather with a .338 Lapua Mag. rifle and a Nightforce scope. I walked away a believer. Since then, I've experimented and tested a variety of Nightforce optics, and I've yet to be anything but impressed with their quality, serviceability and ruggedness. This is somewhat surprising when you consider Nightforce is a relatively new optics manufacturer.
It seems that over the last decade, new, low- to mid-range quality riflescope companies appear about every month. Nightforce, established in 1992, is a relative newcomer when compared with companies like Leupold, Zeiss and Schimdt & Bender. That does not mean Nightforce is behind the power curve. Creating premium optical instruments is not a secret, it's a science—a science driven by dollars. Nightforce invested heavily in this science, and its riflescopes reflect this priority in quality and price. The company's new NXS Compact 2.5-10x42 mm riflescope is a perfect example of why this young company is earning the respect of serious riflemen.
Gearing up for a long-range shooting class hosted by Magpul Dynamics, I asked Nightforce to loan me one of these just-released scopes. The 2.5-10x42 mm is one of three offerings in the NXS Compact series and could be considered second generation, since it comes with a side parallax adjustment sporting an integrated, digitally controlled, illuminated-reticle. Previous versions were not parallax adjustable, and the brightness of the red-illuminated reticle was controlled by a rotating rheostat knob.


This latest iteration offers both red and green reticle illumination, which is activated by pushing the center of the parallax-adjustment knob. One push turns the reticle on. Pressing the button again increases or decreases reticle brightness through five different settings. Push and hold the button for about three seconds, and the illumination turns off. When you turn it back on, the illumination setting is at the same intensity as it was when it was turned off. Additionally, if you hold the button down for about five seconds, reticle color changes from red to green or vice versa. There's also a night-vision-compatible setting.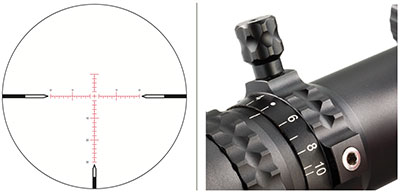 Seven reticles are available. The IHR (International Hunting Reticle) is similar to the old German No. 4, with two horizontal posts and a lower vertical post, but with an illuminated center. There are three versions of the Velocity 600 reticle: low, standard and high velocity. These are ballistic reticles with the addition of horizontal stadia wires for wind holds. Then there's a standard Mil-Dot reticle and a new MIL-R reticle, which is infinitely more sophisticated. With the Velocity 600, Mil-Dot and MIL-R reticles, most of the reticle is illuminated. Nonilluminated reticles are also an option.
I opted for the illuminated MOAR reticle, which is also similar to the German No. 4, but inside the wide opening between the heavy posts are a 40-MOA horizontal and a 30-MOA vertical grid. The grid extends 20 MOA to the left and right of center and 10 MOA above and 20 MOA below. Surprisingly, the grid is broken into 1-MOA sections. Small hash marks represent 1 MOA and longer marks, 2 MOA. With the MOAR reticle, only the grid is illuminated. If there's a downside to the system, it's that all these reticles are in the second focal plane, meaning subtension changes with magnification. On the other hand, some shooters prefer this configuration.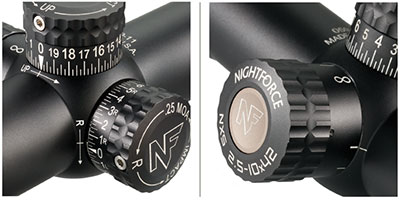 The new parallax-adjustment knob which will fine-tune from 25 yards to infinity is rather unique for a scope with 10X maximum magnification. Ease in parallax adjustment is critical for shooting at long range, but just as important is the shooter's ability to quickly change magnification. To facilitate this, Nightforce drilled and tapped the magnification-adjustment ring to accept a stud it calls the "Power Throw Lever." The lever comes with the scope and when installed, it allows for swift magnification adjustment. Simple, but practical, and maybe next to the MOAR reticle, my favorite feature.
Reticle focus is achieved by rotating the ocular bell and then locking it in place with a knurled lock ring. Adjustments are accomplished with resettable target turrets, which come clearly marked with either .25-MOA or .1-mil clicks—you decide which you prefer when you order your scope. The adjustments are fairly standard, but a thoughtful touch was the "L" and "R" indicator on the windage dial for shooters who forget the rules of, "push for left and pull for right." Nightforce's patented, fool-proof zero stop and standard, capped adjustments are optional.
Nightforce NXS Compacts are engineered to survive 24 hours of submersion in 100 feet of water. They're also built to withstand a temperature swing of 240 degrees Fahrenheit and impacts as high as 1,250 Gs. Optically indexed lenses are proprietarily coated to enhance color rendition and light transmission and to meet military abrasion-protection standards. Lenses are also aligned by hand, bedded in a proprietary material to eliminate glass-to-metal contact and then sealed with a rubber O-ring on both sides. The thick 30 mm tube is machined from solid 6061 T6 aluminum, and the titanium erector spring is polished for two weeks in a tumbler to eliminate rough spots. Amazingly, the screws which control reticle adjustment have 110 tpi and are meticulously hand-burnished and hand-fit to the scope, which is made in America and boasts a lifetime warranty.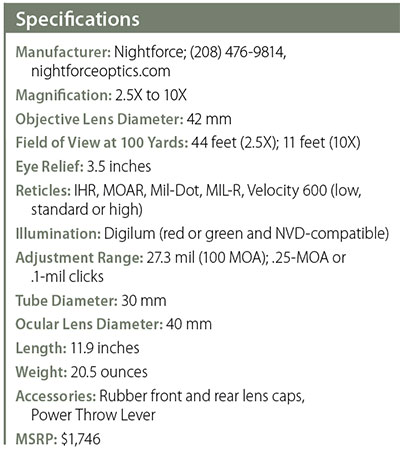 Purchase a Nightforce riflescope, and the angel on your left shoulder will whisper, "Be gentle! This thing cost a lot," while the demon on your right shoulder will scream, "This is a rugged scope! Use it like you're on a battlefield." Go ahead, listen to the demon; I did. These scopes can take whatever you dish out.
I treated the Nightforce like a terrorist in a torture chamber. I dropped it and banged on it. I held it under water in my hot tub while I held the turret caps and spun the scope like a propeller. More practically, I mounted the scope on a rifle and fired more than 200 rounds at targets from 100 to 800 yards, cranking on the windage and elevation adjustments like they were a throttle on a Harley. Adjustments remained flawlessly repeatable and the image stayed crisp, bright and clear regardless of conditions. I even hit a bunch of those targets.
If you can swing the cash and want a long-range riflescope you can trust in any condition—one that will last the rest of your life—you won't go wrong with the Nightforce NXS Compact.