The .300 BLK cartridge has become the round of choice for people who want a little more punch from their AR-15-style pistol or rifle or for shooters who want to suppress as much noise as possible from their AR. Because firearms using .300 BLK shoot either a lighter-weight supersonic round or a round with a heavier bullet which doesn't break the sound barrier and therefore is much quieter to shoot with a suppressor. For all these reasons and more, Ruger is now offering a .300 BLK model in its continually expanding AR-556 rifle and pistol lineup.

The company's new .300 BLK pistol, the second addition to the Ruger AR-556 Pistol line, has a 10.5-inch cold hammer-forged barrel with a 1:7-inch twist rate. The pistol-length gas system is designed to work reliably with both the lightest supersonic hunting rounds and heavy, subsonic rounds.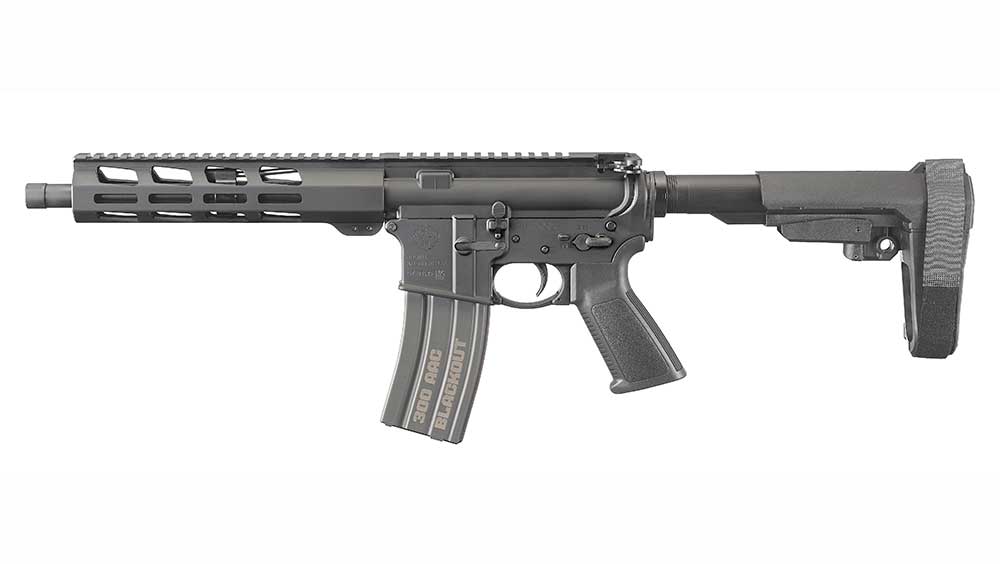 This new .300 Blackout AR-556 pistol comes equipped with an adjustable SB Tactical SBA3 Pistol Stabilizing Brace for ease of use and maximum comfort. The brace also features a minimalist design and integral QD sling sockets. In addition to these features, the AR-556 pistol also boasts a 9-inch aluminum free-float handguard with Magpul M-Lok accessory attachment slots for easy user customization.

To avoid confusion with other calibers, the dust cover and metal magazine of the .300 Blackout AR-556 pistol are marked with the caliber for easy identification of both the pistol and ammunition. The pistol-length gas system is tuned to run with a wide variety of ammunition, with or without a silencer. The 5/8-24 TPI muzzle threads are capped with a thread protector, allowing for easy use with your muzzle device or suppressor.

The MSRP for the .300 Blackout AR-556 pistol is $949, and more information is available at ruger.com.