by
Shooting Illustrated Staff
posted on November 30, 2018
Support NRA Shooting Illustrated
DONATE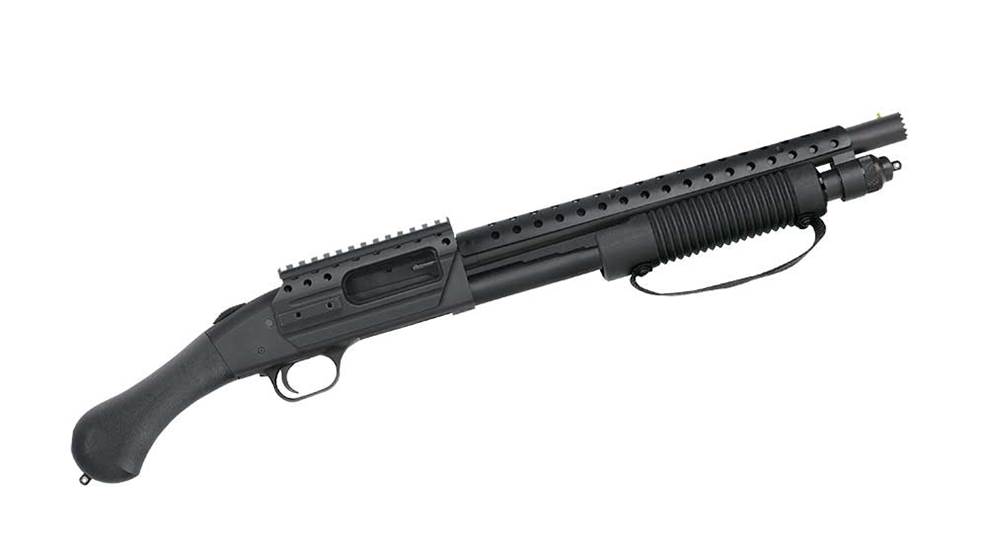 At its launch, the
Mossberg
Shockwave sparked a whole new category of defensive firearms, thanks to its innovative design that combined a
Shockwave Technologies
Raptor birdshead grip with a shortened shotshell-firing firearm based on the Mossberg 590 shotgun receiver. This provided consumers with a compact defensive tool that still provided the stopping power of 12-gauge shotshells. Now, for 2019, Mossberg is expanding the category with several new models in this lineup, including the Shockwave SPX.
Each Mossberg Shockwave SPX still retains many of the same, basic features found on the original Shockwave, including the birdshead grip, complete with sling swivel, along with the tried-and-tested features of the Model 590 receiver, including the tang-mounted sliding safety, twin action bars, a corncob-style fore-end, complete with strap, and a heavy-walled, cylinder-bore barrel. However, the Shockwave SPX is outfitted with a few more added elements that take this tactical firearm to the next level.
At the muzzle end of the barrel, consumers will find a crenelated, breacher-style cut paired with the brass-bead front sight. The barrel itself is surrounded by a perforated heat shield, which allows users to grab the barrel after extended strings of fire without exposing themselves to potential burns. The perforated-shield aesthetic continues back toward the receiver, which is wrapped with another perforated-metal cover. However, this cover is topped with a machined Picatinny rail, allowing users to easily attach a red-dot optic or laser sight.
Complete with a 3-inch chamber, the Mossberg Shockwave SPX holds six 2.75-inch shotshells in its tube magazine, and the barrel measures 14.375 inches long. Overall length of the gun measures 26.37 inches, and the total unloaded weight of the SPX is 5.75 pounds. The suggested retail price on the gun is $560.