by
Shooting Illustrated Staff
posted on October 22, 2018
Support NRA Shooting Illustrated
DONATE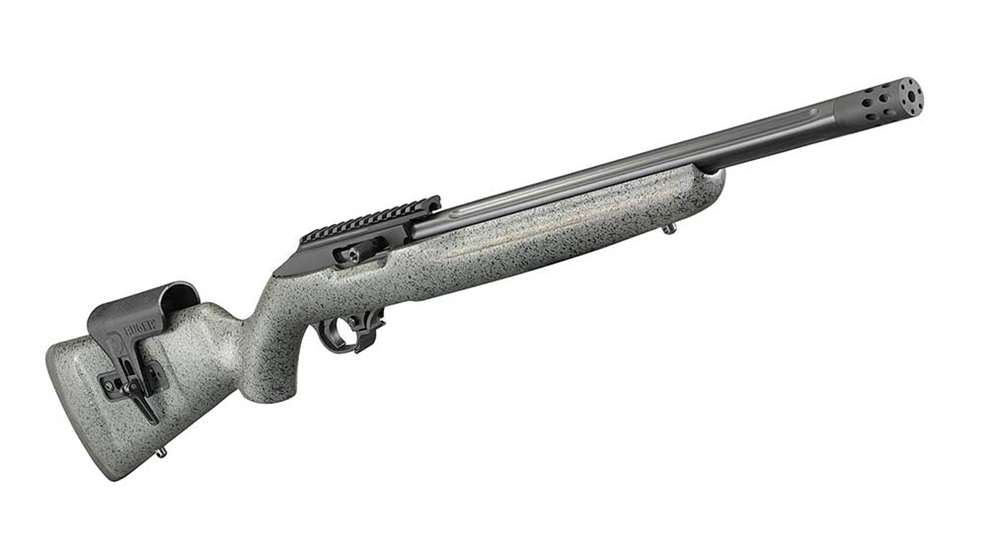 Offering shooters another option for use in the growing market of Rimfire Challenge competitions,
Ruger
debuted its first-ever Custom Shop 10/22 in the form of a Competition model. The all-new Ruger Custom Shop 10/22 Competition builds on more than half a century of success in the company's rimfire lineup and is loaded with enhanced features designed to help shooters excel on the range.
"The 10/22 has been a mainstay in our lineup for over 50 years and has seen countless variations," said Chris Killoy, Ruger president and CEO. "Our skilled team of engineers took a ground-up approach to further enhancing our proven design and taking the already legendary performance and reliability of the 10/22 to a new level."

Machined from 6061-T6511 aluminum, the custom, stress-relieved receiver is paired with a 16.125-inch, heat-treated bull barrel machined from 4140 steel with a black-nitride finish. The barrel features six-groove rifling with a 1:16-inch right-hand twist. Inside the receiver, consumers will find a match-grade bolt that's carefully fitted to the barrel to ensure smooth, reliable operation that produces the greatest level of performance possible.
Another feature of the receiver is the inclusion of a second bedding lug that allows it to be solidly secured to the stock. The barrel features fluting along its length designed to both reduce overall weight and increase surface area to allow for more-rapid cooling during extended strings of fire. At the muzzle-end of the barrel, users will find 1/2-28 TPI threads that allow for the attachment of muzzle brakes and sound suppressors.
Each barreled action is set inside a laminate stock complete with a textured, black-and-gray painted finish that provides a solid grip in all conditions. The stock is equipped with an adjustable cheek rest, allowing users to fine-tune their cheek placement with any number of attached optics. To facilitate the addition of an optic, the receiver is topped with an integral Picatinny optics rail, complete with 30-MOA of built-in elevation to allow for longer shots common during precision-rimfire shoots.
Added features that set the Ruger Custom Shop 10/22 Competition apart from other rimfire rifles in the company's lineup include the addition of a second barrel locator that ensures a free-floated barrel for superior accuracy over comparable competition rifles. The 10/22 Competition also incorporates proprietary machine work on the inside of the barrel's chamber in order to enhance both accuracy and precision without impeding reliability. A rear cleaning port is also located on the receiver, allowing shooters to properly clean the rifle from the chamber end forward.
The overall length of the Custom Shop 10/22 Competition is 36 inches and includes a built-in length-of-pull measuring 13.5 inches. The overall weight of the gun measures 6 pounds without an optic installed. Other features found on the Ruger Custom Shop 10/22 Competition include the Ruger BX-Trigger, an oversized bolt handle, match-grade bolt release and an ambidextrous magazine release that's extended to allow for fast magazine changes. Each rifle ships in a hard-sided case with a 10-round rotary magazine, along with a certificate of authenticity, challenge coin, cleaning cloth and decal. The suggested retail price on the 10/22 Competition is $899.