by
Shooting Illustrated Staff
posted on February 14, 2018
Support NRA Shooting Illustrated
DONATE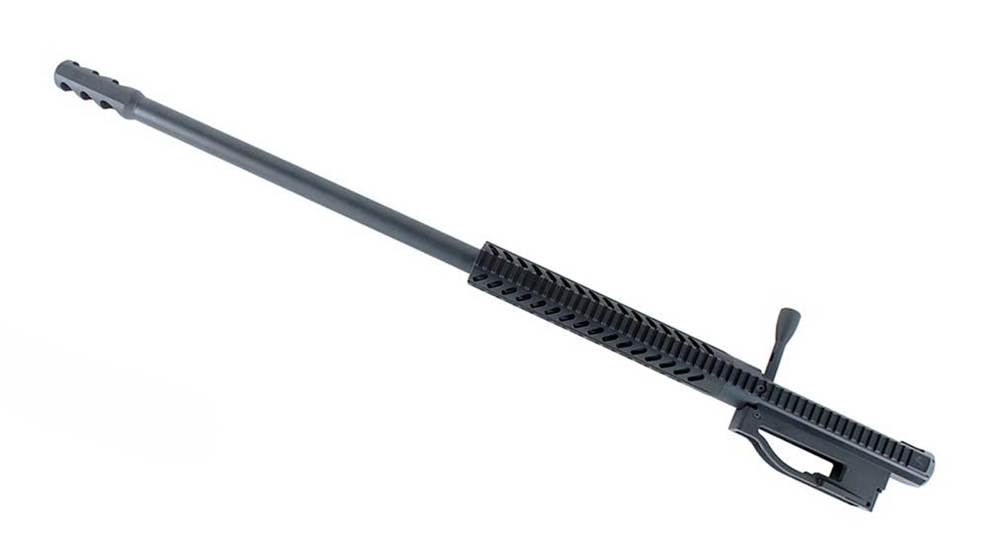 The beauty of the AR-15 platform is the ease with which any number of compatible upper receivers can be mounted onto a single lower receiver, opening up the possibility to have a truly multi-caliber system built on a single serialized rifle. Many companies have taken this concept to extremes, and the latest to build big on the AR lower is
McCutchen Firearms
, offering its .50 BMG-chambered upper receiver that's ready-made to mount on any mil-spec AR-15 lower receiver.

"We think we've created the perfect product for shooters who've been wanting to own a .50 BMG that is more affordable, more accurate and safer than ever before," McCutchen Firearms President Andrew McCutchen said.


Two models of the all-new McCutchen Firearms .50 BMG upper receiver are available starting in 2018, one with a side-mounted magazine well compatible with a five-round detachable box magazine. The other model is built with the same bolt-action mechanism but does not incorporate the magazine well, functioning instead as single-shot rifle.
"The MF-50 is the result of our team analyzing some of the best ideas that we've seen and adding over a year of our engineering and manufacturing expertise, to meet and exceed the customer's expectations," McCutchen said.
While other manufacturers have offered AR-compatible upper receivers chambered in the monstrous .50 BMG, McCutchen's founder believes he's improved on the safety, accuracy and affordability of the platform with his all-new MAPS system. Unlike other options on the market, this patent-pending safety mechanism stands for Mechanically-Assisted Pin Safety. 


This design incorporates a built-in safety feature that physically blocks the firing pin until the bolt is fully closed and in battery. In addition, the MAPS system also aids the action in driving the firing pin back after its released. Both features of the system specifically address consumer complaints regarding potential safety concerns with other .50 BMG upper receivers on the market. Other safety features of the system include an integrated hammer-drop safety and a gas-bleed hole located in the breech.

Strength is another focus on the upper receiver, using a single-piece upper machined from solid steel and featuring an electro-induction hardened finish that works to enhance the rigidity and durability of the receiver. The upper also incorporates a hardened firing pin made from a proprietary steel alloy that prevents mushrooming over the service life of the receiver.

Each McCutchen Firearms MF-50 upper receiver features a free-float bull barrel machined to military specifications and surrounded by a KeyMod-compatible handguard machined from 7075 aluminum. Each magazine-fed upper receiver ships with a single AICS box magazine with a maximum capacity of five rounds.

Consumers have the choice of either a 22-inch barrel or a 30-inch barrel in either the single-shot or magazine-fed models of the MF-50 upper receiver, as well as an optional tank brake or six-port gas brake. In addition to the standalone uppers, complete rifles are also sold by McCutchen Firearms. The suggested retail price for the single-shot upper receiver starts at $2,295, while the magazine-fed model retails at a suggested price of $2,795.