Support NRA Shooting Illustrated
DONATE
Whether you're just starting out, replacing some worn-out gear or looking for something new, there are a lot of important items that go into a range bag. Obviously, safety is key: eye and ear protection are simply must-have commodities, and it's a smart idea to have some form of first-aid gear available as well. After that, the sky's the limit.
We've assembled four different range bags, from the entry-level to the aspirational. Each kit contains eye and ear protection, some form of tool, cleaning gear and first-aid items. While the number and type of tools that can go into a range bag is limited only by budget, space and possibly lower-back strength, we've focused on these five areas as some of the most critical bits of kit.
---
Entry Level
If you're just starting out, it can be a daunting task indeed to equip a proper range bag. The sheer number of components you'll need, combined with the necessity of acquiring professionally rated and tested gear, can make filling that range bag challenging. We've chosen a selection of items that are budget-friendly—all products in this category add up to less than $100. They are inexpensive, but certainly not cheap.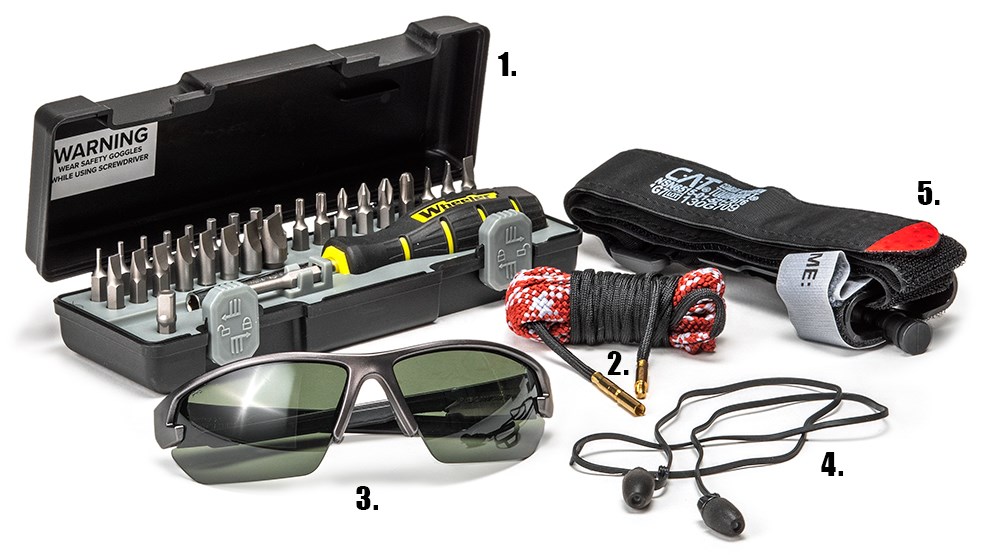 1 | Wheeler Engineering Space-Saver Screwdriver Set
Less than half the size of comparable offerings means more room for key range bag components (think ammo). This set features a durable and comprehensive array of 26 standard, Phillips, hex and Torx bits, without the burden of taking up too much space. The magnetic handle makes swapping bits easy, and a hex-to-square conversion bit ​allows 1/4-inch drive sockets and other attachments to be used. A hard-plastic case and a convenient bit-reference chart are included. $17.99; wheelertools.com
2 | Tipton Nope Rope
Available in singles or pairs, for nine different caliber/gauge variants for handguns, rifles and shotguns, this cleaning tool is a must-have for any range bag. The fabric has bristles woven throughout for an enhanced level of clean. And, unlike similar offerings, this ultra-durable, pull-through bore-cleaning rope contains attachable ends, allowing users to continuously clean without refeeding the end into the chamber or barrel with each pass, simplifying the overall process. A handy, mess-free storage case is also included. $9.99; tiptonclean.com
3 | Venture Gear Semtex 2.0
Available in a variety of frame and lens colors, Venture Gear's Semtex 2.0 offers shooters practical features such as a custom-fit nosepiece, nonslip, flexible, co-injected temples and a microfiber cleaning bag. Best of all, they pass MIL-PRF 32432 High Velocity Impact Standards so, in addition to looking super-suave on the firing line, you can rest assured knowing your eyes are safe from potential hazards. $19.95; pyramexsafety.com
4 | Safariland Foam Impulse Hearing Protection
Enjoy the benefits of electronic hearing protection without the expense—or batteries. Patent-pending filtering technology allows shooters to reduce dangerous sound levels while still hearing audio and speech. Choose between two operating methods: Impulse Mode provides 38 decibels of peak-noise-impulse reduction, or Full-Block Mode to achieve 20 decibels of constant reduction. Foam tips offer long-term comfort and a universal fit. A neck cord is included. $14.99; safariland.com
5 | North American Rescue C-A-T (Combat Application Tourniquet)
Featuring a durable windlass system with a patented, free-moving internal band, this piece of emergency medical kit is proven to be effective in occluding blood flow in both upper and lower extremities. Its new single-routing buckle allows for faster application, decreased blood loss and effective slack removal. A dual-securing system avoids the use of clips and/or screws, which may become difficult to operate under the stress of a life-threatening encounter. It is available in three colors. $29.99; narescue.com
---
Extra Strength
Maybe you want to "buy once, cry once." Maybe you've already got a few of these items and are just looking to supplement your existing bag. In any case, the gear we've chosen for this category is a cut above entry level without making your wallet cry.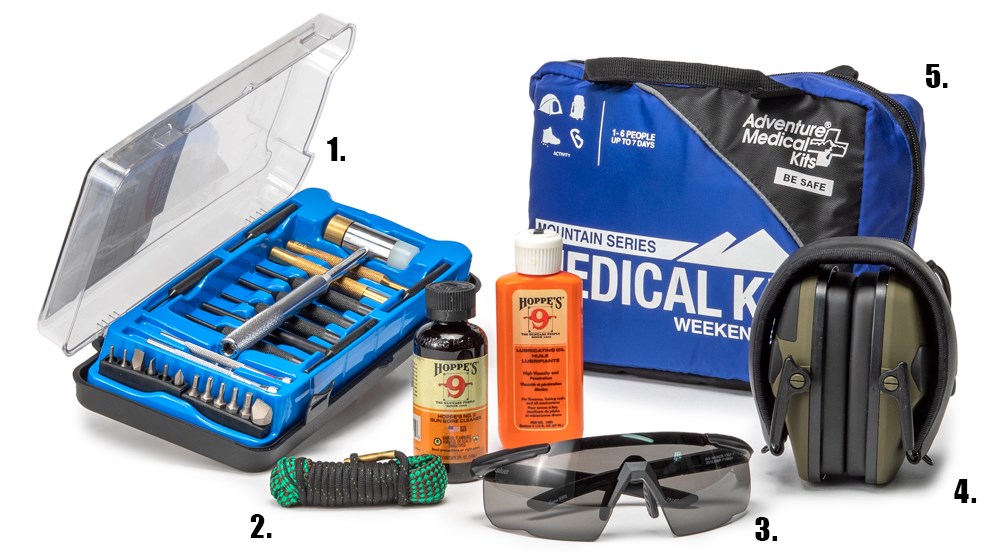 1 | Birchwood Casey Weekender Professional Gunsmithing Kit
Looking for an excellent all-in-one gunsmithing-tool set? The Weekender is loaded with tools, including specialty bits for specific firearm models, 27 professional tools and a durable hard case for convenient storage. From scope mounting to maintenance, this kit covers all your bases for quick repairs or more involved projects. $44.99; birchwoodcasey.com
​2 | Hoppe's 1-2-3 Done! Cleaning Kit
Thanks to this cleaning kit from Hoppe's, keeping the bore of your favorite firearm in pristine condition doesn't have to be complicated. Each kit features Hoppe's cleaner, lubricant and a caliber-specific BoreSnake—everything you need for a quick cleaning at the range or back home, without a bunch of small items you don't need, but will quite possibly lose. $24.95; hoppes.com
3 | Wiley X Saber Advanced
Designed for everyday wear or serious work at the range, the Saber Advanced meets mil-spec ballistic safety standards, giving you superior protection when shooting. Incredibly comfortable, the Saber Advanced comes with a cleaning cloth and microfiber bag, as well as a price point that's friendly to the wallet. $40; wileyx.com
4 | LA Police Gear Operator Electronic Earmuff
For those who'd gladly live at the range, the Operator Electronic Earmuff is a welcome companion. Boasting excellent sound quality and comfort, a 4-hour auto shutoff and comfortable earpieces, the Operator reduces noise by 22 decibels and has an auxiliary input for listening to music. $34.99; lapolicegear.com
5 | Adventure Medical Kits Mountain Weekender Medical Kit
Despite its name, the Weekender kit is designed for getaways of up to a week and comes with the manufacturer's Easy Care organization system, helping you find the right supplies for the right job in a pinch. Lightweight so you can stow in a pack, the Weekender will help cover many field emergencies and could save your life or the life of another in a crisis. $60; adventuremedicalkits.com
---
Top Shelf
Items in this group cost more, that's for sure, but each has been selected based on the reputation of the manufacturers, ease of use, longevity and high ratings in testing. These selections might set you back a bit, but this is gear you can depend upon to work well for quite a long time.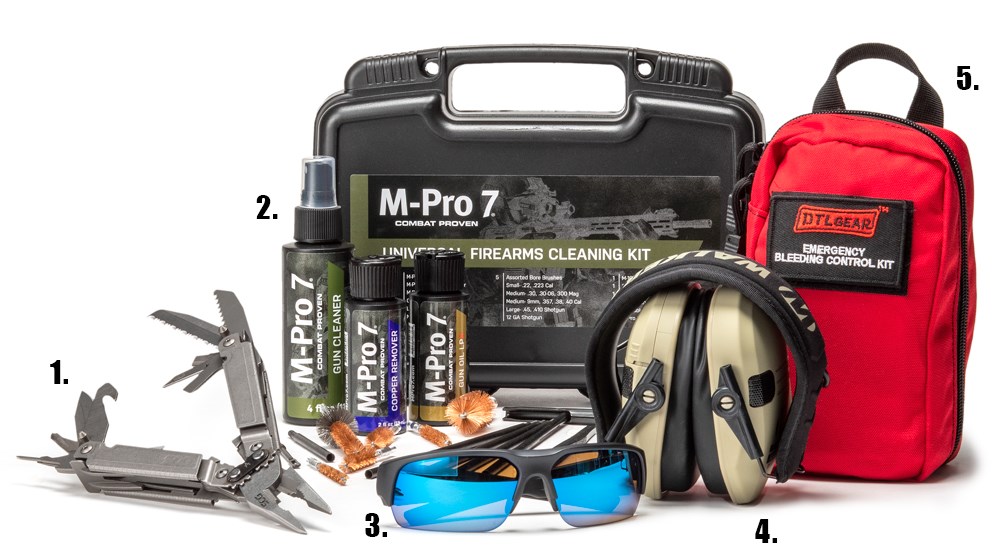 1 | SOG PowerAccess Assist MT Stonewash
Full-size and full-featured, the PowerAccess Assist MT Stonewash offers compound leverage for twice the cutting and gripping power of ordinary pliers. This assisted-opening device boasts 21 tools, including a 12-piece magnetic hex-bit holder. It comes in SOG's Stonewash steel finish with a nylon sheath and makes an excellent component in a well-considered range bag or EDC kit. $89.99; sogknives.com
2 | MPro-7 Tactical Universal Kit
Built around the MPro-7 line of proven, military-grade cleaning and maintenance products, the Tactical Universal Kit contains everything needed to keep common tactical calibers/gauges running at peak performance. Cleaner, lubricant, brushes, patches and tools are included to ensure your firearms are clean and reliable, whether for competition or personal protection, and all are housed in a handy hard case. $64.95; m-pro7.com
3 | Magpul Helix Eyewear
Designed for protection, comfort and toughness, Magpul Helix eyewear offers the reassurance of Z87+ and MIL-PRF 32432 ballistic-rated lenses. The rimless design provides an unobstructed view and helps dissipate heat, minimizing perspiration and fogging. Moreover, an interchangeable-lens system allows you to tailor the eyewear to your immediate needs. They come with a DAKA Can storage case and soft pouch that doubles as a lens cleaner. $119; magpul.com
4 | Walker's Game Ear Razor Pro Digital Ear Muffs
Built with superior digital sound circuitry, Razor Pro Digital ear muffs enhance desirable sounds such as voices, steel-target impacts and animal movement while suppressing wind and harmful muzzle blast noise. A comfortable headband, ergonomic ear cups that minimize interference with cheek weld, 360-degree, high-gain microphones and an automatic shut-off feature complete the package. $89.99; walkersgameear.com
5 | DTL Gear Bleeding Control Kit (IFAK)
Twenty percent of trauma fatalities could have been saved with rapid prevention of blood loss. Reduce the lethality risk of physical trauma with a Bleeding Control Kit. Offered in First Aid Red, Tactical Black or a water-resistant white box, this kit from DTL includes tourniquets, gauze, wipes, gloves and tools to respond quickly to trauma. Moreover, the selection of some items can be customized. $79.95; dtlgear.com
---
Platinum Status
The gear we've chosen for our super-high-end range bag stands out at the top of the heap. Each item will perform a variety of tasks, cover a multitude of needs and will stand the test of time. Each component performs multiple tasks for the widest variety of shooting activities, allowing greater flexibility in a single range bag.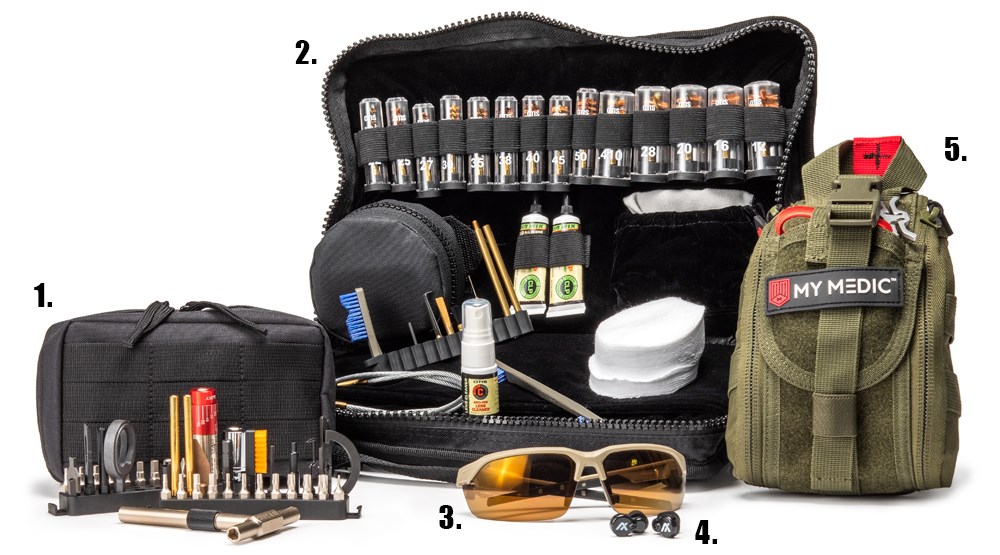 1 | Fix It Sticks The Works
We've all been out on the range when something broke, came loose or otherwise needed some sort of attention. Having the right tools on hand without needing a rolling toolbox is critical, which is where The Works set from Fix It Sticks comes in. Four torque-limiting wrenches, 24 different bits, a T-handled wrench and numerous firearm-specific tools are included among many other useful items in a compact nylon case. $280; store.fixitsticks.com
2 | Otis The Otis Elite
If you're looking for one kit to clean every single gun you might bring to the range, The Otis Elite kit might just be the thing. With 16 caliber-specific bronze brushes, six Memory-Flex cables for breech-to-muzzle cleaning, firearm-specific tools, solvent, lubricant and plenty of patches, you'll be able to knock out all cleaning chores on pistols, rifles, shotguns and even muzzleloaders. $149.99; otistec.com
3 | Leupold Tracer
Leupold's excellent Tracer series, seen here in what the company calls shadow tan, offers three lenses for use on indoor and outdoor ranges or in a variety of light levels. Changing the lenses is quick and simple, and there's a cleaning cloth in addition to a case to keep everything together. All lenses are rated to ANSI Z87.1+ levels for impact resistance. The Tracer is also available in black. $179.99; leupold.com
4 | Axil GS Digital
Super lightweight, designed by audiologists and rated for up to 29-decibel noise reduction, Axil's GS Digital hearing protection fits inside the ear for a precision fit. Digital sound compression keeps loud noises like gun shots filtered out, while wind, background noise and feedback are kept to a minimum. Comfort and versatility are key, with SecureFit extenders ensuring proper placement in the ear. $499; goaxil.com
5 | MyMedic TFAK Trauma First Aid Kit
Perhaps the most expensive item we hope we'll never use, a fully stocked trauma kit is a potentially life-saving luxury in a range bag. MyMedic's TFAK includes a tourniquet, chest seal, CPR shield and many other important pieces of medical equipment, along with gloves, wash, shears and other important tools. The kit comes in a variety of colors, can be attached to MOLLE-compatible webbing and opens with a tear-away panel for instant access to contents. $149.95; mymedic.com