by
Shooting Illustrated Staff
posted on January 12, 2012
Support NRA Shooting Illustrated
DONATE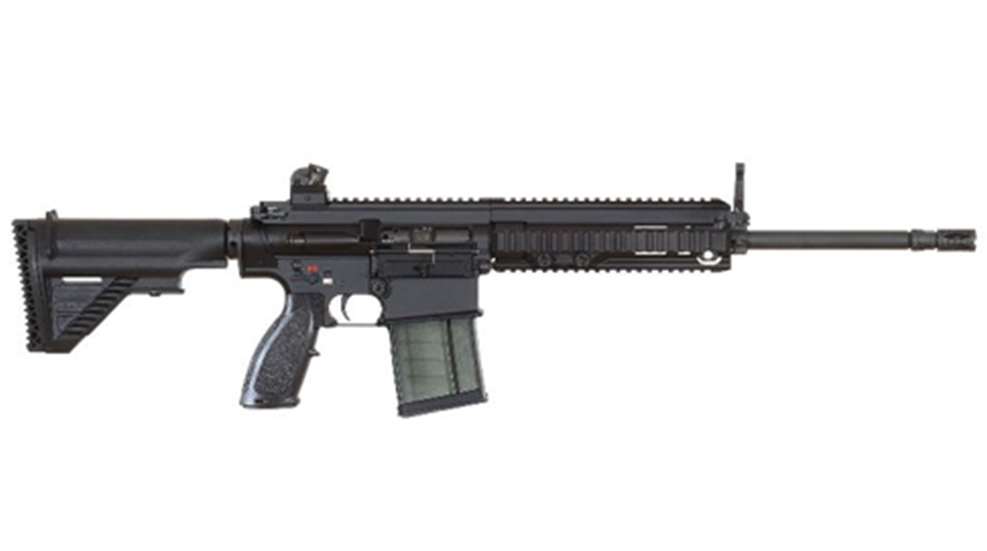 The new MR762A1 rifle is inspired and influenced by recent Heckler & Koch piston driven rifles, including the new HK G28 designated marksman rifle developed for the German military.
A semi-automatic rifle originally developed from the fully automatic HK417, the MR762A1 uses the same HK proprietary gas piston operating system found on current HK rifles and carbines, using a "pusher" rod in place of the gas tube normally found in AR15/M16/M4-style firearms. This method of operation virtually eliminates malfunctions that are common to direct impingement gas systems since hot carbon fouling and waste gases do not enter the receiver area. This is the same key feature critical to the success of the HK416/HK417 rifles used by leading military and law enforcement customers.
The MR762A1 uses many of the same assemblies and accessories that originated on the HK417 including the HK free-floating four-quadrant rail system. This handguard system allows all current accessories, sights, lights, and aimers used on M4/M16-type weapons to be fitted to the MR Series.
The HK rail system can be installed and removed without tools and returns to zero when reinstalled. Like their HK military counterparts, the MR (for Match Rifle) series rifles use barrels produced by Heckler & Koch's famous cold hammer forging process. The highest quality steel is used in this manufacturing process, producing a long-life barrel that provides superior performance with minimal degradation of accuracy and muzzle velocity after prolonged use.
The barrels are manufactured in Germany and finished in the USA. MR762A1 rifles are produced in the USA from a combination of American and German-made components. Suggested retail price on the MR762A1 is $3,995.