by
Shooting Illustrated Staff
posted on January 12, 2012
Support NRA Shooting Illustrated
DONATE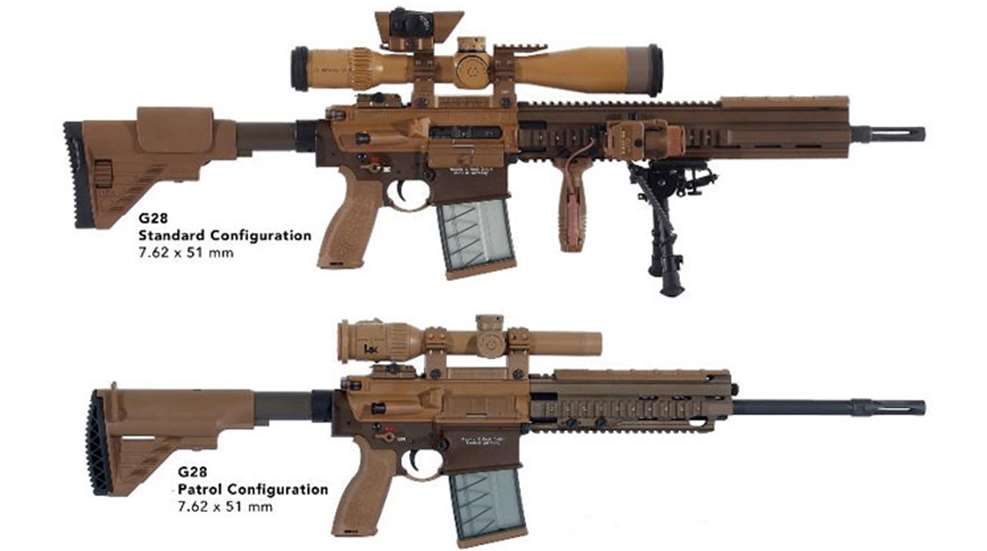 The G28 employs a steel upper receiver, is semi-automatic only, and has a new, high-precision Picatinny-type rail handguard. A new two-stage gas regulator is designed for both suppressed and unsuppressed use. The G28 is equipped with a free-floating, chromed-lined barrel manufactured using HK's legendary cold-hammer forging technology.
Despite its differences from the HK417, the G28 still retains approximately 75% parts compatibility with HK417 models. Available in Standard Configuration and Patrol Configuration (3.5 lb/1.6 kg lighter with a shorter handguard and less powerful 1-8x scope), both G28 variants come standard with adjustable buttstocks. The Standard Configuration buttstock has a movable cheekpiece. Both G28 configurations and special low IR observable green/brown (RAL8000) color finish.
Lighter and shorter conversion kits will also be available to suit different missions and scenarios.
Standard and recommended accessories include Schmidt & Bender telescopic sights (3-20x50 or 1-8x24), red dot sight (Aimpoint Micro T1), a laser light module (Rheinmetall Soldier Electronics LLM01-RAL8000), night sight (Qioptiq Merlin LR), a thermal sight (Insight CNVD-T35), and laser range finders (Jenoptik HLR15 or Vectronix PLRF15). A special Peli (Pelican) transportation case and noiseless carrying sling is also available.
Notable performance features include warranted and repeatable accuracy of 1.5 MOA, high first round hit probability on chest size targets up to 600 meters, and precise suppression fire against man-size targets up to 800 meters.
Currently in operational use in Afghanistan, the G28 is designated as a military/law enforcement firearm and is not available for civilian/commercial sales. Interested agencies should contact HK staff for pricing and availability.