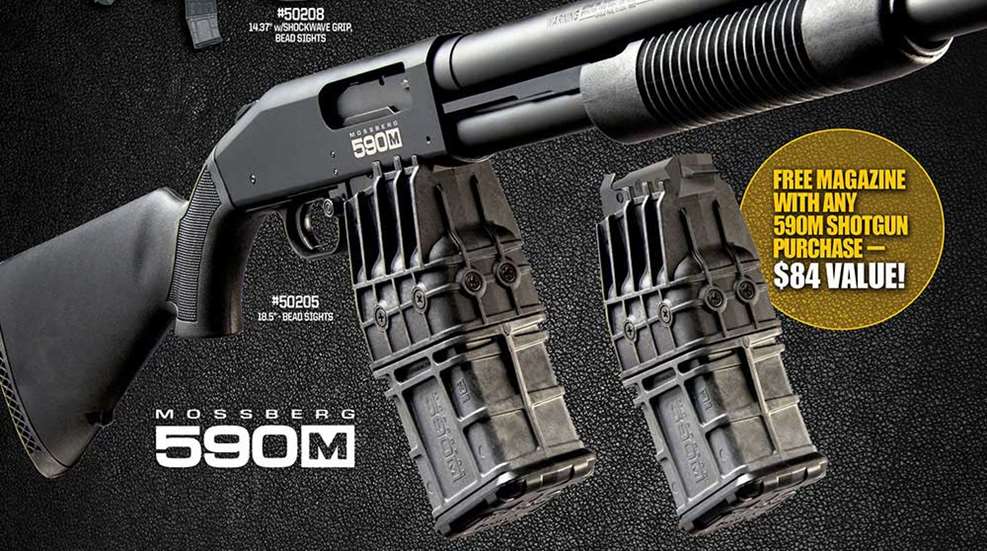 No fooling: If you buy a Mossberg 590M shotgun before April 1 you can get a free 10-round magazine from the company. Owners who purchased anytime this month also qualify for the $84-value offer. This limited-time promotion is for purchases on 590M Mag-Fed firearms (SKU# 50205/50206/50208).

Mossberg, America's oldest family-owned and operated firearms manufacturer, introduced the 590M magazine-fed 12-gauge shotgun in January of this year. It's based on the company's legendary pump-action platform and features the world's first double-stack, 10-round shotgun magazine.

The gun was initially available in two, 10-round configurations; ideal for home security, tactical and competitive applications. For greater versatility, optional 5-, 10-, 15- and 20-round capacity magazines are available and sold as accessories. In June the 590M Shockwave, which combines the convenience and adaptability of the mag-fed design with a "Non-NFA" pump-action firearm platform, joined the family. All three models of the 590M Mag-Fed firearms are eligible for this promotion.

Each have the kind of features Mossberg tactical pump users expect; dual extractors, twin action bars, positive steel-to-steel lockup, drilled and tapped receiver, ambidextrous safety, and a heavy-walled barrel. The double-stack magazines keep the shotgun self-defense nimble instead of adding lengthy tubes or magazines that are unduly long for their capacity.  

This special offer is limited to stock on hand and no rain checks are available. It's only valid for 590M Mag-Fed Shotguns or Pump-Action Firearm. Purchases must be made between Dec. 1, 2018, and March 31, 2019, and redemption must be made by April 30, 2019, to qualify. The promotion cannot be combined with any other discount, offer, coupon or other offer. Other restrictions may apply, including certain models not available in all jurisdictions and federal, state and local laws that may apply.

For full details or redeem on line, visit this special Mossberg page.