by
Shooting Illustrated Staff
posted on January 31, 2012
Support NRA Shooting Illustrated
DONATE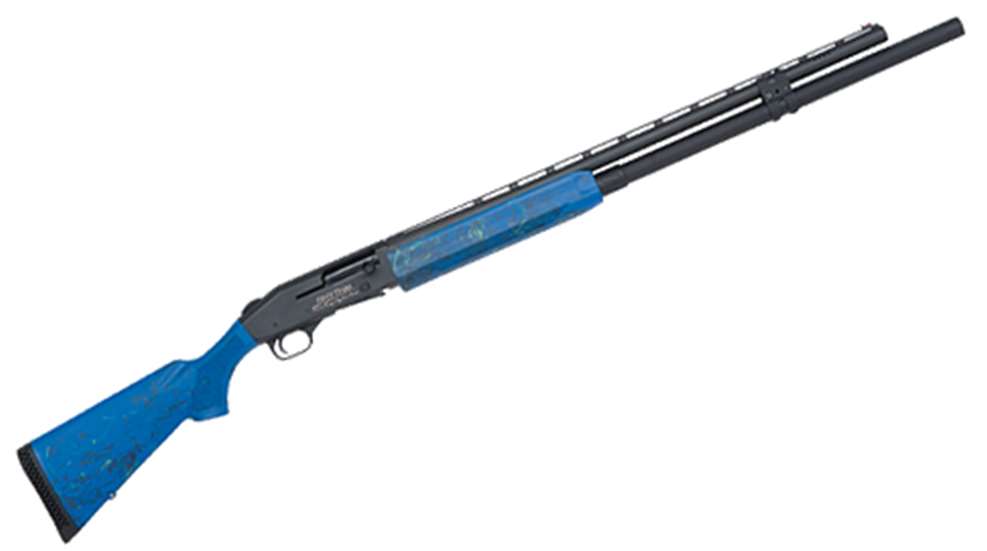 When Flanigan gets in his "rhythm," clays are shattering and world records are amazingly-broken; to date, an astounding eight world records. Now Mossberg is pleased to partner with Flanigan on the design of the Rhythm 930 Signature Series shotgun with 13-round total capacity. This clay-busting autoloader is emblazoned with the "Rhythm - Patrick Flanigan Signature Series" logo on the receiver.
At the core of the Rhythm is the dual vent gas-operating 930 autoloading system that reliably cycles all 12-gauge, 2 ¾ and 3-inch rounds and reduces stress on the operating components. Other well-designed, standard features of the 930 include Uni-Line™ stock and receiver alignment for quick target acquisition; stock drop spacer system for customizing fit; drilled and tapped receiver; versatile ACCU-CHOKE™ system; durable synthetic stock and forend; and blue metal finishes. The Mossberg 930 autoloader is proudly made in the USA.
The Rhythm 930 has eye-catching and performance-enhancing features starting with the marbled blue and yellow stock finish; 28-inch, non-ported, vent rib barrel with ACCU-CHOKE Skeet choke tube; extended 12-shot magazine tube with convenient 5-shot conversion kit; and red fiber optic front bead sight. Design-enhancements include Mossberg's extended tactical bolt handle; forend cut to facilitate faster reloads; oversized safety button; orange magazine follower; protective barrel clamp for the extended mag tube; adjustable trigger stop; and anodized receiver with chamfered loading port opening.
"I look for three things in a shotgun: reliability, speed and natural accuracy. I found all of that and much more with the first trigger pull of my Mossberg," explained Flanigan. "With the premium-performance features that Mossberg has added to the Rhythm 930, extreme shotgun shooting has definitely advanced to the next level."
Have the confidence of exhibition shooter, Patrick Flanigan, when you uncase the new Xtreme-performance Mossberg Rhythm 930 Signature Series shotgun.
About O.F. Mossberg & Sons, Inc.Founded in 1919, O.F. Mossberg & Sons, Inc. is the oldest family-owned firearms manufacturer in America, and is the largest pump-action shotgun manufacturer in the world. Leading the way with over 100 design and utility patents to its credit, and standing as the first ISO 9001 Certified long-gun manufacturer, Mossberg is considered to be one of the most innovative firearms manufacturers in U.S. History. For more information on commercial, special purpose, law enforcement and military shotguns, rifles and accessories, please visit their website at www.mossberg.com.