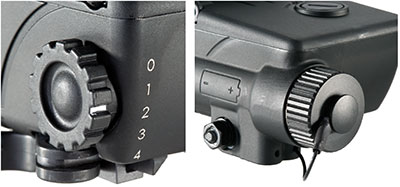 I know what you're thinking: "That looks a lot like an EOTech!" Yes, it bears some resemblance, but the Meprolight Tru-Dot RDS Pro is different in a couple of important ways. First off, it does not use holographic technology. Rather, the RDS Pro is a red-dot sight that projects its reticle into the viewfinder using LEDs and mirrors in a manner similar to Aimpoint, Burris, Leupold and other manufacturers. Second, the RDS Pro has not been shown to shift point-of-impact when the temperature tops 120 degrees Fahrenheit—a good thing, considering it was developed in the desert.
That said, there's no question its design owes much to EOTech's widespread popularity in the past. The 1.3-inch by .87-inch, rectangular viewing area will make for an easy transition for those used to the EOTech design, while the forward-mounted battery compartment is likewise familiar. The RDS Pro uses a hard-polymer lens casing, which is mounted to a metal base to ensure durability and steadfast mounting. All parts are built to mil-spec, which is hardly surprising given that this sight (as the Meprolight M5, which is how it's known abroad) was recently selected by the Israel Defense Forces (IDF) to be its standard-issue carbine optic. It is waterproof, fogproof and just about every other proof a military could require. More importantly, it was designed with input from combat units, so not only will it operate in harsh conditions, it is also built from the ground up to be easy to use in the most stressful circumstances. One quick note to avoid confusion: Meprolight offers a similar product, the Tru-Dot RDS, which is not a mil-spec sight. The quick ways to tell the difference are the "Pro" suffix on the mil-spec version and the RDS Pro's nearly $300-higher retail price.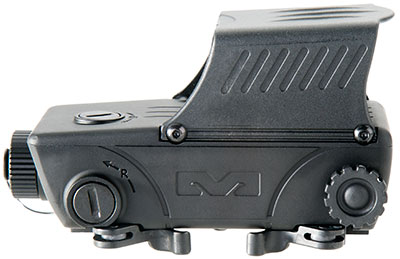 Perhaps the most interesting choice Meprolight made for the RDS Pro is its power source. Rather than using a CR123A lithium battery that is both harder to find and more expensive, the RDS Pro takes a single AA battery, yet still provides thousands of hours of use. Will it last for five years like an Aimpoint? Probably not, but AAs can be found anywhere and you can buy 10 AAs for the price of one CR123A. The RDS Pro has an auto-shut-off feature to ensure the batteries don't drain in storage, and an auto-power-resume feature to make sure the red-dot comes back on as soon as you pick up and move the gun on which it is mounted.
The RDS Pro comes with an integral Picatinny-rail-mountable base, so there's no need to spend an extra $30 to $100 to attach it to your firearm. It is compatible with night-vision gear and can be mounted close to a night-vision optic or magnifier without blocking the side-mounted brightness-control wheel.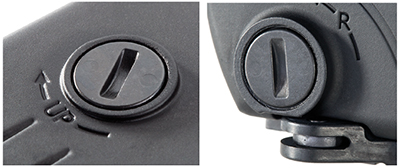 Reticle adjustments require the use of a cartridge rim or other similar tool and are in .5-MOA increments. I found them ideal for a sight that will be zeroed at a given distance for a given load and then left alone, as essentially all 1X red-dot optics are meant to be used. The adjustments proved repeatable and accurate when "shooting the box," moving the 1.8-MOA red dot exactly as advertised.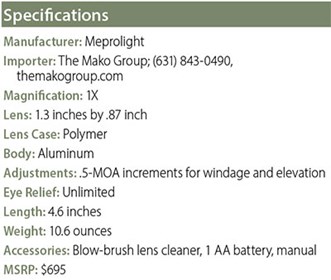 It stood up perfectly during my admittedly limited shooting while mounted on an IWI US Tavor, but on a recent trip to Israel I used an M5 that had been dunked in muddy water, thrown onto concrete and then mounted on a carbine, and experienced zero problems. The thing is built to take a beating and still function.
Given its development and acceptance by the IDF, the RDS Pro is bound to be a popular choice for American shooters. It is a solid option for an AR-platform rifle and, of course, perfect for a Tavor or X95. With an MSRP of $695, it is competitively priced for a high-quality, mil-spec red-dot sight, making the choice all that much easier.