by
Shooting Illustrated Staff
posted on March 5, 2012
Support NRA Shooting Illustrated
DONATE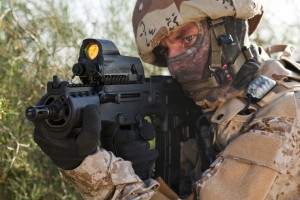 Meprolight—a leading manufacturer of electro-optic systems to armed forces, law enforcement agencies, and civilian markets—will present its latest technologies at FIDAE International Air & Space Fair, Santiago, Chile, March 27-April 1, Israel Pavilion, Pavilion D, Stand 1b. The company will introduce the next generation of Mepro Mor and a new configuration of its NOA Dual FOV.
Mepro Mor, weighing only 450 gr., is a multi-purpose red-dot reflex sight capable of battery-free operation with two laser pointers—Visible Red for urban or CQB, and IR for covert operations. The new version of Mepro Mor delivers higher power laser pointers, provides new internal optics for better accuracy, and includes an improved aiming reticle pattern for efficient short-range and long-range target engagement.
Developed for the IDF (Israel Defense Forces), the sight is suitable for military forces, law enforcement, and Special Operations forces. Designed for quick and accurate shooting with both eyes open, Mepro Mor enables continuous situation awareness. The large 30-mm diameter lens ensures effective operation in the most extreme conditions, including firing under stress and physical strain. Effective day and night in all weather conditions, Mepro Mor enables rapid transition between multiple long and short-range targets. The sight's low silhouette allows comfortable cheek weld.
Meprolight will also showcase its new configuration for the NOA—the NOA Dual FOV. A member of the NOA Uncooled Thermal Weapon Sights family, the NOA Dual FOV addresses the need for a single thermal sight for both 2.5x and 7x magnifications for enhancing snipers' tactical capabilities. Designed for long range sniper rifles operating in harsh environments, the new configuration allows rapid change from observation to targeting using optical switching between magnifications. Using the 2.5x wide field of view, the sniper can quickly scan the terrain—detecting targets in urban or densely vegetated areas, even when camouflaged. Upon detection, the sight can be easily switched to 7x narrow field of view, enabling better target recognition and accurate target engagement. The lightweight sight is effective at over 1000 meters in all weather conditions and in limited or no light. With very low power consumption, NOA Dual FOV operates continuously for up to eight hours, extendable through use of the Standby mode.
According to David Shenhav, Meprolight's Marketing and Sales Director, "We are very proud of our fruitful cooperation with our customers in South America. Meprolight is a supplier of sights to many countries in the area and we will continue to work shoulder to shoulder with them in the future. With Mepro Mor, as well as the new configuration of NOA Dual FOV, we are offering sights with multiple, wide-ranging and high-level capabilities, in order to meet the needs of a variety of scenarios and field and weather conditions. The goal is to enable our customers to benefit from versatile as well as reliable and effective solutions that integrate the most advanced technologies."