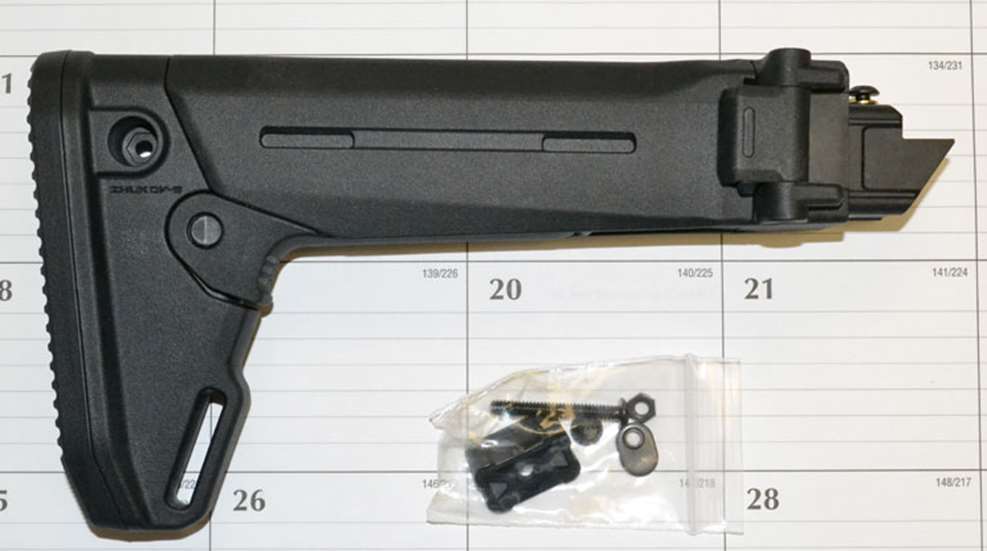 For fans of AK-47-pattern rifles, there has never been a better time to own one of Mikhail Kalashnikov's creations. Not only is fodder for the rifle getting better, but now there are more options for furniture upgrades.
Magpul just announced the Zhukov-S stock is shipping to distributors, allowing a folding, adjustable stock to be added to your AK-47-style rifle. The company claims it should mount to most stamped-receiver AK-47/AKM/AK-74 pattern rifles with a fixed stock, single tang trunnion, and it will allow the rifle to fire while the stock is in the folded position.
The Zhukov-S stock has five length-of-pull positions across a 2.6-inch span. Adjusting the stock takes a little muscle, but that's only fitting with the AK-47-pattern rifle. Once in position, though, the stock is rock-solid no matter which stop is employed. A slot for a web sling is molded in the bottom of the stock, and an optional QD mount can be added at the top of the stock if desired.
MSRP: $99.95. Available in black, Flat Dark Earth, Stealth Gray, OD Green and plum.