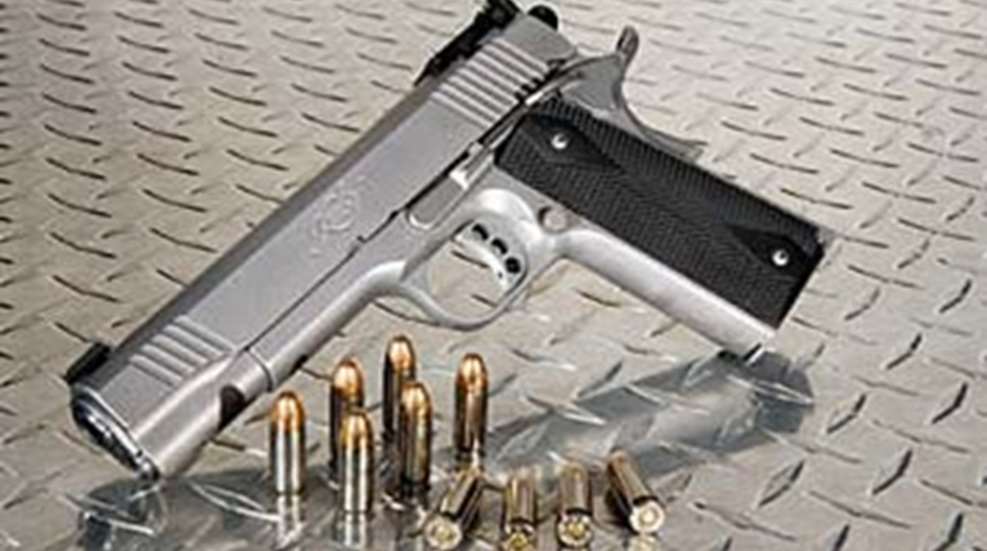 Kimber's Stainless Target II is a full-size, production 1911 with many custom-like features and precision tolerances that set it apart from the run-of-mill version of this old warhorse. The heart of package resides in its 5-inch, 1:16 left-hand twist, match-grade barrel, which is designed for one purpose: to perform. Kimber's match-grade barrels are made from a single piece of solid steel and are renowned for their accuracy and longevity. Additionally, it has match-grade stainless steel barrel bushings, an aluminum match-grade trigger group, kidney-cut frame, a full-length, one-piece guide rod and Commander-style hammer, all of which enhance operation and accuracy. Adding to the overall look and functionality of the pistol is the machined stainless steel slide with beveled-front and rear-slide serrations. The serrations not only look good, they add purchase when racking the slide. Further adding to the gun's nice appearance is the machined stainless frame, accented by black synthetic grips with a molded-in checkering pattern, which provides a comfortable grip surface and extra purchase. The lower half of backstrap has fine checkering to aid grip, but with the mild .38 Super round, it's not really necessary. A lowered and flared ejection port is added to guarantee positive ejection, which helps ensure reliability under all circumstances.
The Stainless Target II has the two standard safeties: a high-ride beavertail grip safety and extended thumb safety. Since I am used to polymer pistols—I carry a Springfield Armory XD—the extended thumb safety was different than what I was used to, but the Stainless Target II's grip safety made me feel right at home. Transitioning from polymers to this 1911 is relatively easy.
Full capacity for the Stainless Target II in .38 Super is 9+1. To facilitate quick reloads, the magazine well is beveled. This is vital, in a life-or-death situation or at a competition, as quick reloads can alter the outcome. The rear sight is Kimber's micro-adjustable, while the front sight is a standard post. Both are solid black and dovetailed into the slide. The Target II's height measured 90 degrees to the barrel is 5.25 inches, its frame is 1.28 inches wide and its overall length is 8.7 inches. With an empty magazine in place, the Stainless Target II weighs in at a moderate 38 ounces.
The Stainless Target II is available in four calibers: .45 ACP, .38 Super, 9 mm and 10 mm, with the latter two being 2005 introductions. The availability of this 1911 in a cartridge other than .45 ACP is a plus, which allows more shooters to select a cartridge to better match their recoil tolerance or intended use. My test pistol was chambered in .38 Super. I chose this cartridge for several specific reasons, including its relative obscurity in the handgun world (except on the IPSC competition scene), superior ballistic performance over most 1911 cartridge offerings and quite simply, a general interest.
To test the Stainless Target II's performance, I selected three types of ammunition: two full metal jackets and one hollow point. Five, five-shot groups were shot from a sandbagged rest at 25 yards with each ammunition. The most accurate was Winchester's .38 Super +P, 130-grain full metal jacket, which averaged 2.9 inches. On several occasions a single flyer spoiled what would have been some pretty amazing groups. This could have resulted from a couple of inconsistent cartridges. Also, I found the 4-pound, 13-ounce trigger weight was a tad too heavy for target shooting, but suppose it could be valued as an asset for a shooter blazing through a course. The trigger broke crisply, without any discernible creep or overtravel.
After I finished shooting the Kimber for groups, the real fun began. I fully loaded three magazines—Kimbers come with one—with several cartridges from each of the ammo types and proceeded through some rapid-fire sessions. The pistol emptied each magazine exceptionally fast without a hiccup, regardless of the ammunition mixture it was fed. Not once did the Target II fail to feed or fire, which demonstrates the reliability of the 1911 design. The moderate recoil of the .38 Super cartridge allowed for lightning-fast follow-up shots, as the sight picture retuned to the target very quickly after each trigger pull. Best of all, even shooting at rapid pace, the majority of rounds hit center of mass.
While testing the Kimber, I did made several observations. The gun's 38-ounce weight coupled with the .38 Super cartridge seemed to minimize recoil and muzzle flip, making it more comfortable than a .45 ACP for recoil-shy or smaller shooters, as well as reduced time to get back on target after each shot. The black synthetic grips not only add an appealing contrast to the Target II's stainless frame and slide, they are very functional. They provide excellent purchase, even if your hands are moist, and seemed to help cushion recoil. As for the sights, I found the adjustable rear and post front sights a bit too large for shooting at farther distances. A thinner sight or a three-dot version might be a better choice. When approaching 25 yards, the factory sights seem to overpower the target and cover a large part of it. I believe smaller sights would be better, and fortunately, Kimber offers other sight options.
Chambered for the .38 Super cartridge, this Kimber is ready to assume many roles. First, the .38 Super has a flat trajectory and sufficient velocity and energy to hunt small game at reasonable distances. The only problem with this resides in the poor selection of factory ammunition suitable for hunting, as there are few offerings with hollow points. This dilemma can be overcome by reloading any of the numerous .355-inch hollow point bullets suitable for the 9 mm. For competition, the .38 Super is hard to beat, for many of the same reasons that makes it a good hunting pistol. Flat trajectory, moderate recoil and high velocity make the round ideal for competitions where legal. The target shooter can find several ammunition brands that make target ammo, as target shooting is what most .38 Supers are used for. As a self-defense pistol, the .38 Super is an excellent cartridge. Once again, the problem resides with bullet selection. But, with the right hollow-point bullet, the .38 Super offers several advantages over more popular self-defense rounds, namely high energy, which helps stop confrontations quickly.
Kimber has a long-standing and well-deserved reputation for producing high-quality 1911s. It has taken the proven 1911 platform, coupled it with a potent cartridge, and added many features that make the Stainless Target II far superior to the original from which it was designed. Handgun shooters and hunters ought to take a second look at this handgun. I have.