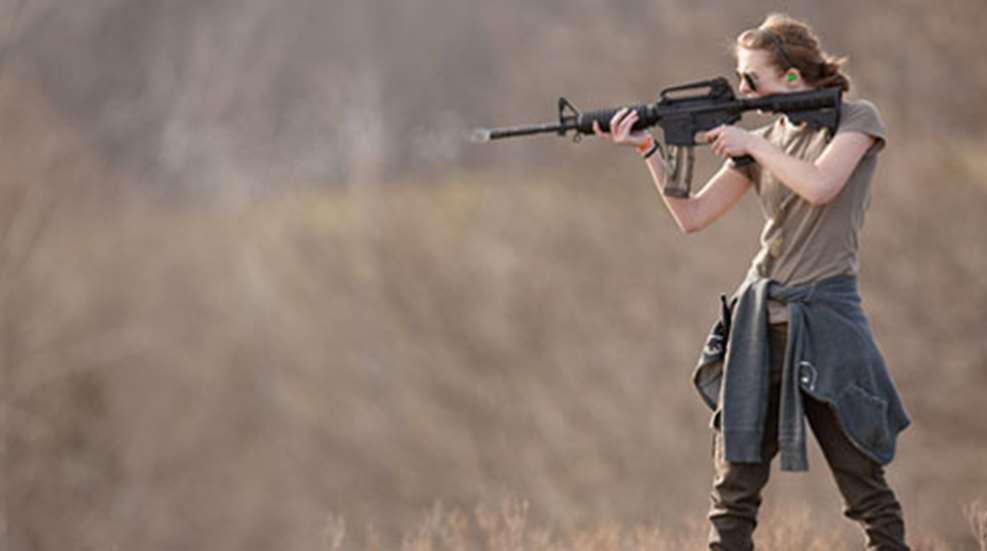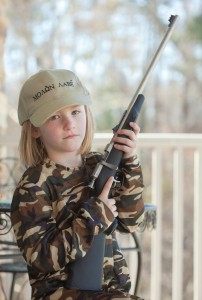 Your children have learned the four gun-safety rules by heart. They've looked at your guns under close supervision and studied your range pictures. Now they want to try shooting for the first time. What guns can they use?
Adult-size guns are mostly too long and cumbersome, kick too much or have a very loud report. Many require more strength to operate the controls than a pre-teen can muster. Fortunately, several companies produce .22 LR carbines made just for kids.
Child-size firearms date back to the early 16th century. The Holy Roman Emperors had diminutive wheellock arquebuses and even cannons made for their kids' practice, to go with miniature suits of armor and swords. Such tiny arms remained relatively uncommon until the advent of fixed ammunition (originally BB and CB caps; later .22 Short, Long and eventually Long Rifle) and improvements in cost-effective manufacturing. Low-power, low-noise "gallery" guns became quite popular in the third quarter of the 19th century. Some of them were made smaller for teaching child shooters. By the start of the 20th century, a dedicated "Boy's Rifle"—a take-down Rolling Block Remington No. 6 in .22 LR—retailed for about $2, a rough equivalent of $200 today. By the 1920s, several youth-size, single-shot, bolt-action rifles made by companies like Winchester were available for even less. Until 1968, any child could order these and other firearms by mail. Several of the models were expressly intended for the use in NRA safety and marksmanship courses, and were manufactured in substantial numbers.
Any new shooter is best served by a firearm fitted to his stature and strength, and that's even more important for children who may have less patience than adults. A typical kid's rifle is short, light, has proportionally reduced controls and uses fairly simple sights. Ideally, it should account for left- or right-hand preference and eye dominance. Several companies produce rifles dedicated to 5- to 10-year-old users, and several adult designs can be adjusted to fit teen and late pre-teen learners.
The total length of the gun isn't as important as the length of pull (the distance from the buttplate to the trigger). The weight should be as light as possible, because smaller kids have much less strength than we would expect. For the same reason, the point of balance cannot be too far forward. Sling attachments are desirable, both for safe carry in the field and for support when firing.

The 3-pound Thompson/Center Hot Shot is the smallest currently manufactured rifle (in a conventional configuration) thanks to its compact, ambidextrous, break-action design. Its trigger guard is so small, the shooter has to cock the hammer before her finger can be put on the trigger. Windage-adjustable peep sights provide a very long sight radius but cannot be adjusted for elevation. The trigger is crisp, and the action is easy for a youngster to operate. The Hot Shot extracts the empties without ejecting them clear of the action, and with the back of the action facing the shooter, it's very easy to ensure the rifle is clear. For older shooters, the stock can be extended with included spacers. The Hot Shot does not have sling swivel studs, but they may be added. The Hot Shot is available in black, pink and camo finishes.

Chipmunk bolt-actions redefined the kids' rifle category when they appeared in 1982. Currently, similar Chipmunk and Crickett designs are made by Keystone Sporting Arms. The manually cocked rifles are available in left- and right-hand variants, and in a wide variety of wood finishes or plastic colors. A standard Crickett comes with a peep sight adjustable for windage and elevation, and the front sight may be fitted with a fiber-optic insert. A scope mount may be added for an optional 4x32 mm scope of surprisingly high quality, fitted with a mil-dot reticle. In consideration of its intended use, the parallax of the scope is fixed at 35 yards instead of the more usual 50 or 100 yards.  The Crickett weighs only 2.5 pounds, an important consideration for the youngest shooters.

The design of the action found in Henry Repeating Arms' Mini Bolt Youth is very similar to the Crickett, but it adds a manual safety. The biggest distinction are the three-dot fiber-optic sights, which provide an easy means of teaching new shooters proper sight picture, but limit practical accuracy to hitting stationary sporting clays not much past 15 yards. For longer range shooting, a cantilevered Picatinny rail mount with a low-power scope or a red-dot sight is preferred. Sturdy construction and polymer furniture make the all-stainless Mini Bolt Youth a rugged, weather-resistant design at 3.25 pounds.
Compared to actions with exposed hammers, typical bolt-action rifles are fairly stiff for kids to make ready. Neither the Crickett nor the Mini Bolt Youth can be opened with the striker cocked, so it should be left in the down position until the decision to fire has been made. Manual de-cocking requires dexterity and finger strength, and is probably best left to the supervising adults.

Savage's Rascal is a cock-on-open bolt-action with a machined, fully adjustable peep sight, and its receiver is grooved for tip-off scope mounts. Like the adult models produced by Savage, the Rascal includes the company's excellent AccuTrigger, which provides a light, crisp trigger pull—an even more important feature in such lightweight rifles. A manual safety is also present. The action can be cycled for unloading even with the striker cocked. The Rascal is available with a polymer stock in several colors, as well as a high-quality walnut version. The polymer stocks are lighter by .5 pound (3 pounds overall), while the walnut stock is more solid and makes the rifle feel like a miniaturized adult firearm.

Chiappa's Little Badger is a very unusual rifle for youngsters. With all-metal construction, a quad-rail fore-end and a threaded muzzle, it looks more like a science-fiction prop than a kid's carbine. But, its ambidextrous, break-open action is simple and easy to use, and its sights—patterned after the M1 Carbine—are placed just low enough for a child to easily see. Adults with larger heads would have to use optics mounted higher than the irons. The threaded muzzle allows for the use of sound suppressors, which are very helpful for teaching new shooters, who are often noise-sensitive. A protected front sight and its generally rugged build make the Little Badger a good rifle to take camping. To that end, the rifle folds around the center pin and fits into a small included pouch.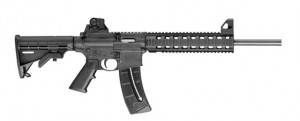 The Smith & Wesson M&P15-22 and Chiappa mfour-22 are AR-15 lookalikes with polymer lower receivers chambered in .22 LR, ideally suited for smaller shooters. Thanks to their lightweight construction—a full pound lighter than ARs with aluminum receivers—and collapsible stocks, both fit young shooters well. If necessary, the grips can be replaced with abundant smaller variants. At just more than 5 pounds, rimfire ARs are noticeably heavier than the single-shot rifles, and have slightly more complex manuals of arms and maintenance requirements. But, they also offer greater capabilities, including optional magazines holding from 15 to 50 rounds (25 is standard for M&P15-22, 28 for the mfour-22) and are able to accept most readily available AR-15 accessories. Chiappa's lower receiver may even be used with centerfire uppers once the shooter is ready to make that transition.
Accuracy with all of these rifles depends primarily on the skill of the shooter. The second most important factor is the ammunition: with bulk .22 LR fodder, all of these rifles produce about 4-MOA groups. That's plenty good to break sporting clays placed on the 100-yard berm. If these are used for marksmanship training and not just for familiarization, higher-grade ammunition would be required. With match ammunition and quality optics, trigger and barrel differences become more important. Savage's Rascal wins the trigger contest, and Chiappa's mfour-22 wins on mechanical accuracy—with a trained shooter, match ammunition and high-magnification optic, it's a sub-MOA performer.
Accuracy is only one factor for a training carbine. The Mini Bolt Youth, Rascal, Hot Shot and Crickett come out about even on the small-size scale, and the Little Badger gets high grades for compatibility with accessories and ruggedness. Depending on your child's age, stature and level of experience, any one of these little rifles could be a good choice.
Keep in mind, high-magnification scopes so helpful to accurate shooting for adults can be difficult for younger kids to master. A fixed low-power scope would be easier for a beginner to use, while a red-dot sight would be simpler yet and extremely helpful for cross-dominant shooters. Systematic safety and marksmanship training on top of the mere possession of a rifle turns a good choice into an excellent one.