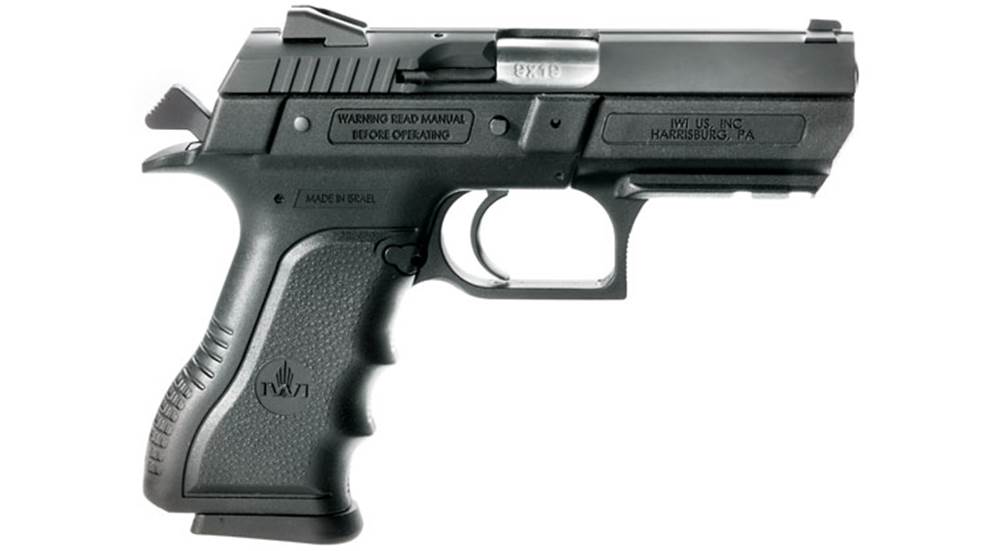 IWI US
has brought the Jericho name back, this handgun that has been imported almost constantly for the past 25 years is worth another look.
Conceived by Israeli Military Industries (IMI) in 1990, the handgun was based on the CZ 75—a design chosen both for its solid attributes and the ubiquity of parts available. In fact, parts for the original Jericho were produced by Tanfoglio. Picking a proven design and importing parts from a proven manufacturer made adopting a new service pistol far easier than seeking out a brand-new handgun, testing submissions from multiple manufacturers and developing a training program around an untried firearm. There were some minor differences, including polygonal rifling and a combined safety/decocking lever, but the original Jericho was basically a heavy CZ 75 in 9 mm.
In the U.S., the Jericho was originally imported by KBI of Harrisburg, PA. Later, Mossberg brought them in under the Uzi Eagle brand, and eventually Magnum Research took over importation with the name "Baby Eagle," playing off the company's Desert Eagle handgun—which, coincidentally, was also manufactured by IMI.
Which brings us to the new IWI US Jericho, and brings the pistol full circle in this country. IWI US is the American subsidiary of Israel Weapons Industries, which is the name IMI took when it was privatized. IWI US is based in the same facility as the old KBI, meaning the new Jerichos have returned to their proper name and their original importation location.
That said, the Jericho is extremely comfortable to shoot. The finger-groove grip combined with a flared section at the base of the backstrap helped the pistol fit snugly in my hand, which in turn made follow-up shots easy. Unlike some previously imported iterations, this version of the Jericho (and all models currently stocked by IWI US) sports a frame-mounted safety lever, as opposed to a slide-mounted safety or decocker. This theoretically makes it easier to reach (provided you're right handed) and also allows "condition one" carry with a round in the chamber and the hammer cocked. With my small hands, however, I could not actuate the safety while maintaining a shooting grip.
Now, the Jericho is technically a double-action/single-action pistol, but without a decocker, I would not advise dropping the hammer on a loaded chamber unless you intend to discharge the handgun. That said, having the double-action capability provides a "second-strike" option should you encounter a light primer strike. Other features include a loaded-chamber indicator, a railed dustcover for mounting accessories and adjustable three-white-dot sights.
Reliability in testing was perfect, with zero stoppages through 200-odd rounds. Accuracy was on par with what I've come to expect from CZ 75s: solid, 3- to 4-inch groups at 25 yards from a rest. That—combined with the Jericho's superior handling and affordable price tag—means this new version of an old design is definitely worth a look for a bedside companion or full-size carry pistol.