When John Browning designed the 1911, the goal was to create a sidearm for the military capable of combat—rather than precision accuracy. The concept of match-grade accuracy didn't materialize until gunsmiths of yesteryear strived to see what they could do to garner greater reliability and enhanced accuracy from Browning's old warhorse. While such mysteries have long since been unlocked, the desire for a custom, gunsmith-tuned 1911 is still as popular as ever—so much so that next to the AR-15 and Ruger 10/22, the demand for and popularity of the 1911 has created a huge market for aftermarket parts.
While modern technology has led to such advancements as CNC-based and wire-EDM manufacturing processes, resulting in components that, despite having extremely tight tolerances, strangely, are sold with literature that states some variation of, "Minor fitting required from a professional gunsmith." That trend has just been broken.
Ingenious Gun Works' 1911 2nd Gen Hammer & Sear is one of the first companies to market a hammer and sear by claiming its components do not require fitting or installation by a professional gunsmith. The design uses separate surfaces for the trigger engagement and the safety engagement. In other words, the user does not need to fear damage to the sear if the hammer falls onto the safety notch, such as when the slide flies forward on an empty chamber. 
However, one need only take a cursory glimpse at the products to tell this isn't your Grandpa's hammer and sear of yesteryear. For openers, while the hammer sports a common skeletonized design, the presence of an elongated spur lends itself to the narrowest hole I've ever seen on such a hammer, which suggests the hole is more of an aesthetic whim rather than to reduce mass.
Then there's the sear. Gone is Browning's elegant-looking, telltale crescent-shaped curve. The folks at Ingenious Gun Works designed its sear to look completely different; "radical wedge" are the two words that immediately come to mind when attempting to describe the part's unorthodox shape. While the company's sear didn't feel heavier, more steel certainly appeared to be present. Perhaps a rendezvous with a scale would yield some answers. The postal meter in our firearms inventory manager's office revealed Ingenious Gun Works' sear was .3 ounces heavier than a standard sear. Closer inspection with a set of calipers also showed the redesigned sear to be .001 inches wider. Despite these findings, I found myself extremely curious to see how such unique components would perform.
But, these parts boast more than a super-swank appearance. Each component—which are made from S7 steel—have been re-engineered, to change the engagement between the hammer and sear. The subsequent repositioned surfaces create a smooth, clean trigger pull that is match-grade crisp.
There's a reason fans of the 1911 yearn for the feel of a custom trigger pull once thought to be only attainable by a professional gunsmith. That crisp, clean break and short reset can do wonders to improve the gun/shooter interface, resulting in greater comfort, improved gun-handling—two key elements that could potentially result in better shooting.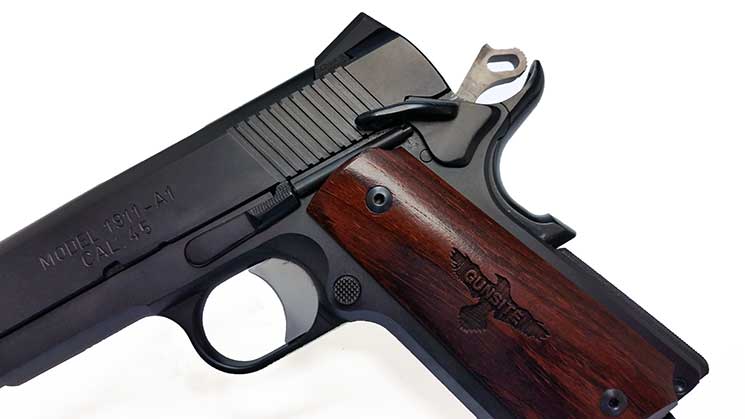 To test this product, I decided to call upon one of the many examples of Browning's venerable warhorse that reside in "the Boyd Bunker:" a Springfield Armory Loaded 1911-A1 that I purchased many years ago from Gunsite Academy following completion of one of the institution's tactical pistol courses.
Prior to installing the new components, I measured the pistol's trigger-pull weight: a crisp 3 pounds, 8.6 ounces in its OEM configuration. At the range, I fired three magazines of Federal American Eagle 230-grain FMJ. The shooting session was malfunction free. Of the rounds fired, the best group measured 1.8 inches. Afterward, I adjourned our range shop where I swapped the hammer and sear and weighed the trigger again before returning to the firing line. The difference was quite noticeable. Adding the Ingenious Gun Works 1911 2nd Gen Hammer & Sear reduced the pistol's trigger pull to a pleasant 2 pounds, 10 ounces (a difference of 14.6 ounces) with minimal takeup, no apparent stacking and a crisp let-off. (I rate a trigger pull's "crispness" pull as more important than weight of pull, but within reason.)
Back at the range, it was almost like I was shooting a completely different pistol. These components demonstrated no mushiness or noticeable "slop." There was no farther movement until the hammer fell. What was even more impressive was the trigger's short travel distance to reset. Best of all, the improved trigger pull manifested other means: Groups shrank considerably, the best of which measured 0.85 inch—a difference of 0.95 inch—pretty impressive for a lightly customized pistol with an OEM barrel.
My gripes about this product are few: A possible byproduct of the hammer's re-engineered engagement surfaces, when in its fully cocked position there's a noticeable gap between the back of the hammer spur and the beavertail/grip-safety tang. This could initially make shooters second-guess whether or not the pistol is completely cocked. While minor in the grand scheme of things, this difference could be enough for fellow 1911 fans to briefly question reliability of a pistol containing these parts.
Those who enjoy tinkering on their own 1911s should give the Ingenious Gun Works 1911 2nd Gen Hammer & Sear a closer look. Designed to be truly drop-in components, they give your 1911 that custom feel every aficionado of "Old Slabsides" desires—and it's something you can do yourself, in minutes, with minimal tools and rudimentary gunsmithing skills. Of course, whether you opt tell your friends at the local gun club is up to you. The suggested retail price on the 2nd Gen Hammer & Sear is $199.99.