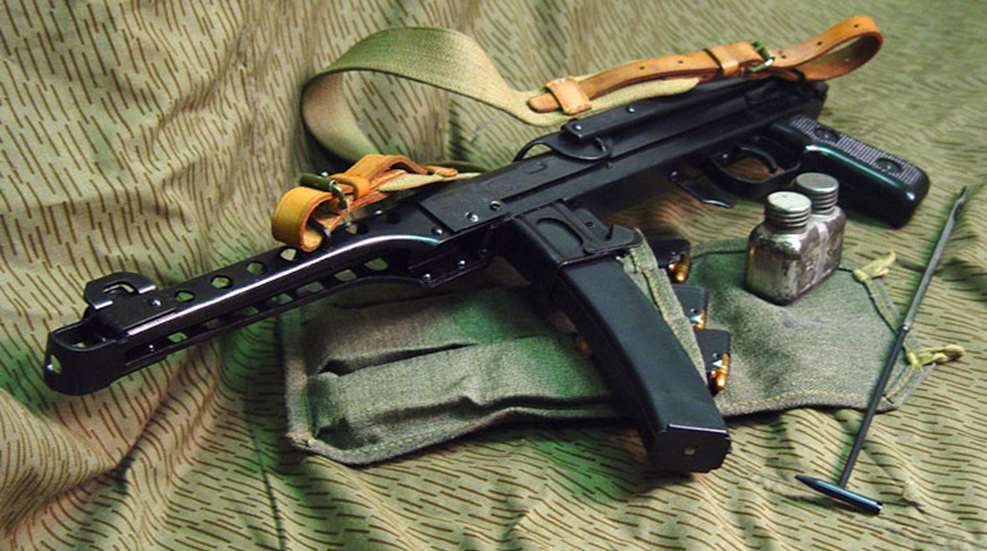 The PPS-43C (Pistolet-Pulemet Sudaeva, model of 1943-Sudaev SMG) was designed as a more compact and mobile option than the PPsh-41 used by the Soviet Army during the early years of WWII. A designer named Sudaev offered the original prototype in 1942, then refined the design for the final product in 1943. The result was a mass production of the PPS-43 for the Soviet Army, with nearly 2 million manufactured between 1943 and 1946.
Arguably the best SMG (submachine gun) of World War II, the PPS-43 has now been redesigned to shoot from a closed bolt position with a safety located at the front of the triggerguard. The PPS-43C pistol has a stamped steel receiver and barrel shroud, an L-shaped flip rear sight marked for 100 and 200 meters, and a fixed blade front sight.
The PPS-43C is chambered in 7.62x25 mm Tokarev and weighs 8.09 pounds with a loaded magazine or 6.7 pounds empty. The barrel length is 9.84 inches and it has an effective range of over 200 yards. It is manufactured at the Radom Plant in Poland and has all new Polish made parts and components.
The PPS-43C pistol is ATF approved, has an MSRP of $449.95 and ships with four 35-round curved box magazines.