Why this American cartridge became so popular in Europe is anyone's guess, but we certainly know why it has discovered newfound respect and acceptance in its birthplace.
Long considered the bare-minimum chambering for self-defense purposes, new and much improved defensive ammunition choices offer both sufficient penetration and expansion to end most any threat at close range. New gun designs have also pushed the envelope, transitioning from a fixed-barrel, blowback-operated design to a much more compact linked barrel, recoil-operated system.
Of course, the main reason behind the resurgence of the .380 ACP round has been the huge increase in licensed concealed carry nationwide. The best gun to have is the gun you have with you, and when it comes to convenience, a lightweight and compact pocket pistol is ideal.
The Hellcat from I.O. Inc. of Monroe, NC, is the latest example of this application, offering just about all you need in a pocket pistol and none of what you don't. This semi-automatic, polymer-frame pistol with a capacity of six-plus-one rounds is made entirely in the United States, including its stainless steel magazine. (For more detailed photos of the Hellcat, click here.)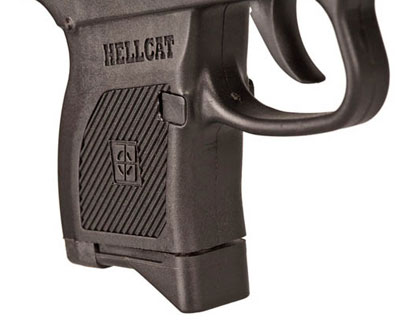 Featuring double-action-only operation with single-strike capability, the action must cycle in order to precharge the hammer and the hammer must be in the semi-cocked mode to fire. The Hellcat also uses a dual-spring recoil system around a steel guide rod to achieve reliable operation while maintaining minimum dimensions.
Its carbon-steel barrel is in the white and sits inside a heat-treated steel slide with rear serrations and a black, Parkerized finish. Machined into the slide are integral, non-adjustable sights, which while small, are plainly visible and include a bright green dot on the front sight for faster target acquisition.
The aluminum subframe is machined from solid, aircraft-grade billet and anodized with a black finish. This subframe resides inside and is mated to a glass-fiber-reinforced, molded-nylon housing with an integral trigger guard. Other molded-nylon, glass-reinforced parts include the trigger and magazine release, as well as the magazine base and follower. As is typical with many small, recoil-operated pistols like the Hellcat, there is no slide lock, so the slide will not lock open on an empty magazine.
The stripped-down design of this gun makes it easy to use, but be forewarned: Following all safety rules is of paramount importance always, particularly with this pistol. First, there is no loaded-chamber indicator, just a small window above the front of the extractor that provides visual confirmation of a round in the chamber. There is also no manual safety, magazine disconnect or drop safety. The Hellcat can fire with the magazine removed or if dropped or struck with a live round in the chamber.
Given these limitations, the manufacturer warns the pistol should be carried with an empty chamber. For concealed carry, it may be advisable to train by drawing the gun and then racking the slide to chamber a round before firing. In addition, +P ammunition should not be used.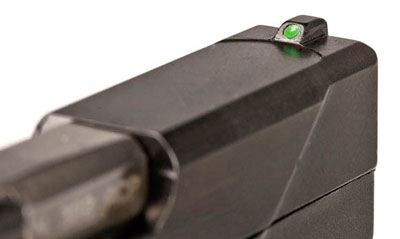 Loading the Hellcat is a simple matter of inserting a full magazine into the magazine well, pulling the slide back to its rearmost position and releasing it to chamber a round. Disassembly is also a straightforward matter accomplished by removing the magazine, ensuring the gun is unloaded and removing the frame pin using a spent cartridge case or other similarly sized tool. The slide and barrel assembly then simply slides forward off the frame. The guide rod and recoil spring are not captive.
The first pistol I received for testing exhibited several malfunctions, including failures to feed and failures to extract during testing due to a magazine defect. A replacement functioned flawlessly, however, using both FMJ and JHP ammunition. Trigger pull was very smooth and felt lighter than its measured 8.5 pounds, with no stacking or overtravel. But, the trigger must go quite a noticeable distance after each shot in order to reset.
Recoil with all tested loads was extremely manageable, and the pistol felt comfortable in hand thanks in large part to a finger extension on the magazine base. Accuracy results firing from a bench rest at 7 yards proved the pistol's capabilities at self-defense distances.
The Hellcat comes equipped with one magazine and a padded soft case with the I.O. Inc. logo. It is also offered in various finishes and frame colors to suit user preferences. Given this pistol's light weight and small dimensions, it is well suited for the role of a concealed carry or backup gun.

Manufacturer: I.O. Inc.; (866) 882-1479, ioinc.us
Action Type: Recoil-operated, semi-automatic
Caliber: .380 ACP
Capacity: 6+1
Frame: Reinforced nylon
Barrel Length: 2.75 inches
Rifling: 6 grooves; 1:16-inch RH twist
Sights: Fixed rear notch and front post
Trigger Pull Weight: 8.5 pounds
Length: 5.16 inches
Width: .782 inches
Height: 3.6 inches
Weight: 9.4 ounces
Accessories: Padded soft case, trigger lock, manual, chamber flag
MSRP: $224.95